Retrospective database analysis of 374,229 patients in the USA, showing higher cases, lower hospitalizations, and no change in mortality with famotidine use. This study is excluded in the after exclusion results of meta analysis: not fully adjusting for the different baseline risk of systemic autoimmune patients.
This study includes
HCQ
and famotidine.
risk of death,

no change

, HR 1.00, p = 1.00
, vs. never used.
risk of hospitalization,

6.0% lower

, HR 0.94, p < 0.001
, vs. never used.
risk of case,

12.0% higher

, HR 1.12, p < 0.001
, vs. never used.
Effect extraction follows pre-specified rules prioritizing more serious outcomes. Submit updates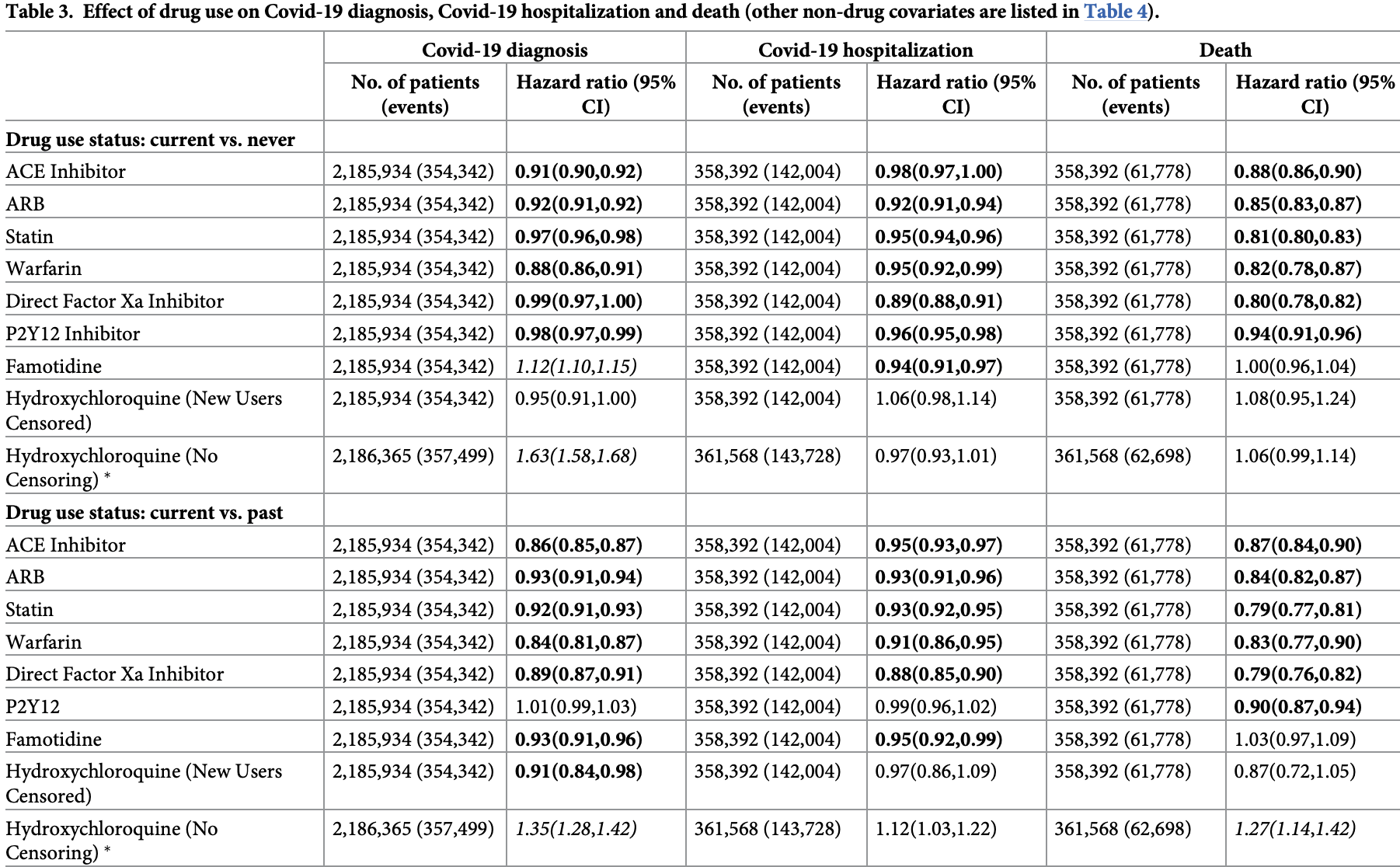 Fung et al., 1 Oct 2021, retrospective, population-based cohort, USA, peer-reviewed, 6 authors.
Effect of common maintenance drugs on the risk and severity of COVID-19 in elderly patients
PLOS ONE, doi:10.1371/journal.pone.0266922
Background Maintenance drugs are used to treat chronic conditions. Several classes of maintenance drugs have attracted attention because of their potential to affect susceptibility to and severity of COVID-19. Methods Using claims data on 20% random sample of Part D Medicare enrollees from April to December 2020, we identified patients diagnosed with COVID-19. Using a nested case-control design, non-COVID-19 controls were identified by 1:5 matching on age, race, sex, dualeligibility status, and geographical region. We identified usage of angiotensin-converting enzyme inhibitors (ACEI), angiotensin-receptor blockers (ARB), statins, warfarin, direct factor Xa inhibitors, P2Y12 inhibitors, famotidine and hydroxychloroquine based on Medicare prescription claims data. Using extended Cox regression models with time-varying propensity score adjustment we examined the independent effect of each study drug on contracting COVID-19. For severity of COVID-19, we performed extended Cox regressions on all COVID-19 patients, using COVID-19-related hospitalization and all-cause mortality as outcomes. Covariates included gender, age, race, geographic region, low-income indicator, and co-morbidities. To compensate for indication bias related to the use of hydroxychloroquine for the prophylaxis or treatment of COVID-19, we censored patients who only started on hydroxychloroquine in 2020. Results Up to December 2020, our sample contained 374,229 Medicare patients over 65 who were diagnosed with COVID-19. Among the COVID-19 patients, 278,912 (74.6%) were on at least one study drug. The three most common study drugs among COVID-19 patients were statins 187,374 (50.1%), ACEI 97,843 (26.2%) and ARB 83,290 (22.3%). For all three outcomes (diagnosis, hospitalization and death), current users of ACEI, ARB,
References
Csizmadi, Collet, Boivin, Bias and Confounding in Pharmacoepidemiology
Health Organization, COVID-19 and the use of angiotensin-converting enzyme inhibitors and receptor blockers-Scientific Brief
Pourhoseingholi, Baghestani, Vahedi, How to control confounding effects by statistical analysis, Gastroenterol Hepatol Bed Bench
Rosenbaum, Rubin, The Central Role of the Propensity Score in Observational Studies for Causal Effects, Biometrika