Mortality in an Italian nursing home during COVID-19 pandemic: correlation with gender, age, ADL, vitamin D supplementation, and limitations of the diagnostic tests
This study includes vitamin D and
HCQ
.
risk of death,

70.0% lower

, RR 0.30, p = 0.04
, treatment 3 of 20 (15.0%), control 39 of 78 (50.0%), NNT 2.9.
Effect extraction follows pre-specified rules prioritizing more serious outcomes. Submit updates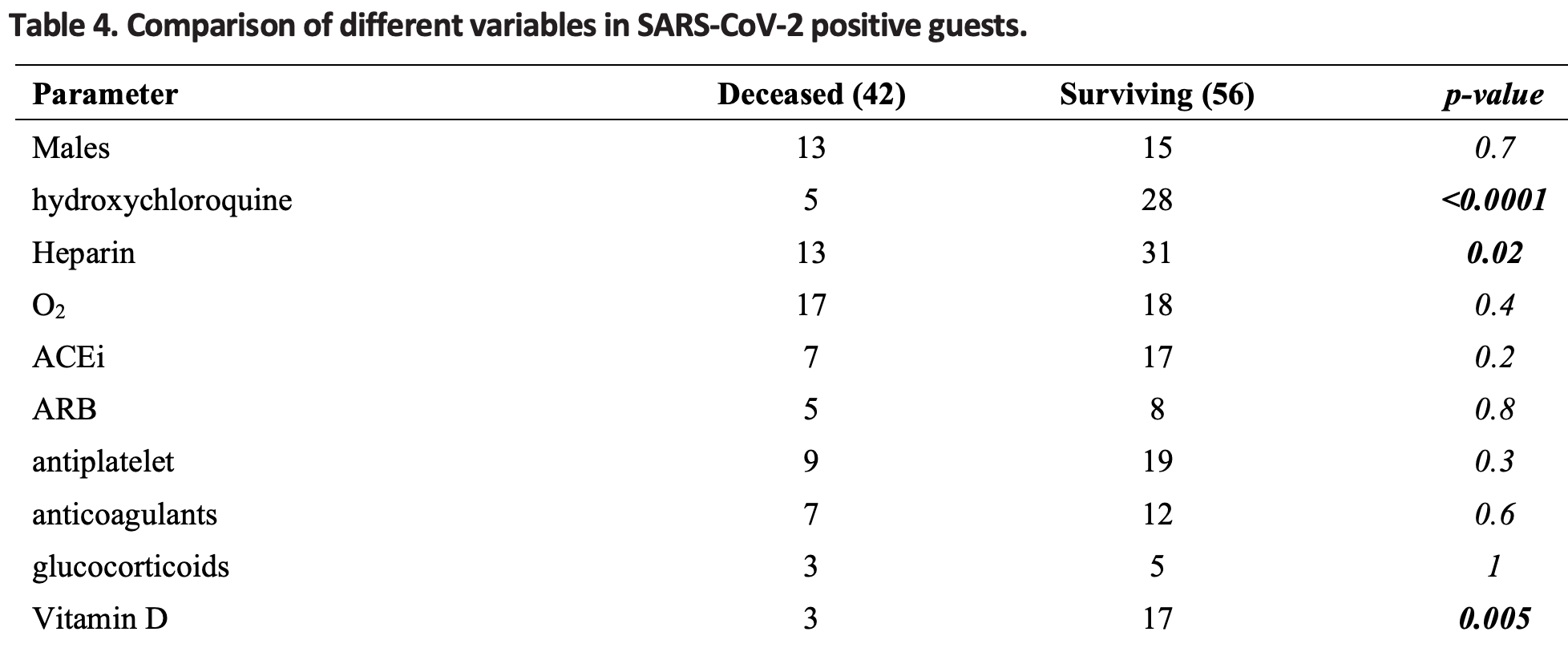 Cangiano et al., 22 Dec 2020, retrospective, Italy, peer-reviewed, 14 authors, dosage 25,000IU 2x per month.
Mortality in an Italian nursing home during COVID-19 pandemic: correlation with gender, age, ADL, vitamin D supplementation, and limitations of the diagnostic tests
Introduction: The COVID-19 pandemic caused an increased mortality in nursing homes due to its quick spread and the age-related high lethality. Results: We observed a two-month mortality of 40%, compared to 6.4% in the previous year. This increase was seen in both COVID-19 positive (43%) and negative (24%) residents, but 8 patients among those testing negative on the swab, tested positive on serological tests. Increased mortality was associated with male gender, older age, no previous vitamin D supplementation and worse "activities of daily living (ADL)" scores, such as Barthel index, Tinetti scale and S.OS.I.A. classification. Conclusion: Our data confirms a higher geriatric mortality due to COVID-19. Negative residents also had higher mortality, which we suspect is secondary to preanalytical error and a low sensitivity of the swab test in poorly compliant subjects. Male gender, older age and low scores on ADL scales (probably due to immobility) are risk factors for COVID-19 related mortality. Finally, mortality was inversely associated with vitamin D supplementation. Design: In this observational study, we described the two-month mortality among the 157 residents (age 60-100) of a nursing home after Sars-CoV-2 spreading, reporting the factors associated with the outcome. We also compared the diagnostic tests for Sars-CoV-2.
AUTHOR CONTRIBUTIONS
References
Dotti, Casale, Zacchi, Lovaglio, Fazzone, SOSIA classification of the frail elderly in nursing homes of region of lombardy
Emami, Javanmardi, Pirbonyeh, Akbari, Prevalence of underlying diseases in hospitalized patients with COVID-19: a systematic review and metaanalysis, Arch Acad Emerg Med
Mahoney, Barthel, Functional evaluation: the barthel index, Md State Med J
Rodriguez-Morales, Cardona-Ospina, Gutiérrez-Ocampo, Villamizar-Peña, Holguin-Rivera et al., Latin American Network of Coronavirus Disease 2019-COVID-19 Research