Monoclonal Antibody Treatment of Breakthrough COVID-19 in Fully Vaccinated Individuals with High-Risk Comorbidities
et al., The Journal of Infectious Diseases,
Retrospective 1,395 vaccinated COVID-19 cases, showing significantly lower hospitalization and oxygen supplementation with monoclonal antibody treatment, primarily casirivimab-imdevimab. Hospitalization was significantly associated with comorbidities.
Efficacy is variant dependent. In Vitro research suggests a lack of efficacy for omicron [Liu, Sheward, Tatham, VanBlargan].
risk of ICU admission,

88.9% lower

, RR 0.11, p = 0.16
, treatment 0 of 527 (0.0%), control 5 of 868 (0.6%), NNT 174, relative risk is not 0 because of continuity correction due to zero events (with reciprocal of the contrasting arm).
risk of oxygen therapy,

85.3% lower

, RR 0.15, p < 0.001
, treatment 5 of 527 (0.9%), control 56 of 868 (6.5%), NNT 18, odds ratio converted to relative risk.
risk of hospitalization,

75.3% lower

, RR 0.25, p < 0.001
, treatment 14 of 527 (2.7%), control 93 of 868 (10.7%), NNT 12, odds ratio converted to relative risk.
Effect extraction follows pre-specified rules prioritizing more serious outcomes. Submit updates
This study is excluded in meta analysis: patients were treated with different medications, results specific to each medication were not reported.
Conflicts of interest: research funding from the drug patent holder.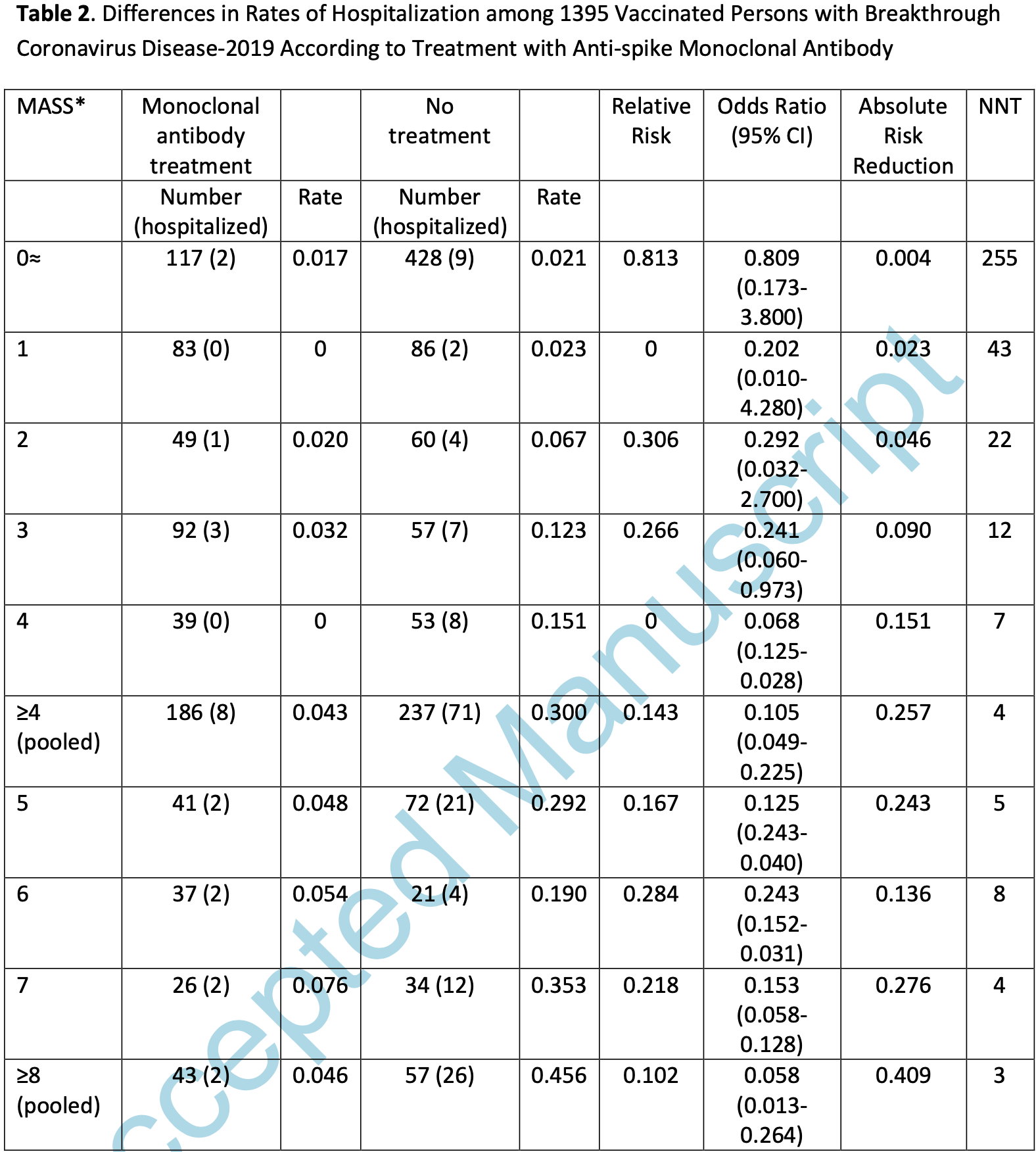 Bierle et al., 20 Oct 2021, retrospective, USA, peer-reviewed, 7 authors, average treatment delay 5.0 days.
Contact: razonable.raymund@mayo.edu.