Impact of overlapping risks of type 2 diabetes and obesity on coronavirus disease severity in the United States
Impact of overlapping risks of type 2 diabetes and obesity on coronavirus disease severity in the United..
,
Scientific Reports, doi:10.1038/s41598-021-96720-x
,
Retrospective 28,093 COVID+ patients in the USA, showing lower risk of hospitalization with metformin use.
risk of hospitalization,

39.0% lower

, HR 0.61, p = 0.04
, treatment 19 of 663 (2.9%), control 1,056 of 27,430 (3.8%), adjusted per study, multivariable, Cox proportional hazards.
Effect extraction follows pre-specified rules prioritizing more serious outcomes. Submit updates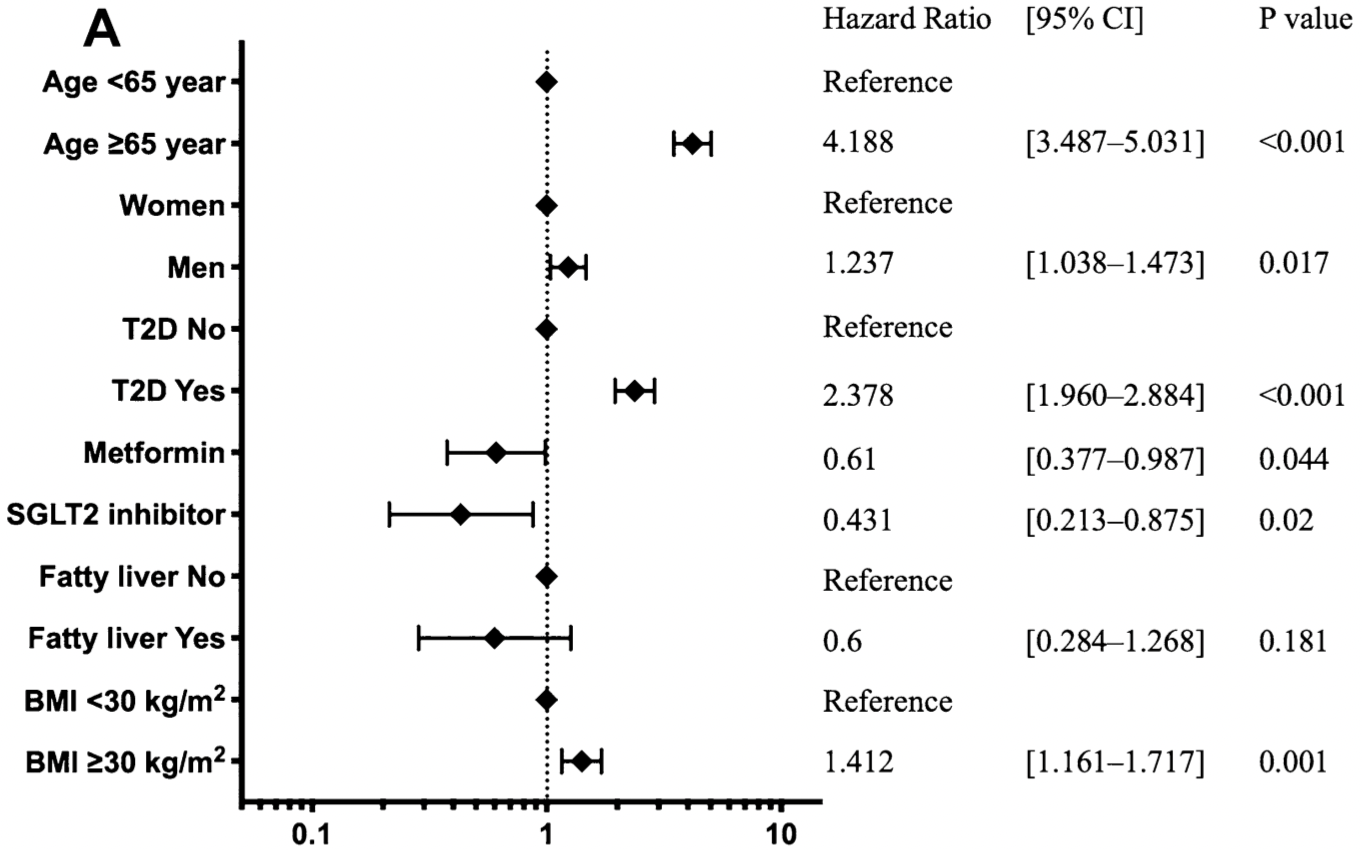 Ando et al., 9 Sep 2021, retrospective, USA, peer-reviewed, 6 authors, study period 1 January, 2020 - 30 November, 2020.
Abstract: www.nature.com/scientificreports OPEN Impact of overlapping risks of type 2 diabetes and obesity on coronavirus disease severity in the United States Wataru Ando1,5*, Takeshi Horii2,5, Takayuki Uematsu3, Hideaki Hanaki4, Koichiro Atsuda2 & Katsuya Otori1 The impact of overlapping risk factors on coronavirus disease (COVID-19) severity is unclear. To evaluate the impact of type 2 diabetes (T2D) and obesity on COVID-19 severity, we conducted a cohort study with 28,095 anonymized COVID-19 patients using data from the COVID-19 Research Database from January 1, 2020 to November 30, 2020. The mean age was 50.8 ± 17.5 years, and 11,802 (42%) patients were male. Data on age, race, sex, T2D complications, antidiabetic medication prescription, and body mass index ≥ 30 kg/m2 (obesity) were analysed using Cox proportional hazard models, with hospitalization risk and critical care within 30 days of COVID-19 diagnosis as the main outcomes. The risk scores were 0–4 for age ≥ 65 years, male sex, T2D, and obesity. Among the participants, 11,294 (61.9%) had obesity, and 4445 (15.8%) had T2D. T2D, obesity, and male sex were significantly associated with COVID-19 hospitalization risk. Regarding hospitalization risk scores, compared with those for hospitalization risk score 0 and critical care risk score 0, hazard ratios [95% confidence intervals] were 19.034 [10.470–34.600] and 55.803 [12.761–244.015] (P < 0.001) (P < 0.001), respectively, for risk score 4. Complications from diabetes and obesity increased hospitalization and critical care risks for COVID-19 patients. Coronavirus disease (COVID-19) is currently one of the most concerning infections ­globally1. It has a high incidence and mortality rate in the United ­States2. The risk of increasing COVID-19 severity has been reported, with men having a 2.76-fold higher risk of hospitalization owing to COVID-19 than women. According to Grasselli et al.3, 82% of patients admitted to intensive care units (ICUs) were men. Obesity was reported to increase the risk of COVID-19, ICU admission, and death by 1.46-, 2.13-, and 1.74-fold, respectively, suggesting that obesity may affect lung function and immune ­function4. Furthermore, the greatest risk of severe COVID-19 is ­age1. Additionally, statistical analyses by the Center for Disease Control reported an increase in COVID-19 risk with an increase in age; compared with the 18–29-year-old group, the 85-year-old group had a 13- and 630-fold increase in hospitalization and mortality risks, respectively. Therefore, patient characteristics, such as male sex, obesity, and advanced age, can be risk factors for severe d ­ isease5. Studies reported that COVID-19 comorbidities, including hypertension, chronic heart disease, lung d ­ isease6, and type 2 diabetes (T2D), remarkably affected disease ­severity7. T2D is a serious social problem in the United ­States8 because the number of newly diagnosed patients with T2D increased by 75% for all age groups between 1988 and 2­ 0109. Moreover, less than half of all American adults do not follow the recommended guidelines for diabetes ­care10, and obese men aged > 60 years are more likely to develop ­T2D11,12. Therefore, risk factors for T2D are considered similar to those for severe COVID-19. Although several reports exist on the risk of severe COVID-19, studies on severe COVID-19 owing to overlapping risk 1 Department of Clinical Pharmacy, Center for Clinical Pharmacy and Sciences, Kitasato University School of Pharmacy,..
Please send us corrections, updates, or comments. Vaccines and treatments are complementary. All practical, effective, and safe means should be used based on risk/benefit analysis. No treatment, vaccine, or intervention is 100% available and effective for all current and future variants. We do not provide medical advice. Before taking any medication, consult a qualified physician who can provide personalized advice and details of risks and benefits based on your medical history and situation.
FLCCC
and
WCH
provide treatment protocols.
Submit