Retrospective 28,093 COVID+ patients in the USA, showing lower risk of hospitalization with metformin use.
risk of hospitalization,

39.0% lower

, HR 0.61, p = 0.04
, treatment 19 of 663 (2.9%), control 1,056 of 27,430 (3.8%), adjusted per study, multivariable, Cox proportional hazards.
Effect extraction follows pre-specified rules prioritizing more serious outcomes. Submit updates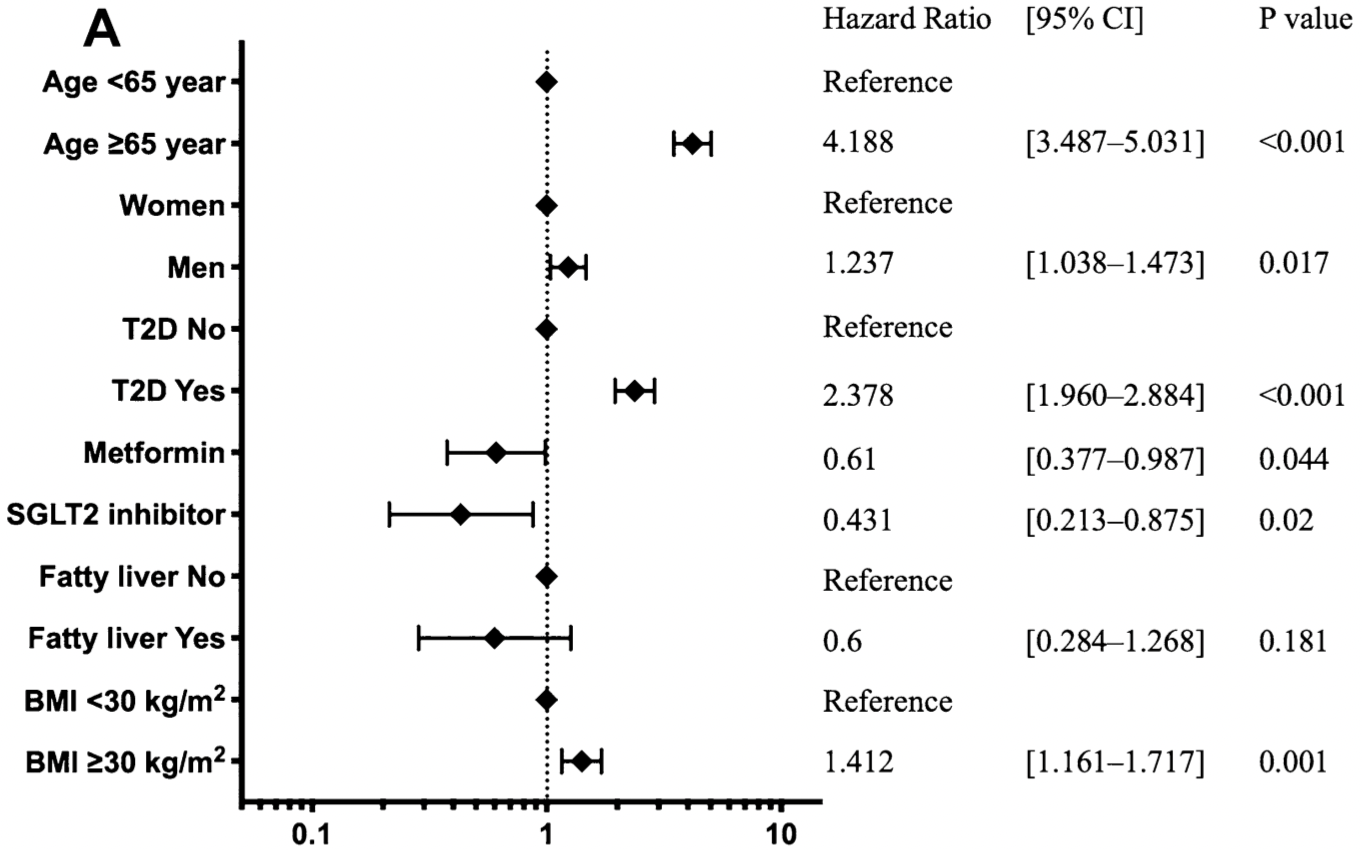 Ando et al., 9 Sep 2021, retrospective, USA, peer-reviewed, 6 authors, study period 1 January, 2020 - 30 November, 2020.
Impact of overlapping risks of type 2 diabetes and obesity on coronavirus disease severity in the United States
Scientific Reports, doi:10.1038/s41598-021-96720-x
The impact of overlapping risk factors on coronavirus disease (COVID-19) severity is unclear. To evaluate the impact of type 2 diabetes (T2D) and obesity on COVID-19 severity, we conducted a cohort study with 28,095 anonymized COVID-19 patients using data from the COVID-19 Research Database from January 1, 2020 to November 30, 2020. The mean age was 50.8 ± 17.5 years, and 11,802 (42%) patients were male. Data on age, race, sex, T2D complications, antidiabetic medication prescription, and body mass index ≥ 30 kg/m 2 (obesity) were analysed using Cox proportional hazard models, with hospitalization risk and critical care within 30 days of COVID-19 diagnosis as the main outcomes. The risk scores were 0-4 for age ≥ 65 years, male sex, T2D, and obesity. Among the participants, 11,294 (61.9%) had obesity, and 4445 (15.8%) had T2D. T2D, obesity, and male sex were significantly associated with COVID-19 hospitalization risk. Regarding hospitalization risk scores, compared with those for hospitalization risk score 0 and critical care risk score 0, hazard ratios [95% confidence intervals] were 19.
www.nature.com/scientificreports/ patients. Therefore, further studies are required to evaluate the effects of blood glucose control and obesity on COVID-19. The BMI data comprise values measured up to 6 months prior to this study and may not accurately reflect the values immediately before the diagnosis of COVID-19. Because of the small number of cases of fatty liver and the exclusive availability of Non-alcoholic fatty liver disease (NAFLD) in CPT4 codes, the risk of COVID-19 severity in patients with fatty liver should be studied in detail in a larger population. Confounding factors for hospitalization and critical care risks should consider non-diabetic complications such as cardiovascular events. We hypothesized that there would be a period in the early phase of the epidemic (in the first half of 2020) when the high number of patients would overwhelm the health care system, and treatment of the most critically ill patients would be prioritized. Therefore, we attempted to examine the risk in early 2020. However, because of limited data in the early phase of the epidemic and concerns about accuracy, this database is not considered to have adequately accounted for the relative risks of outcomes related to diabetes, age, and BMI. Therefore, we hope that this issue will be clarified in the future as the risk of severe disease was unevenly distributed during the acute phase of the pandemic. In examining the risk score, we considered the weight of the patients; however, it was..
References
Cases, COVID-19 Hospitalization and Death by Age