Retrospective 148 hospitalized COVID-19 patients in China, showing lower severity and faster viral clearance with improved nutrition.
risk of severe case,

45.0% lower

, OR 0.55, p = 0.06
, higher quality diet 81, lower quality diet 67, adjusted per study, MNA-SF >11 vs. ≤11, multivariable, RR approximated with OR.
risk of no viral clearance,

31.5% lower

, HR 0.68, p = 0.03
, higher quality diet 81, lower quality diet 67, inverted to make HR<1 favor higher quality diet, MNA-SF >11 vs. ≤11, Cox proportional hazards.
Effect extraction follows pre-specified rules prioritizing more serious outcomes. Submit updates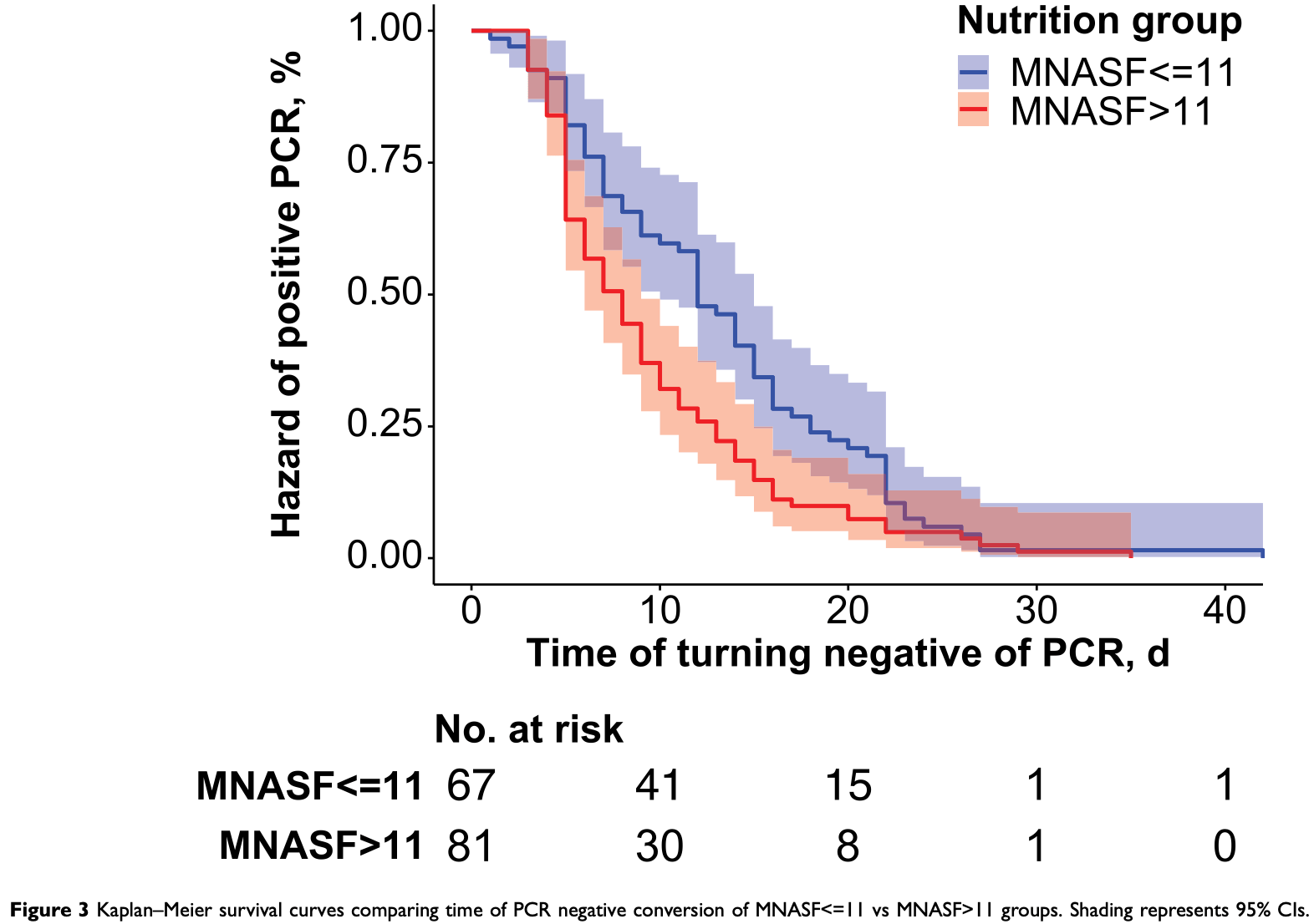 Wang et al., 31 Jul 2023, retrospective, China, peer-reviewed, 9 authors, study period April 2022 - June 2022.
Contact: zjl12616@rjh.com.cn, bangliyong@163.com.
Improving Nutritional Status Was Associated with Decreasing Disease Severity and Shortening of Negative Conversion Time of PCR Test in Non-ICU Patients with COVID-19
Infection and Drug Resistance, doi:10.2147/idr.s409615
Background: Nutrition is an important prevention in old patients with COVID-19. However, in China, there are few studies on the correlation between nutrition and COVID-19. Methods: A total of 148 hospitalized COVID-19 (65.7 ± 16.0 [range: from 21 to 101] years old) patients were enrolled in this study. The information of demographic, biochemical results, vaccination doses, types of COVID-19, PCR test negative conversion time, and scores of Mini Nutritional Assessment Short Form (MNA-SF) for evaluating nutritional status were recorded. We first explored the relationships between MNA-SF performance and the severities of COVID-19 in the groups with non-vaccinated, vaccinated, and all the patients using multivariable ordinal logistic regression. Further, we explored the relationships between performance of MNA-SF and the time of negative conversion of PCR in the groups with non-vaccinated, vaccinated, and all the patients using COX proportional hazards survival regression. Results: Group of patients with malnutrition or at risk of malnutrition group was associated with older of the age, those who had not been vaccinated, in fewer people who were asymptomatic type and in more people who showed longer of the negative conversion time of PCR, lower of the BMI, and the lower of the hemoglobin level. Each additional increase of one point of MNA-SF was associated with a 17% decrease in the odds of a worse type of COVID-19 in all patients, and the significant result exists in non-vaccinated patients. One point increase of MNA-SF was associated with increased 11% of hazard ratios of turning negative of PCR and wellnourished group was associated with increased 46% of hazard ratio of turning negative of PCR. Conclusion: Higher nutrition is associated with less severity of COVID-19, especially in the non-vaccinated group. Higher nutrition is also associated with shorter time of turning negative of PCR in non-ICU COVID-19 patients.
Author Contributions All authors made a significant contribution to the work reported, whether that is in the conception, study design, execution, acquisition of data, analysis and interpretation, or in all these areas; took part in drafting, revising or critically reviewing the article; gave final approval of the version to be published; have agreed on the journal to which the article has been submitted; and agree to be accountable for all aspects of the work. Disclosure The authors declare no conflicts of interest in this work. Dovepress
References
Core, R: a language and environment for statistical computing