A Retrospective Review: Famotidine Use Is Not Associated With Improved Outcomes in Hospitalized Patients With COVID-19
Retrospective 489 COVID+ hospitalized patients in the USA, showing higher mortality with famotidine treatment.
risk of death,

518.9% higher

, OR 6.19, p < 0.001
, treatment 137, control 352, RR approximated with OR.
risk of ICU admission,

2389.6% higher

, OR 24.90, p < 0.001
, treatment 137, control 352, RR approximated with OR.
Effect extraction follows pre-specified rules prioritizing more serious outcomes. Submit updates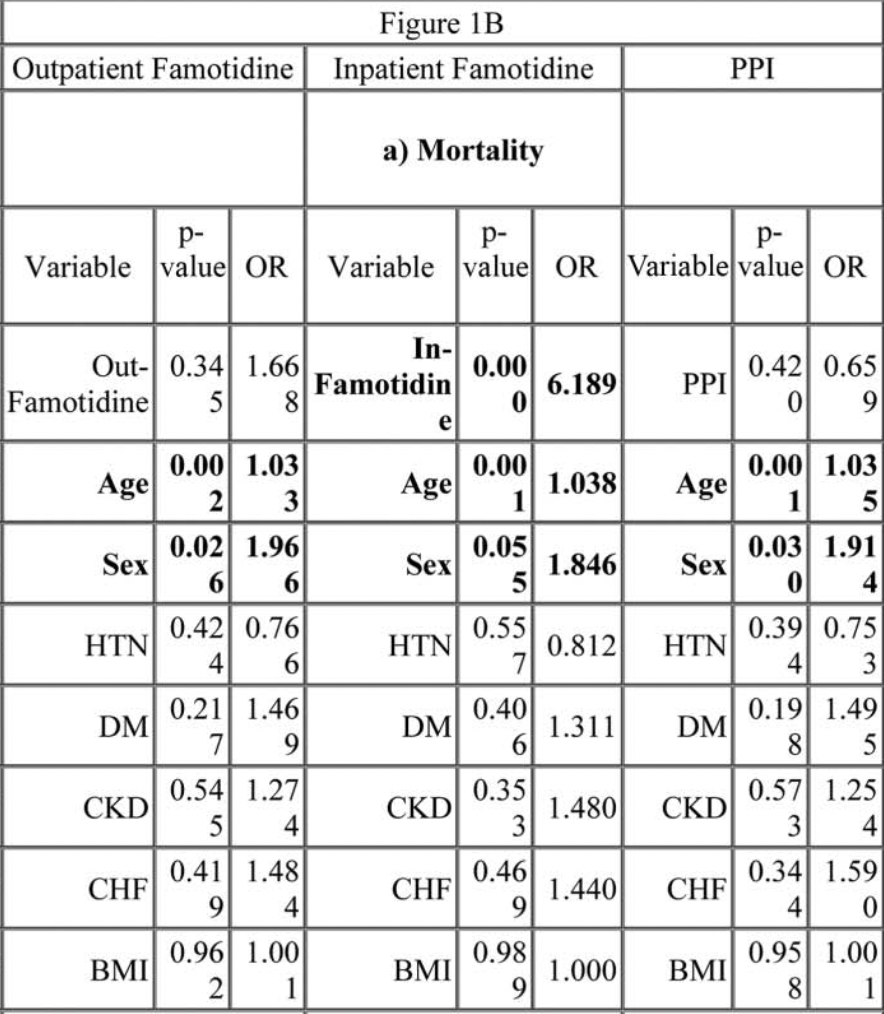 Stolow et al., 31 Oct 2021, retrospective, USA, peer-reviewed, 9 authors.
Abstract: S598 Abstracts [1299] Table 1. Survey Demographics & Barriers assessed. [1300] Table 1. Reasons for Ordering FIT pre vs post intervention. evaluation. Despite these indications for FIT, we realized there were numerous instances at the VAMC in which FIT was obtained inappropriately inpatient, such as in overt GI bleeding. This quality improvement (QI) project aimed to identify and reduce the situations of inpatient FIT usage, to educate on the proper indications for FIT, and to evaluate the impact on patient outcomes. Methods: A retrospective chart review was performed of 1 year of inpatient FIT usage. Subsequently, weekly pre-intervention questionaire surveys were distributed over 3 months to various VA healthcare providers to gauge baseline understanding of FIT. Then, teaching and educational handouts were provided (Figure 1). Data post intervention was collected over a 3 month period and analyzed. Results: A total of 400 FITs (on average 33/month) were ordered pre-intervention with 20% done on patients with active GI bleeds: abdominal pain and diarrhea were other reasons. Pre-intervention surveys were obtained from 74 individuals; 13% of respondents thought FIT was for GI bleeding while 7% were unsure of FIT indication. Post educational intervention, 89 FITs (on average 30/month) were collected, with the majority of ordering providers of medicine specialty. Anemia was the most common indication for FIT at 64% (Table 1). Of the 1FITs, GI was only consulted on 76% of these cases post intervention in which colonoscopy was performed in 38% of these cases. 31% of inpatients with 1FITs were critically ill with multiple comorbidities, had no overt GI bleeding, and thus colonoscopy was deferred. Among the FIT1 patients whom did not undergo endoscopic evaluation, about 40% had died from non GI related causes by completion of the study. Conclusion: FIT is overutilized in the hospital setting and it's inpatient role is limited. Despite the lack of difference in the number of FITs ordered pre and post educational intervention, our data suggests 1FITs did not affect patient outcome or clinical management. We propose decreased usage of FIT in the acute inpatient setting with a plan for continued educational intervention and setting forth limitations to ordering providers. S1300 The Wrong FITting: A Quality Improvement Project to Reduce Inpatient Fecal Immunochemical Test (FIT) Usage at the Veterans Affairs Medical Center (VAMC) Christine Chen, DO, Robert Taylor, MD, Tony Brar, MD, Patrick Stoner, DO, Adam Younis, MD, Jake Wilson, MD, Nicole Ruiz, MD, George Marek, MD, PhD, Nakechand Pooran, MD. University of Florida, Gainesville, FL. Introduction: Fecal immunochemical test (FIT) utilizes antibodies to detect the globin (protein) part of hemoglobin. Indications for FIT include screening for colorectal cancer (CRC) and in cases of anemia without any overt gastrointestinal (GI) bleeding. An abnormal FIT could suggest the presence of CRC, polyps, hemorrhoids, or ulcers and should be pursued with a colonoscopy for [1300] Figure 1. Educational handouts on FIT usage were provided to healthcare providers. The American Journal of GASTROENTEROLOGY S1301 Presidential Poster Award A Retrospective Review: Famotidine Use Is Not Associated With Improved Outcomes in Hospitalized Patients With..
Please send us corrections, updates, or comments. c19early involves the extraction of over 100,000 datapoints from thousands of papers.
Community updates
help ensure high accuracy. Vaccines and treatments are complementary. All practical, effective, and safe means should be used based on risk/benefit analysis. No treatment, vaccine, or intervention is 100% available and effective for all current and future variants. We do not provide medical advice. Before taking any medication, consult a qualified physician who can provide personalized advice and details of risks and benefits based on your medical history and situation.
FLCCC
and
WCH
provide treatment protocols.
Submit