Early Treatment with BamlanivimabAlone does not Prevent COVID-19 Hospitalization and Its Post-Acute Sequelae. A Real Experience in Umbria, Italy
Retrospective 39 patients treated with bamlanivimab in Italy, showing results far below expectations based on the BLAZE1 trial. Authors note that most patients had the alpha variant which does not have the E484K and L452R mutations known to lead to resistance.
Efficacy is highly variant dependent. In Vitro research suggests a lack of efficacy for omicron Liu, Sheward, VanBlargan.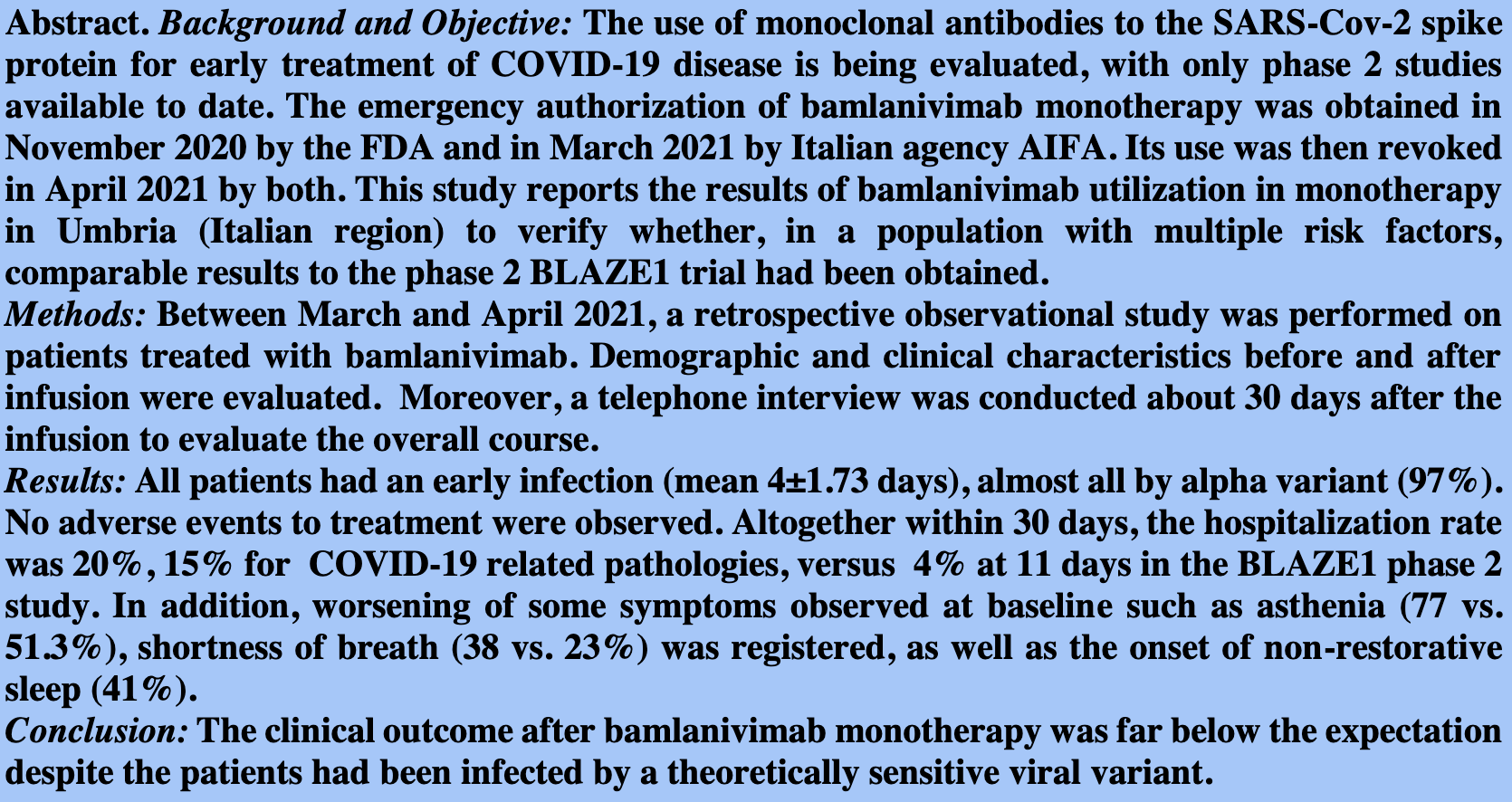 Schiaroli et al., 29 Oct 2021, retrospective, Italy, peer-reviewed, 7 authors.
EARLY TREATMENT WITH BAMLANIVIMAB ALONE DOES NOT PREVENT COVID-19 HOSPITALIZATION AND ITS POST-ACUTE SEQUELAE. A REAL EXPERIENCE IN UMBRIA, ITALY.
Mediterranean Journal of Hematology and Infectious Diseases, doi:10.4084/mjhid.2021.061
Background and Objective: The use of monoclonal antibodies to the SARS-Cov-2 spike protein for early treatment of COVID-19 disease is being evaluated, with only phase 2 studies available to date. The emergency authorization of bamlanivimab monotherapy was obtained in November 2020 by the FDA and in March 2021 by Italian agency AIFA. Its use was then revoked in April 2021 by both. This study reports the results of bamlanivimab utilization in monotherapy in Umbria (Italian region) to verify whether, in a population with multiple risk factors, comparable results to the phase 2 BLAZE1 trial had been obtained. Methods: Between March and April 2021, a retrospective observational study was performed on patients treated with bamlanivimab. Demographic and clinical characteristics before and after infusion were evaluated. Moreover, a telephone interview was conducted about 30 days after the infusion to evaluate the overall course. Results: All patients had an early infection (mean 4±1.73 days), almost all by alpha variant (97%). No adverse events to treatment were observed. Altogether within 30 days, the hospitalization rate was 20%, 15% for COVID-19 related pathologies, versus 4% at 11 days in the BLAZE1 phase 2 study. In addition, worsening of some symptoms observed at baseline such as asthenia (77 vs. 51.3%), shortness of breath (38 vs. 23%) was registered, as well as the onset of non-restorative sleep (41%). Conclusion: The clinical outcome after bamlanivimab monotherapy was far below the expectation despite the patients had been infected by a theoretically sensitive viral variant.
References