RCT 827 children aged 1-6 years in daycare in Finland analyzing the effectiveness of daily Streptococcus salivarius K12 oral probiotic use for 6 months in preventing acute otitis media (AOM). The probiotic group did not have a significantly lower rate of AOM requiring antibiotics compared to placebo. A secondary outcome shows no significant difference in COVID-19, with only 2 and 3 cases in the treatment and placebo groups.The immune effects of probiotics are strain-specific.Although the 33% fewer cases is not statistically significant, it is consistent with the significant 40% fewer cases
[10‑60%]
from meta analysis of the
8 cases results to date
.
risk of case,

33.2% lower

, RR 0.67, p = 1.00
, treatment 2 of 413 (0.5%), control 3 of 414 (0.7%), NNT 416.
Effect extraction follows pre-specified rules prioritizing more serious outcomes. Submit updates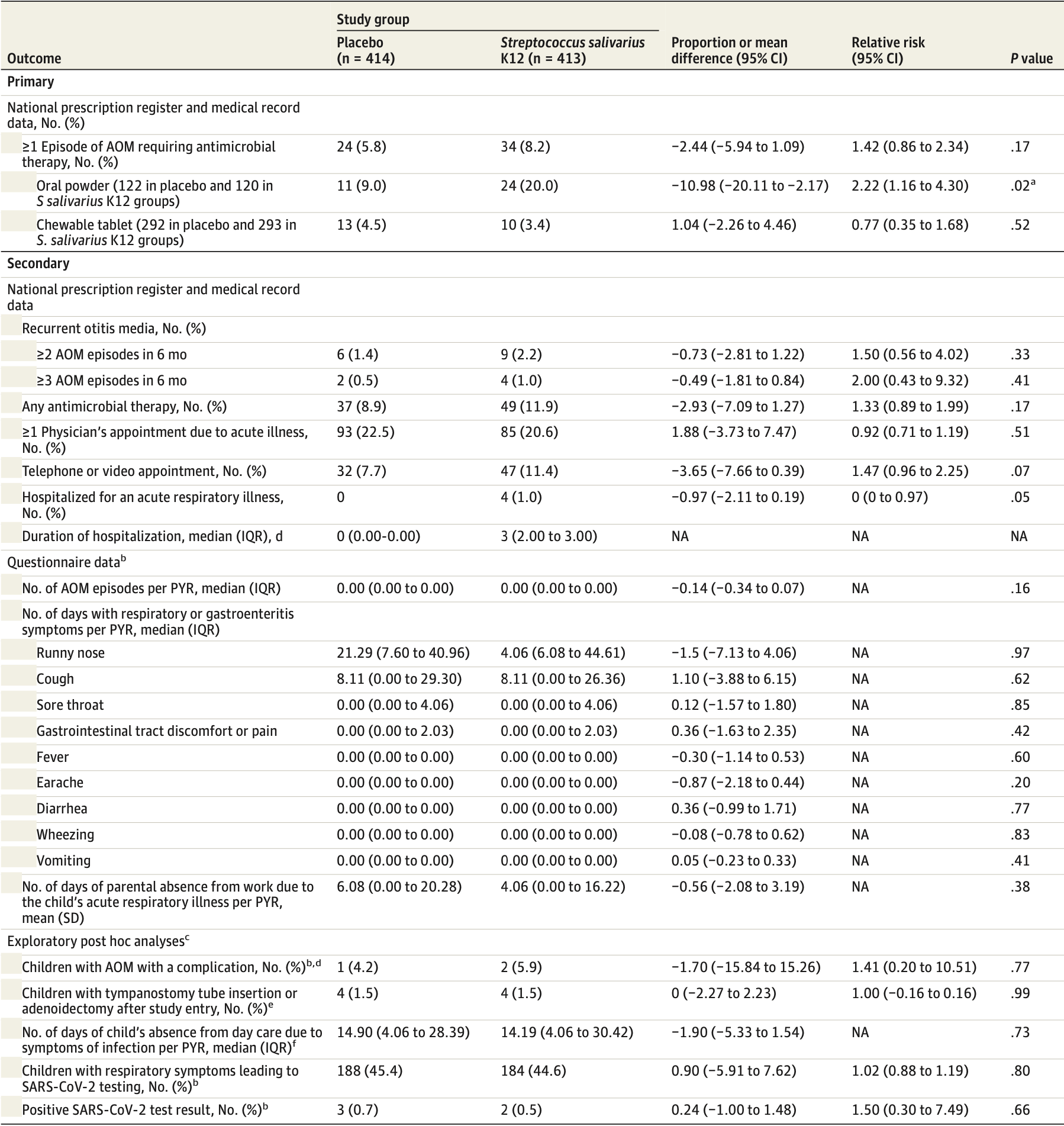 Sarlin et al., 2 Nov 2023, Double Blind Randomized Controlled Trial, placebo-controlled, Finland, peer-reviewed, 7 authors, study period 1 August, 2020 - 31 May, 2021.
Streptococcus salivarius Probiotics to Prevent Acute Otitis Media in Children
JAMA Network Open, doi:10.1001/jamanetworkopen.2023.40608
IMPORTANCE New approaches for the prevention of acute otitis media (AOM), the most common reason for antibiotic use in children, are needed. OBJECTIVE To assess the efficacy of the Streptococcus salivarius K12 oral probiotics in the primary prevention of AOM. DESIGN, SETTING, AND PARTICIPANTS This double-blind, randomized placebo-controlled clinical trial was conducted from August 1, 2020, to May 31, 2021, at 50 day care centers in the Oulu region of Finland. A total of 827 children aged 1 to 6 years attending day care were included. The exclusion criteria consisted of ongoing antimicrobial prophylaxis or immunodeficiency. The follow-up time was 6 months and was completed on May 31, 2021. Data were analyzed from October 24, 2022, to September 16, 2023, based on intention to treat. INTERVENTION Eligible participants were randomly allocated to receive 1 daily dose of a S salivarius K12 product or placebo every evening for 6 months. A daily dose was defined as 1 sachet of soluble oral powder for children younger than 3 years or 1 chewable tablet for children 3 years or older containing 1 × 10 9 colony-forming units of S salivarius K12. MAIN OUTCOMES AND MEASURES The primary outcome was the proportion of children with at least 1 episode of AOM requiring antimicrobial therapy within 6 months of randomization. All physician visits and purchases of antimicrobial drugs were retrieved from the electronic national medical record and prescription register. The primary outcome was met if the legal guardian had purchased an antimicrobial prescription for AOM. RESULTS A total of 827 children with a mean (SD) age of 4.1 (1.6) years (433 boys [52.4%]) were randomized to S salivarius K12 oral products (n = 413) or placebo (n = 414). Thirty-four children (8.2%) in the S salivarius group and 24 children (5.8%) in the placebo group experienced at least 1 episode of AOM requiring antimicrobial therapy during the 6-month follow-up period (relative risk, 1.42 [95% CI, 0.86-2.34]; proportion difference, -2.44% [95% CI, -5.94% to 1.09%]; P = .17). Time to first AOM episode did not differ between the groups (174 [95% CI, 171-177] days in the S salivarius group vs 176 [95% CI, 173-179] days in the placebo group; P = .18). CONCLUSIONS AND RELEVANCE In this randomized placebo-controlled clinical trial, the daily use of the S salivarius K12 products for 6 months did not reduce the occurrence of AOM. New approaches for primary prevention of AOM among children are needed.
Additional Contributions: We thank the staff at day care centers in the cities of Oulu, Kempele, Tyrnävä, Liminka, and Muhos, Finland. Aino Ruohola, MD, PhD, University of Turku, Turku, Finland, provided discussions and comments throughout the study and Leena Okkonen, RN, Oulu University Hospital Oulu, Oulu, Finland, helped in the project in her role as study nurse; they were not compensated financially for their contributions.
References
Armitage, Berry, Matthews, JAMA Network Open | Pediatrics Effectiveness of S salivarius Probiotics to Prevent Acute Otitis Media in Children JAMA Network Open
Pierro, Colombo, Giuliani, Effect of administration of Streptococcus salivarius K12 on the occurrence of streptococcal pharyngo-tonsillitis, scarlet fever and acute otitis media in 3 years old children, Eur Rev Med Pharmacol Sci
Services, None