Safety analysis of molnupiravir reporting an unexpectedly high rate of serious adverse reactions.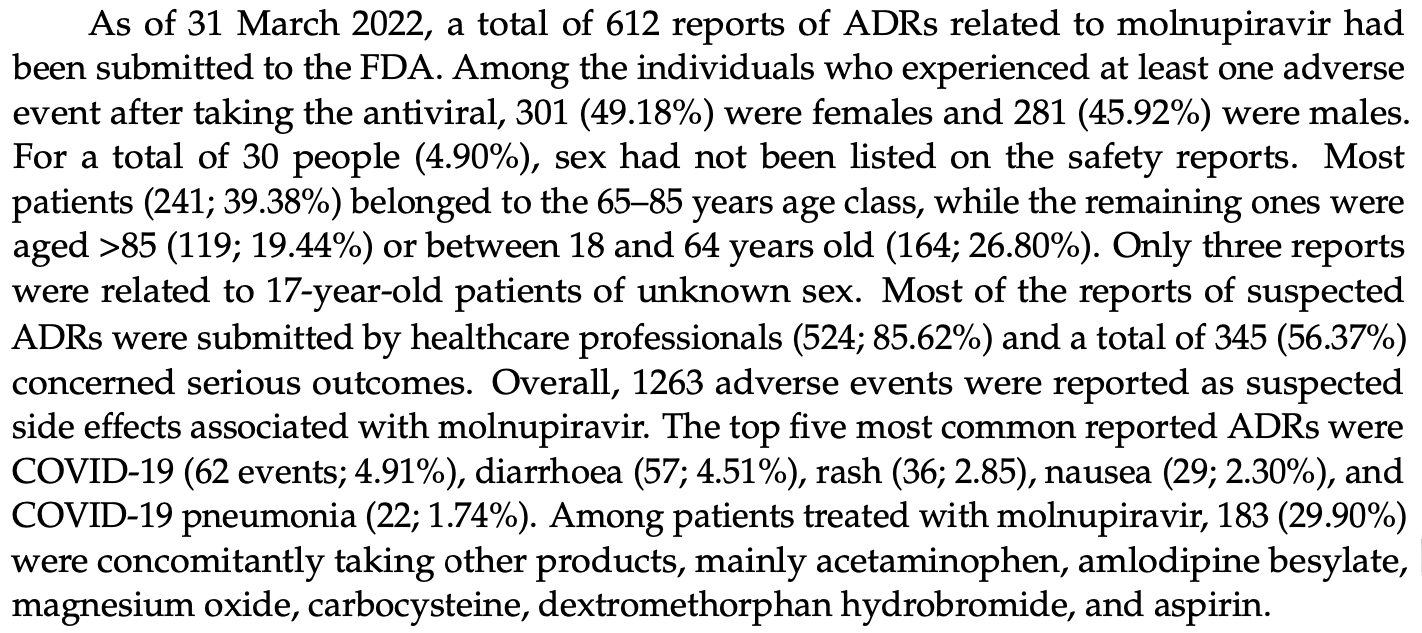 Santi Laurini et al., 21 Dec 2022, Italy, peer-reviewed, survey, 3 authors.
Contact: domenico.motola@unibo.it (corresponding author).
Safety Profile of Molnupiravir in the Treatment of COVID-19: A Descriptive Study Based on FAERS Data
doi:10.3390/jcm12010034
Concerns have been raised about the actual benefit and safety of molnupiravir, a new antiviral treatment for coronavirus disease 2019 . In order to provide additional evidence to support its use, we aimed to evaluate the real safety profile based on post-marketing pharmacovigilance data. Molnupiravir safety data were captured from the FDA Adverse Event Reporting System (FAERS). We performed a descriptive analysis of the baseline demographic characteristics of patients who experienced at least one adverse drug reaction (ADRs) related to molnupiravir, and then evaluated those most frequently reported. As of 31 March 2022, 612 reports of ADRs related to molnupiravir were submitted to the FDA, 301 (49.18%) were related to females and 281 (45.92%) to males. Most reports (524; 85.62%) were submitted by healthcare professionals and 345 (56.37%) concerned serious outcomes. The most common reported ADRs were diarrhoea (57; 4.51%), rash (36; 2.85), nausea (29; 2.30%), and COVID-19 pneumonia (22; 1.74%). The most frequent adverse reactions reported with molnupiravir in the U.S. post-marketing experience are consistent with the safety evaluation of the antiviral medicine. Even if no evident safety concerns emerged, an unexpectedly high rate of serious adverse reactions together with a few cases of potential new adverse reactions occurred.
Institutional Review Board Statement: Not applicable. Informed Consent Statement: Not applicable. Conflicts of Interest: The authors declare no conflict of interest.
References
Cascella, Rajnik, Aleem, Dulebohn, Di Napoli et al., Evaluation, and Treatment of Coronavirus (COVID-19
Etminan, Re: Molnupiravir's authorisation was premature, BMJ
Hama, Re: Molnupiravir's authorisation was premature, BMJ
Hill, Re: Molnupiravir's authorisation was premature, BMJ
Merck, Merck and Ridgeback's Investigational Oral Antiviral Molnupiravir Reduced the Risk of Hospitalization or Death by Approximately 50 Percent Compared to Placebo for Patients with Mild or Moderate COVID-19 in Positive Interim Analysis of Phase 3 Study
Yücel, A case of acute renal failure with COVID-19 under Molnupiravir treatment, Med. Sci. Discov