Retrospective database analysis of 64,781 hospitalized patients in the USA, showing lower mortality with vitamin C or vitamin D (authors do not distinguish between the two), and higher mortality with zinc and HCQ, statistically significant for zinc. Authors excluded hospital-based outpatient visits, without explanation.
Confounding by indication
is likely, adjustments do not appear to include any information on COVID-19 severity at baseline.
Cholecalciferol was used in this study. Meta analysis shows that late stage treatment with
calcitriol / calcifediol
(or paricalcitol, alfacalcidol, etc.) is more effective than
cholecalciferol
:
65%
[41‑79%]
lower risk vs.
38%
[25‑49%]
lower risk. Cholecalciferol requires two hydroxylation steps to become activated - first in the liver to calcifediol, then in the kidney to calcitriol. Calcitriol, paricalcitol, and alfacalcidol are active vitamin D analogs that do not require conversion. This allows them to have more rapid onset of action compared to cholecalciferol. The time delay for cholecalciferol to increase serum calcifediol levels can be 2-3 days, and the delay for converting calcifediol to active calcitriol can be up to 7 days.
This study is excluded in meta analysis: results are only provided for use of one or more treatments within a class of treatments, results for each treatment are not provided;
confounding by indication
is likely and adjustments do not consider COVID-19 severity at baseline.
risk of death,

11.0% lower

, OR 0.89, p = 0.005
, adjusted per study, vitamin C or vitamin D, multivariable, RR approximated with OR.
Effect extraction follows pre-specified rules prioritizing more serious outcomes. Submit updates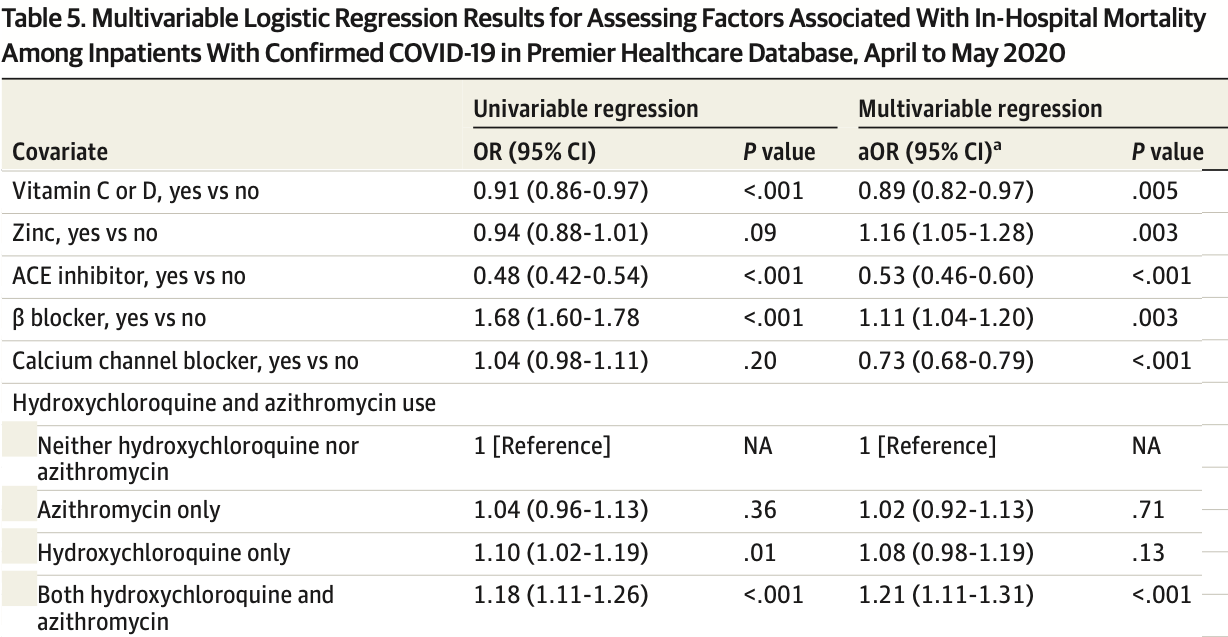 Rosenthal et al., 10 Dec 2020, retrospective, database analysis, USA, peer-reviewed, 5 authors.
Risk Factors Associated With In-Hospital Mortality in a US National Sample of Patients With COVID-19
JAMA Network Open, doi:10.1001/jamanetworkopen.2020.29058
IMPORTANCE Coronavirus disease 2019 (COVID-19) has infected more than 8.1 million US residents and killed more than 221 000. There is a dearth of research on epidemiology and clinical outcomes in US patients with COVID-19. OBJECTIVES To characterize patients with COVID-19 treated in US hospitals and to examine risk factors associated with in-hospital mortality. DESIGN, SETTING, AND PARTICIPANTS This cohort study was conducted using Premier Healthcare Database, a large geographically diverse all-payer hospital administrative database including 592 acute care hospitals in the United States. Inpatient and hospital-based outpatient visits with a principal or secondary discharge diagnosis of COVID-19 (International Classification of Diseases, Tenth Revision, Clinical Modification diagnosis code, U07.1) between April 1 and May 31, 2020, were included. EXPOSURES Characteristics of patients were reported by inpatient/outpatient and survival status. Risk factors associated with death examined included patient characteristics, acute complications, comorbidities, and medications. MAIN OUTCOMES AND MEASURES In-hospital mortality, intensive care unit (ICU) admission, use of invasive mechanical ventilation, total hospital length of stay (LOS), ICU LOS, acute complications, and treatment patterns. RESULTS Overall, 64 781 patients with COVID-19 (29 479 [45.5%] outpatients; 35 302 [54.5%] inpatients) were analyzed. The median (interquartile range [IQR]) age was 46 (33-59) years for outpatients and 65 (52-77) years for inpatients; 31 968 (49.3%) were men, 25 841 (39.9%) were White US residents, and 14 340 (22.1%) were Black US residents. In-hospital mortality was 20.3% among inpatients (7164 patients). A total of 5625 inpatients (15.9%) received invasive mechanical ventilation, and 6849 (19.4%) were admitted to the ICU. Median (IQR) inpatient LOS was 6 (3-10) days. Median (IQR) ICU LOS was 5 (2-10) days. Common acute complications among inpatients included acute respiratory failure (19 706 [55.8%]), acute kidney failure (11 971 [33.9%]), and sepsis (11 910 [33.7%]). Older age was the risk factor most strongly associated with death (eg, age Ն80 years vs 18-34 years: odds ratio [OR], 16.20; 95% CI, 11.58-22.67; P < .001). Receipt of statins (OR, 0.60; 95% CI, 0.56-0.65; P < .001), angiotensin-converting enzyme inhibitors (OR, 0.53; 95% CI, 0.46-0.60; P < .001), and calcium channel blockers (OR, 0.73; 95% CI, 0.68-0.79; P < .001) was associated with decreased odds of death. Compared with patients with no hydroxychloroquine or azithromycin, patients with both azithromycin and hydroxychloroquine had increased odds of death (OR, 1.21; 95% CI, 1.11-1.31; P < .001). (continued) Key Points Question What are the epidemiologic characteristics of patients with coronavirus disease 2019 (COVID-19) treated in US hospitals, and what risk factors are associated with mortality? Findings In this cohort study of 64 781 patients with COVID-19 treated in 592 US hospitals..
Additional Contributions: The authors would like to thank Bernadette Johnson Flavors, MBA, John House, MS, Teresa Davis, BS, Umang Patel, MS, and the entire PHD development team for making the data available on time for the analysis. The authors would also like to thank Denise Juliano, MS, Myla Maloney, MBA, BCMAS, Carol Cohen, BA, and the Premier Applied Sciences COVID-19 Task Force for their support with the analysis. All of the above individuals are employees of Premier Inc. No payment in addition to their regular salary was provided for their support. Dr Rosenthal has obtained written permission to include the names of individuals in this article.
References
Horby, Mafham, Linsell, Effect of hydroxychloroquine in hospitalized patients with COVID-19, N Engl J Med
Premier, Premier Healthcare Database: data that informs and performs