Prophylaxis RCT with 127 probiotics and 128 control healthcare workers in Spain, showing no significant difference in cases. There were only 4 cases. Severity information by arm is not provided. L. coryniformis K8 CECT 5711.Treatment may help sustain the immune response to vaccination - in the subgroup of subjects for whom more than 81 days had passed since they received the first dose, IgG levels were significantly higher in the treatment group. Patients that started probiotic consumption before the first vaccine dose also reported significantly fewer side effects.The immune effects of probiotics are strain-specific.
risk of case,

9.3% lower

, RR 0.91, p = 0.92
, treatment 2 of 127 (1.6%), control 2 of 128 (1.6%), adjusted per study, multivariable.
Effect extraction follows pre-specified rules prioritizing more serious outcomes. Submit updates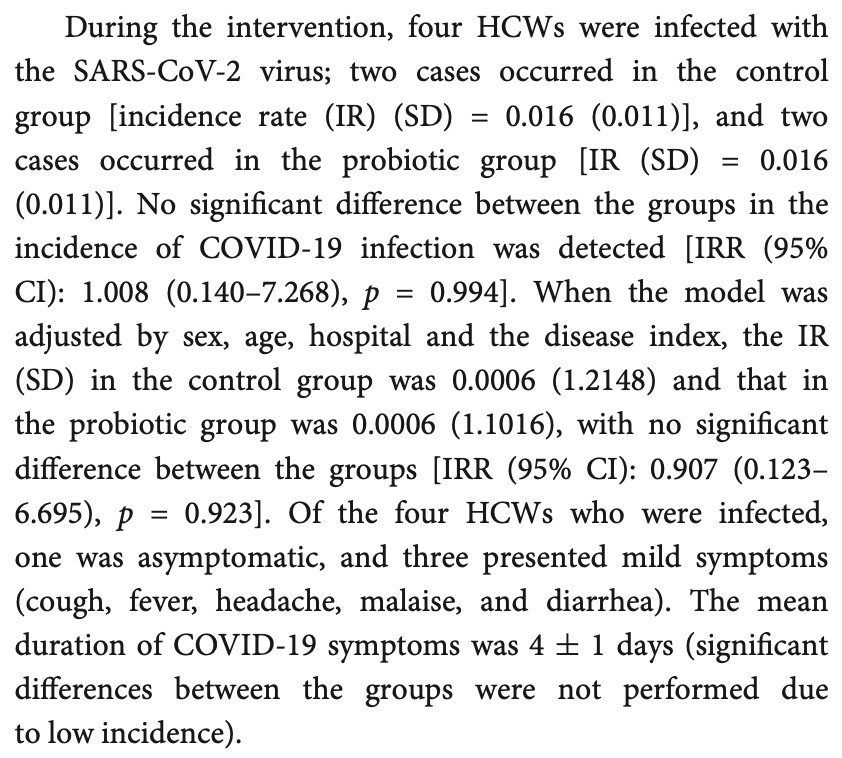 Rodriguez-Blanque et al., 3 Aug 2022, Double Blind Randomized Controlled Trial, placebo-controlled, Spain, peer-reviewed, 7 authors, study period 24 April, 2020 - 20 July, 2020, trial
NCT04366180
(history)
.
Contact: ruth.blanco@kerry.com.
Evaluation of the effect of Loigolactobacillus coryniformis K8 CECT 5711 consumption in health care workers exposed to COVID-19
Frontiers in Nutrition, doi:10.3389/fnut.2022.962566
In conclusion, the administration of L. coryniformis K8 CECT 5711 to HCWs helps to extend the immune protection generated by the COVID-19 vaccine over time.
Ethics statement The studies involving human participants were reviewed and approved by the Regional Ethical Committee (Granada, Spain). The patients/participants provided their written informed consent to participate in this study. Author contributions RR-B and MO participated in the conception of the study, designed the methodology, and contributed to the manuscript writing. JS-G participated in the design of the study and critically revised the manuscript. ÁC-V and AA recruited and followed-up the volunteers. JM-L provided study materials and performed the data curation. RB-R participated in the study design, analyzed the data, interpreted the results, and wrote the draft of the manuscript. All authors have read and approved the final manuscript. Conflict of interest JM-L, MO, and RB-R are workers of Biosearch Life, a Kerry Company, owner of the patent of Loigolactobacillus coryniformis CECT 5711. The remaining authors declare that the research was conducted in the absence of any commercial or financial relationships that could be construed as a potential conflict of interest. Publisher's note All claims expressed in this article are solely those of the authors and do not necessarily represent those of their affiliated organizations, or those of the publisher, the editors and the reviewers. Any product that may be evaluated in this article, or claim that may be made by its manufacturer, is not guaranteed or endorsed by the publisher. Supplementary material The..
References
Favresse, Bayart, Mullier, Elsen, Eucher et al., Waning immune humoral response to BNT162b2 Covid-19 vaccine over 6 months, Emerg Microbes Infect
Gómez-Ochoa, Franco, Rojas, Raguindin, Roa-Díaz, None
Lara-Villoslada, Sierra, Boza, Efectos beneficiosos en niños sanos del consumo de un producto lácteo que contiene dos cepas probióticas. Lactobacillus coryniformis CECT5711 y Lactobacillus gasseri CECT5714, Nutr Hosp
Pormohammad, Zarei, Ghorbani, Mohammadi, Razizadeh, None
Who, Coronavirus (COVID-19) Dashboard