Prophylaxis RCT with 127 probiotics and 128 control healthcare workers in Spain, showing no significant difference in cases. There were only 4 cases. Severity information by arm is not provided. L. coryniformis K8 CECT 5711.Treatment may help sustain the immune response to vaccination - in the subgroup of subjects for whom more than 81 days had passed since they received the first dose, IgG levels were significantly higher in the treatment group. Patients that started probiotic consumption before the first vaccine dose also reported significantly fewer side effects.The immune effects of probiotics are strain-specific.
risk of case,

9.3% lower

, RR 0.91, p = 0.92
, treatment 2 of 127 (1.6%), control 2 of 128 (1.6%), adjusted per study, multivariable.
Effect extraction follows pre-specified rules prioritizing more serious outcomes. Submit updates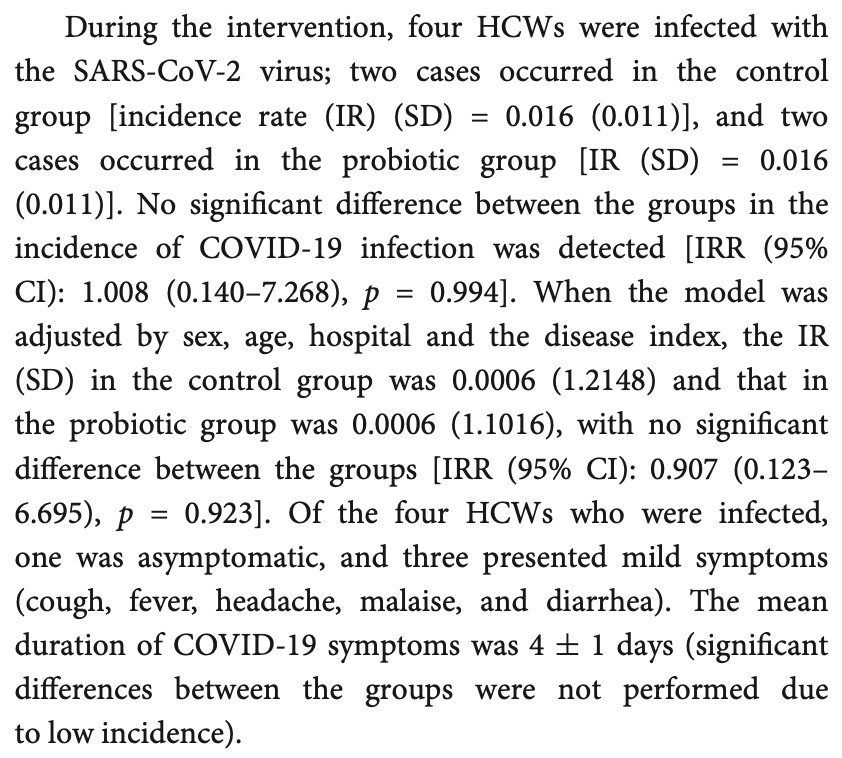 Rodriguez-Blanque et al., 3 Aug 2022, Double Blind Randomized Controlled Trial, placebo-controlled, Spain, peer-reviewed, 7 authors, study period 24 April, 2020 - 20 July, 2020, trial
NCT04366180
(history)
.
Contact: ruth.blanco@kerry.com.