Deficiency of vitamin D is a risk factor of mortality in patients with COVID-19
Deficiency of vitamin D is a risk factor of mortality in patients with COVID-19
,
Revista de Sanidad Militar, doi:10.35366/93773
,
Retrospective 172 hospitalized COVID-19 patients in Mexico, reporting a very high prevalence of vitamin D deficiency, and significantly higher mortality with low vitamin D levels in unadjusted results. This study is excluded in the after exclusion results of meta analysis: unadjusted results with no group details.
risk of death,

61.7% lower

, RR 0.38, p = 0.006
, high D levels (≥8ng/mL) 21 of 137 (15.3%), low D levels (<8ng/mL) 14 of 35 (40.0%), NNT 4.1, inverted to make RR<1 favor high D levels (≥8ng/mL), odds ratio converted to relative risk.
Effect extraction follows pre-specified rules prioritizing more serious outcomes. Submit updates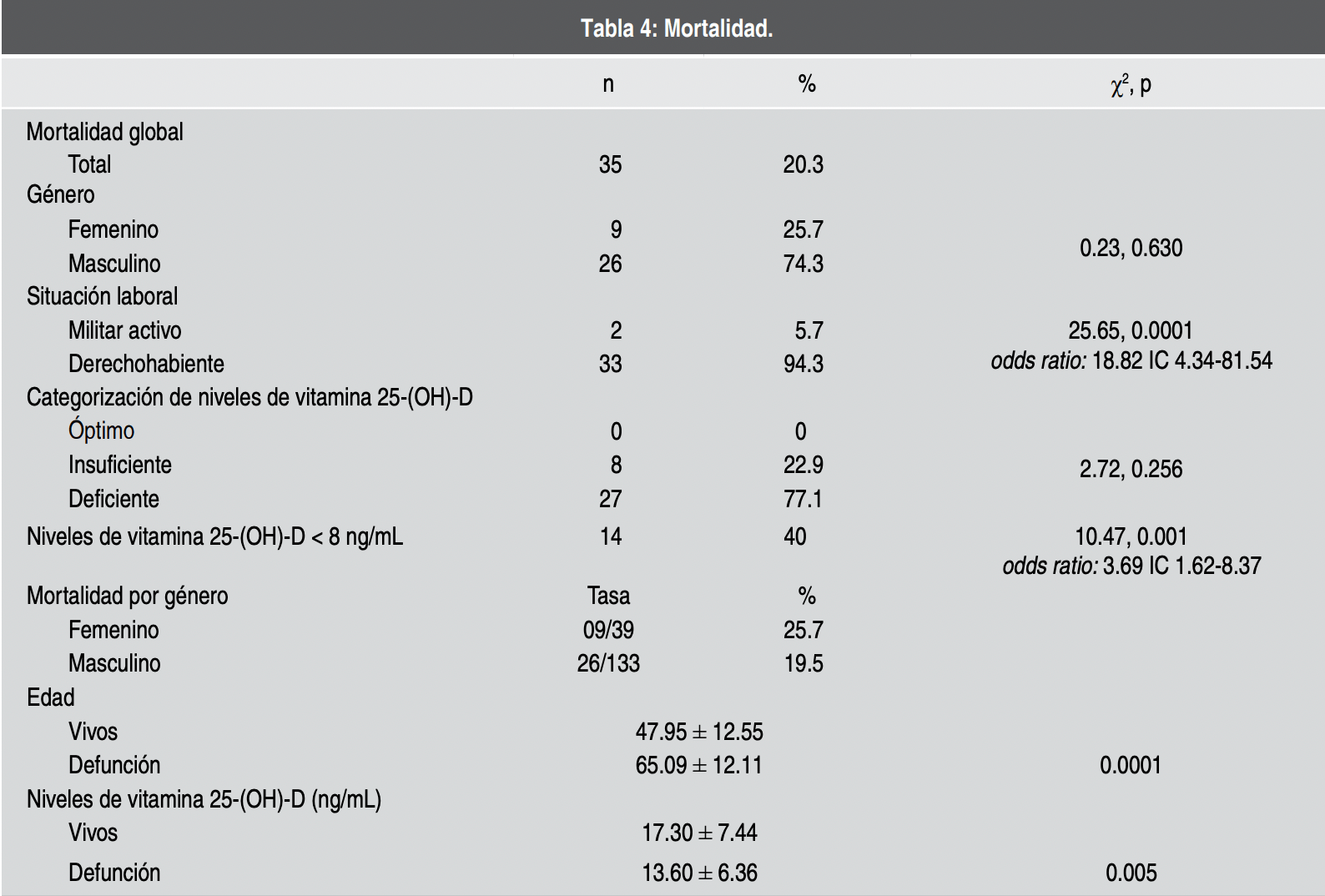 Reyes Pérez et al., 30 Apr 2020, retrospective, Mexico, peer-reviewed, 5 authors.
Contact: tort1822@gmail.com.
Abstract: Artículo de investigación https://dx.doi.org/10.35366/93773 Vol. 74 • Núms. 1-2 Enero-Abril • 2020 pp 000-113 doi: 10.35366/93773 La deficiencia de vitamina D es un factor de riesgo de mortalidad en pacientes con COVID-19 Recibido: 20/04/2020 Aceptado: 30/04/2020 Deficiency of vitamin D is a risk factor of mortality in patients with COVID-19 Arturo Rodríguez Tort,* Edgardo Alonso Montelongo Mercado,‡ Adriana Martínez‑Cuazitl,§ Ana Victoria Puente Nieto,|| Rocío Adriana Reyes Pérez¶ * Teniente Médico Cirujano Residente de tercer año del Servicio de Anestesiología. Hospital Central Militar, SEDENA. México. ‡ General Médico Cirujano Militar Especialista. Subdirector del Hospital Central Militar, SEDENA. México. § Dra. en C. Médico Cirujano y Partero. Adscrita al Departamento de Investigación. Hospital Central Militar. México. || Médico pasante del Servicio Social. Área de Simulación y Adiestramiento Médico Avanzado. Universidad Quetzalcóatl. México. ¶ Médico especialista. Hospital General de México «Dr. Eduardo Liceaga». México. RESUMEN ABSTRACT Introducción: La enfermedad COVID-19 actualmente no tiene ningún tratamiento específico y no cuenta con vacunación; la morbimortalidad de esta patología es elevada en México como a nivel mundial, por lo que es primordial estudiar factores que puedan modular el curso de la enfermedad. El papel de la vitamina D parece tener un papel fundamental en la inmunidad en infecciones respiratorias. Objetivo: Determinar la asociación entre los niveles de vitamina D y la mortalidad en los pacientes hospitalizados con COVID-19 en el Hospital Central Militar. Material y métodos: En este estudio se incluyeron a 172 pacientes con diagnóstico de COVID-19 y a los que se les determinó vitamina 25-(OH)-D; se consideró como caso a los pacientes que fallecieron por COVID-19 y controles a los que sobrevivieron. Resultados: Los niveles de vitamina 25-(OH)-D en los pacientes hospitalizados por COVID-19 fue de 16.54 ± 7.22 ng/mL. El 95.92% presentó niveles de vitamina 25-(OH)-D debajo del óptimo. Los pacientes con niveles menores a 8 ng/mL presentaron 3.68 más riesgo de morir. Conclusión: Los pacientes con COVID-19 que requieren hospitalización tienen deficiencia de vitamina D, y niveles de bajo de 8 ng/mL es un factor de riesgo para mortalidad por COVID-19, por lo que se deben tomar acciones que mejoren los niveles de vitamina D como la suplementación de vitamina D en este grupo de pacientes. Introduction: At this moment COVID-19 disease has no specific treatment and there is no vaccine available. This disease has an elevated morbidity-mortality not only in Mexico but worldwide, and it is the reason why it's essential to study factors that could modulate the course of the disease; the role of vitamin D seems to have a fundamental role in immunity when we talk about respiratory infections. Objective: Determine the association between vitamin D levels and mortality in hospitalized patients with COVID-19 at the Hospital Central Militar México. Material and methods: This study included 172 patients diagnosed with COVID-19 whom serum levels of vitamin 25(OH)- D were determined. Considering as a case the patients who died from COVID-19 and control patients who survived. Results: Vitamin 25-(OH)-D serum levels in hospitlized patients with COVID-19 were 16.54 ± 7.22 ng/mL. The 95.92% presented vitamin D levels below the ideal range. Patients with vitamin D serum levels bellow 8 ng/mL had 3.68 higher risk of dying from..
Please send us corrections, updates, or comments. Vaccines and treatments are complementary. All practical, effective, and safe means should be used based on risk/benefit analysis. No treatment, vaccine, or intervention is 100% available and effective for all current and future variants. We do not provide medical advice. Before taking any medication, consult a qualified physician who can provide personalized advice and details of risks and benefits based on your medical history and situation.
FLCCC
and
WCH
provide treatment protocols.
Submit