Prospective analysis of 122 hospitalized COVID-19 patients, showing significantly lower zinc levels in ICU patients compared with non-ICU patients. Zinc levels were lower in non-survivors compared with survivors, without statistical significance.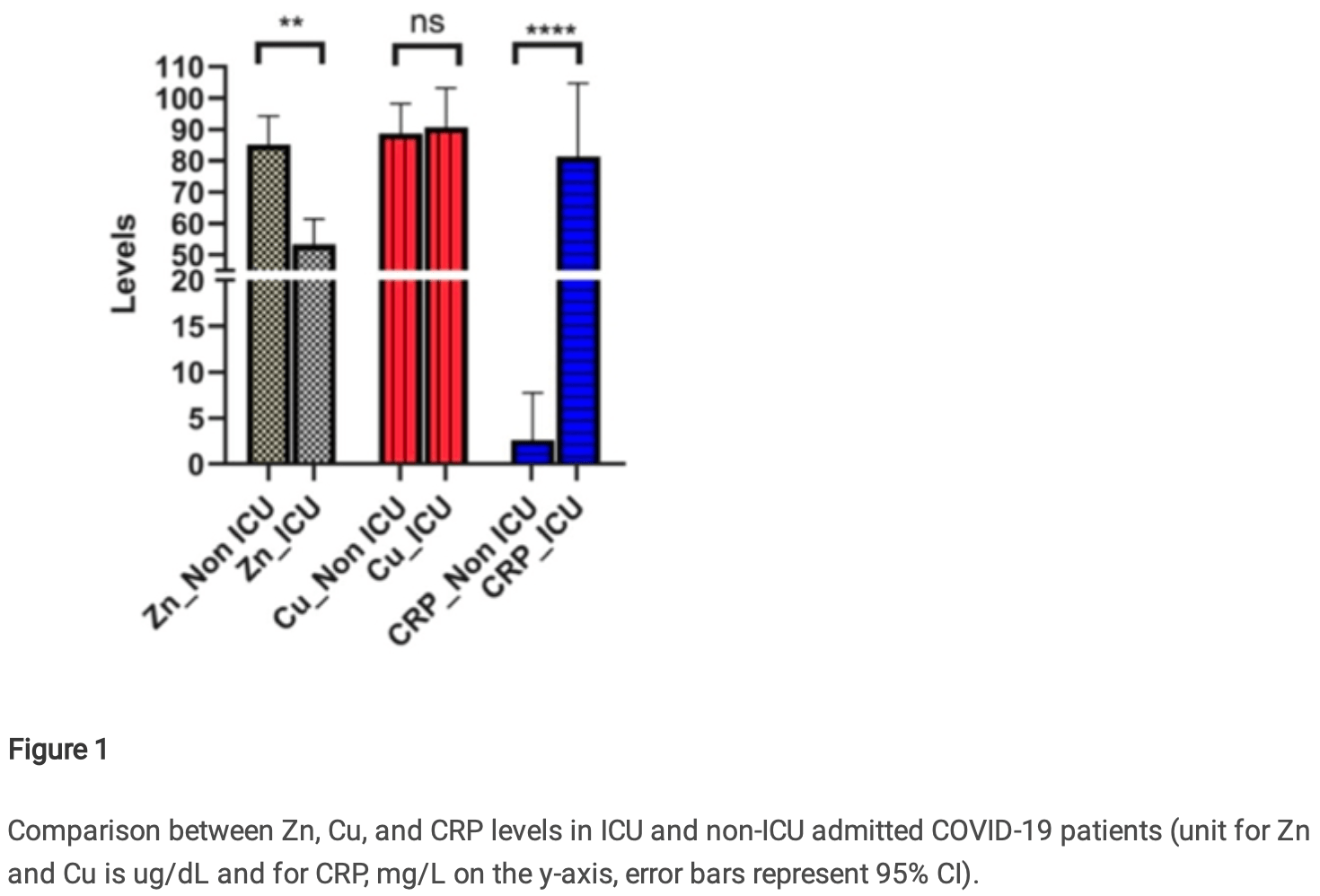 Ram et al., 3 Jan 2023, prospective, preprint, 10 authors, study period July 2020 - November 2020.
Analysis of trace elements (Zn and Cu) levels in COVID-19 patients with ICU and Non-ICU hospitalization
doi:10.21203/rs.3.rs-2418159/v1
Background: The persistence of the COVID-19 pandemic besides its current resurgence and continuously increasing fatalities indicates a vital need for severity assessment at its early stages. Recent studies have already ascribed mortality to chronic in ammation. But the part of trace elements, especially zinc and copper that have been known to possess antiviral roles for a long time is least studied in COVID-19. Methods: The study comprised 122 COVID-19-positive participants admitted to the tertiary care hospital. Among them, eighty-one (~66%) were admitted to ICU under high severity. Levels of Zn and Cu along with CRP were analyzed and compared among ICU and non-ICU admitted patients. Using ROC analysis, the potential and precise levels for de ning severity were determined. Results: We found a signi cant reduction in Zn levels (p=0.001) in ICU-admitted patients compared to the non-ICU group which was more pronounced in females and patients aged above 50 years. Reduction in the levels of Zn is accompanied by elevated CRP levels (p<0.001) in ICU patients with no effect on Cu levels. Upon ROC analysis, Zn and CRP were found to have signi cant AUC (p<0.0001). Further, CRP to Zn ratio displayed improved AUC with 90% sensitivity indicating their applicability to predict ICU requirements. Conclusions: The present study was primarily aimed to predict the status of zinc and copper in COVID-19 patients and their utility as a prognostic tool for deciding the severity. Our ndings indicate that CRP to Zn ratio might feasibly be used to predict the progression of COVID-19 toward severity.
References
Akinloye, Oyewale, Oguntibeju, Evaluation of trace elements in pregnant women with preeclampsia, African J Biotechnol
Armbruster, Pry, Limit of blank, limit of detection and limit of quantitation, Clin Biochem Rev
Channappanavar, Fehr, Vijay, Dysregulated Type I Interferon and In ammatory Monocyte-Macrophage Responses Cause Lethal Pneumonia in SARS-CoV-Infected Mice
Godfrey, Godfrey, Godfrey, Riley, A randomized clinical trial on the treatment of oral herpes with topical zinc oxide/glycine, Altern Ther Health Med
Huang, Failla, Copper De ciency Suppresses Effector Activities of Differentiated U937 cells
Ibs, Function, Rink, Zinc-Altered Immune Function, Sci York
Markowicz, Donat, Glaude, Pommier, Curlier et al., Level of CRP predicts need for respiratory support in hospitalized COVID-19 patients
Perrin, Oxford, Inhibition of the particle-associated RNA-dependent RNA polymerase activity of in uenza viruses by chelating agents, J Gen Virol