A randomized clinical trial evaluating the immunomodulatory effect of convalescent plasma on COVID-19-related cytokine storm
RCT 62 hospitalized patients in Iran, showing no significant difference in mortality and length of stay with convalescent plasma.
risk of death,

40.0% lower

, RR 0.60, p = 0.71
, treatment 3 of 30 (10.0%), control 5 of 30 (16.7%), NNT 15.
hospitalization time,

30.0% higher

, relative time 1.30, p = 0.06
, treatment 30, control 30.
Effect extraction follows pre-specified rules prioritizing more serious outcomes. Submit updates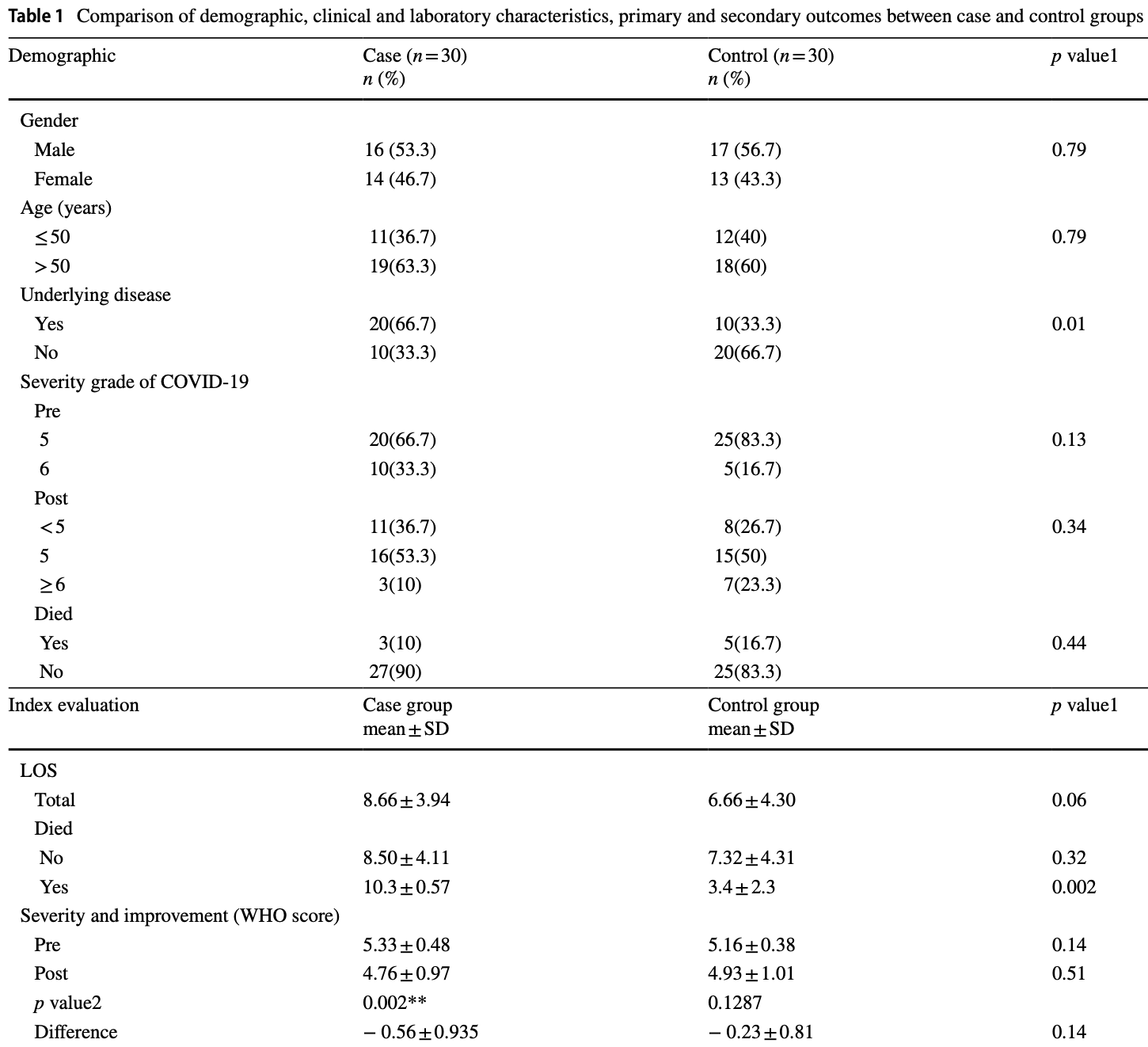 Pouladzadeh et al., 10 Apr 2021, Single Blind Randomized Controlled Trial, multiple countries, peer-reviewed, mean age 53.5, 17 authors, study period March 2020 - May 2020, trial
IRCT20200310046736N1
.
Contact: msafdaryan@gmail.com, parastoomoradi40@yahoo.com.
Abstract: Internal and Emergency Medicine (2021) 16:2181–2191 https://doi.org/10.1007/s11739-021-02734-8 IM - ORIGINAL A randomized clinical trial evaluating the immunomodulatory effect of convalescent plasma on COVID‑19‑related cytokine storm Mandana Pouladzadeh1 · Mehdi Safdarian2 · Peyman Eshghi3,4 · Hassan Abolghasemi5 · Alireza Ghorbani bavani6 · Behnam Sheibani7 · Parastoo Moradi Choghakabodi8 · Abdolaziz Feghhi9 · Mehri Ghafourian Boroujerdnia10 · Arash Forouzan11 · Mohammad Ali Jalali Far8 · Gholam Abbas Kaydani12 · Elham Rajaei13 · Mansour Amin14,15 · Mehdi Torabizadeh16 · Farid Yousefi15 · Reza Hadaddezfuli17 Received: 11 December 2020 / Accepted: 30 March 2021 / Published online: 10 April 2021 © Società Italiana di Medicina Interna (SIMI) 2021 Abstract Evaluating the effect of convalescent plasma (CP) on some cytokine storm indices in severe COVID-19 patients. Totally, 62 patients were randomly assigned into two groups for this clinical trial. Patients in the intervention group received one unit (500 mL) plasma on the admission day plus standard drugs while the controls merely received standard treatments. Eventually, primary and secondary outcomes were evaluated. In the CP group, compared with controls, the mean levels of lymphocytes and IL-10 significantly increased while the levels of IL-6, TNF-α, and IFN-γ decreased (p < 0.05). The length of in-hospital stay, and mortality rate did not significantly reduce in the CP group compared with controls (p > 0.05) while WHO severity scores remarkably improved (p = 0.01), despite the higher frequency of underlying diseases among the CP group (66.7%) vs. controls (33.3%). Although CP has a remarkable immunomodulatory and antiviral potential to improve the cytokine storm and disease severity in COVID-19 patients, it did not considerably affect the mortality rate. Keywords Convalescent plasma · COVID-19 · Cytokine storm
Please send us corrections, updates, or comments. Vaccines and treatments are complementary. All practical, effective, and safe means should be used based on risk/benefit analysis. No treatment, vaccine, or intervention is 100% available and effective for all current and future variants. We do not provide medical advice. Before taking any medication, consult a qualified physician who can provide personalized advice and details of risks and benefits based on your medical history and situation.
FLCCC
and
WCH
provide treatment protocols.
Submit