Analysis of 2,095 patients in South Korea, showing exercise and vitamin D associated with improved natural killer cell activity.
Graydon
showed that a lower frequency of natural killer cells was associated with symptomatic COVID-19 infection.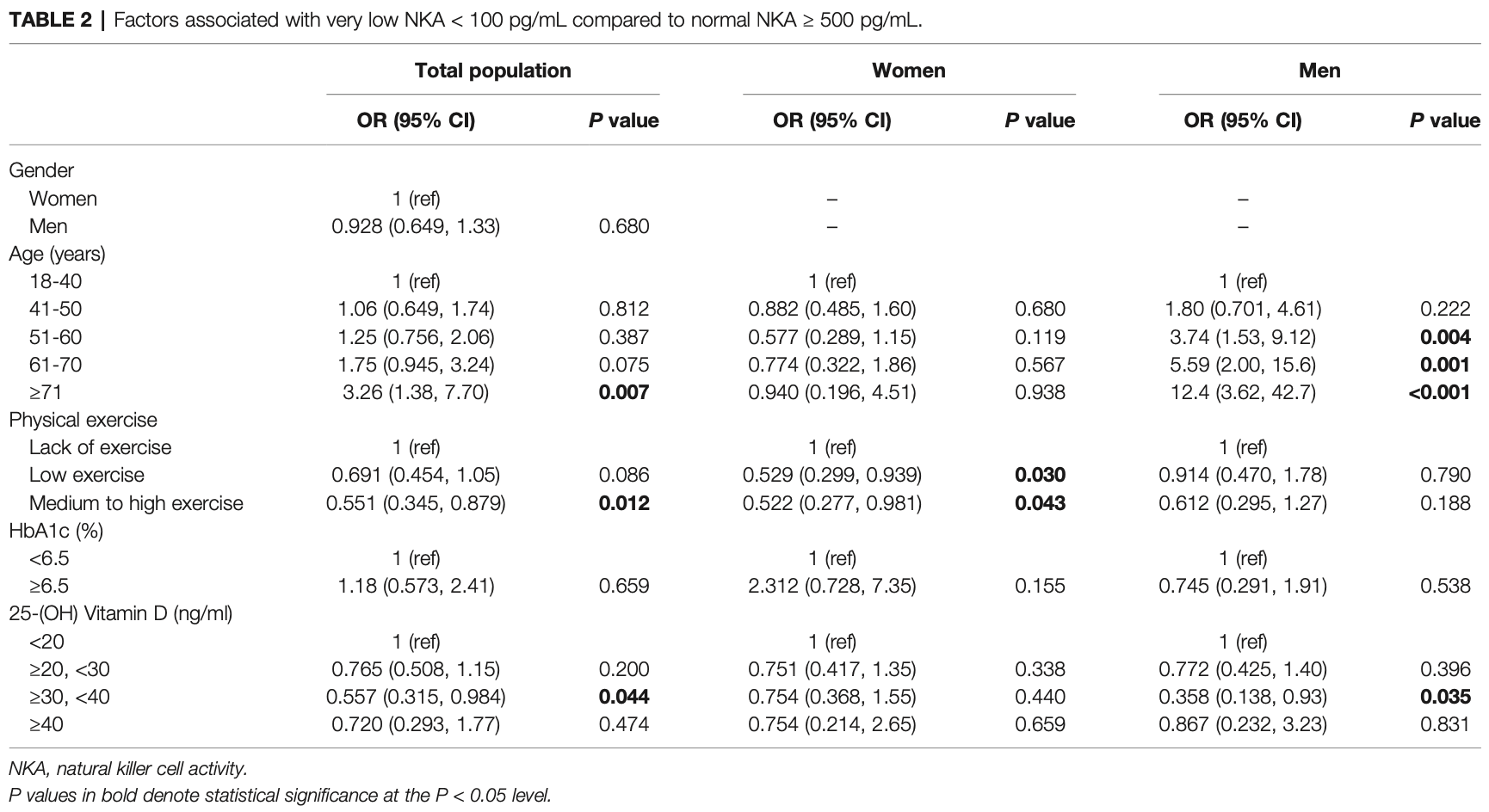 Oh et al., 23 Jun 2021, retrospective, South Korea, peer-reviewed, 8 authors.
Contact: sangwoon.choi@gmail.com.
Vitamin D and Exercise Are Major Determinants of Natural Killer Cell Activity, Which Is Age- and Gender-Specific
Frontiers in Immunology, doi:10.3389/fimmu.2021.594356
Background: The coronavirus-19 disease (COVID-19) pandemic reminds us of the importance of immune function, even in immunologically normal individuals. Multiple lifestyle factors are known to influence the immune function. Objective: The aim was to investigate the association between NK cell activity (NKA) and multiple factors including vitamin D, physical exercise, age, and gender. Methods: This was a cross-sectional association study using health check-up and NKA data of 2,095 subjects collected from 2016 to 2018 in a health check-up center in the Republic of Korea. NKA was measured using the interferon-g (IFN-g) stimulation method. The association of NKA with 25-(OH)-vitamin D (25(OH)D) and other factors was investigated by multiple logistic regression analysis. Results: The average age of subjects was 48.8 ± 11.6 years (52.9% of subjects were female). Among 2,095 subjects, 1,427 had normal NKA (NKA ≥ 500 pg IFN-g/mL), while 506 had low NKA (100 ≤ NKA < 500 pg/mL), and 162 subjects had very low NKA (NKA < 100 pg/mL). Compared to men with low 25(OH)D serum level (< 20 ng/mL), vitamin D replete men (30-39.9 ng/mL) had significantly lower risk of very low NKA (OR: 0.358; 95% CI: 0.138, 0.929; P = 0.035). In women, both low exercise (OR: 0.529; 95% CI: 0.299, 0.939; P = 0.030) and medium to high exercise (OR: 0.522; 95% CI: 0.277, 0.981; P = 0.043) decreased the risk compared to lack of physical exercise. Interestingly, in men and women older than 60 years, physical exercise significantly decreased the risk. Older-age was associated with increased risk of very low NKA in men, but not in women. Conclusion: Physical exercise and vitamin D were associated with NKA in a genderand age-dependent manner. Age was a major risk factor of very low NKA in men but not in women.
ETHICS STATEMENT The studies involving human participants were reviewed and approved by CHA Bundang Medical Center. Written informed consent for participation was not required for this study in acc ordance with the national l egis lation and the institutional requirements. AUTHOR CONTRIBUTIONS SO, SC, and S-WC contributed to the study design, data collection, study analysis, manuscript writing, critical review of the manuscript, and final approval of the manuscript submission. SH, JK, YC, JL, and KK assisted in analyzing and interpreting the data, critical review of the manuscript. All authors contributed to the article and approved the submitted version. Conflict of Interest: The authors declare that the research was conducted in the absence of any commercial or financial relationships that could be construed as a potential conflict of interest.
References
Barkin, Rodriguez-Suarez, Betito, Association Between Natural Killer Cell Activity and Prostate Cancer: A Pilot Study, Can J Urol
Bigley, Simpson, NK Cells and Exercise: Implications for Cancer Immunotherapy and Survivorship, Discovery Med
Kakanis, Peake, Brenu, Simmonds, Gray et al., The Open Window of Susceptibility to Infection After Acute Exercise in Healthy Young Male Elite Athletes, Exerc Immunol Rev
Murasko, Weiner, Kaye, Decline in Mitogen Induced Proliferation of Lymphocytes With Increasing Age, Clin Exp Immunol
Song, Chang, Respiratory Allergies in the Elderly: Findings From the Korean Longitudinal Study on Health and Aging Phase I Study