Retrospective 733 hospitalized COVID-19 patients with diabetes in the USA, showing lower risk of severity with metformin use.
risk of severe case,

33.0% lower

, OR 0.67, p = 0.03
, treatment 377, control 356, RR approximated with OR.
Effect extraction follows pre-specified rules prioritizing more serious outcomes. Submit updates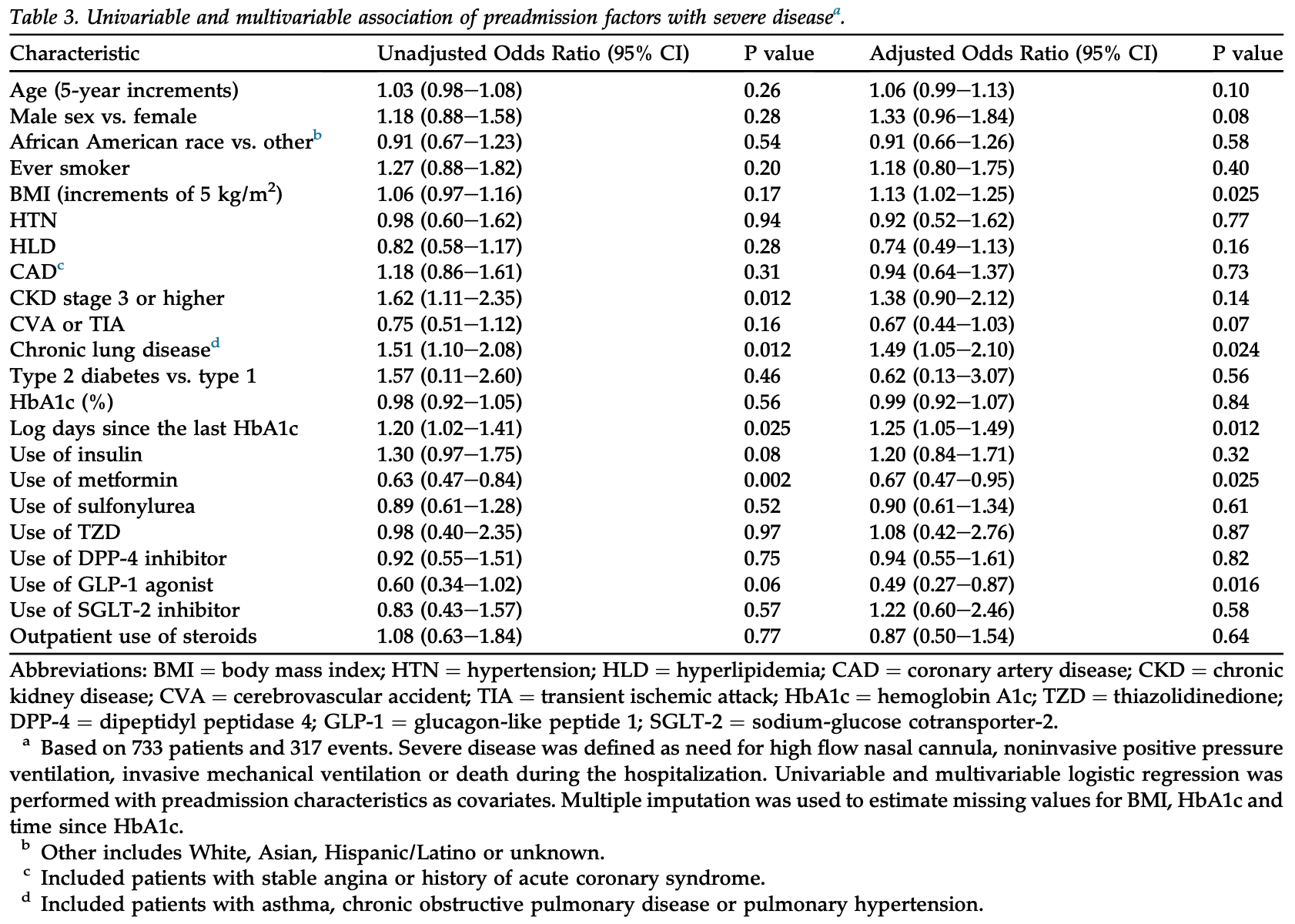 Milosavljevic et al., 9 Nov 2022, retrospective, USA, peer-reviewed, mean age 67.4, 7 authors, study period 1 March, 2020 - 31 December, 2020.
Contact: jovmilosa@gmail.com.
Evaluation of Glycemic Control and Predictors of Severe Illness and Death in Patients With Diabetes Hospitalized With COVID-19
Journal of Community Hospital Internal Medicine Perspectives, doi:10.55729/2000-9666.1127
Objectives: To identify risk factors for severe disease and death among patients with diabetes and coronavirus disease 2019 (COVID-19) infection. Methods: This retrospective cohort study conducted at three hospitals included 733 consecutive patients with DM admitted with confirmed COVID-19 (March 1 -December 31, 2020). Multivariable logistic regression was performed to identify predictors of severe disease and death. Results: The mean age was 67.4 ± 14.3 years, 46.9% were males and 61.5% were African American. Among all patients, 116 (15.8%) died in the hospital. A total of 317 (43.2%) patients developed severe disease, 183 (25%) were admitted to an ICU and 118 (16.1%) required invasive mechanical ventilation. Increasing BMI (OR, 1.13; 95% CI, 1.02e1.25), history of chronic lung disease (OR, 1.49; 95% CI, 1.05e2.10) and increasing time since the last HbA1c test (OR, 1.25; 95% CI, 1.05e1.49) were the preadmission factors associated with increased odds of severe disease. Preadmission use of metformin (OR, 0.67; 95% CI, 0.47e0.95) or GLP-1 agonists (OR, 0.49; 95% CI, 0.27e0.87) was associated with decreased odds of severe disease. Increasing age (OR, 1.21; 95% CI, 1.09e1.34), co-existing chronic kidney disease greater than stage 3 (OR, 3.38; 95% CI, 1.67e6.84), ICU admission (OR, 2.93; 95% CI, 1.28e6.69) and use of invasive mechanical ventilation (OR, 8.67, 95% CI, 3.88e19.39) were independently associated with greater odds of in-hospital death. Conclusion: Several clinical characteristics were identified to be predictive of severe disease and in-hospital death among patients with underlying diabetes hospitalized with COVID-19.
Author contributions J.M.: data collection, data analysis, writing e original draft; N.P.: data collection, writing e original draft; M.T., S.J., J.L. and S.A.: data collection, writing e review & editing; A.T.: conceptualization, supervision, writing -review & editing. All authors read and approved the final manuscript. Conflict of interest The authors declare that they have no competing or conflicts of interests.
References
Aleem, Samad, Slenker, Emerging variants of SARS-CoV-2 and novel therapeutics against coronavirus (COVID-19)