In Vitro study showing that famotidine does not bind or inhibit 3CLpro and PLpro, and no direct antiviral activity was observed with concentrations up to 200µM in Vero E6 and A549 cells.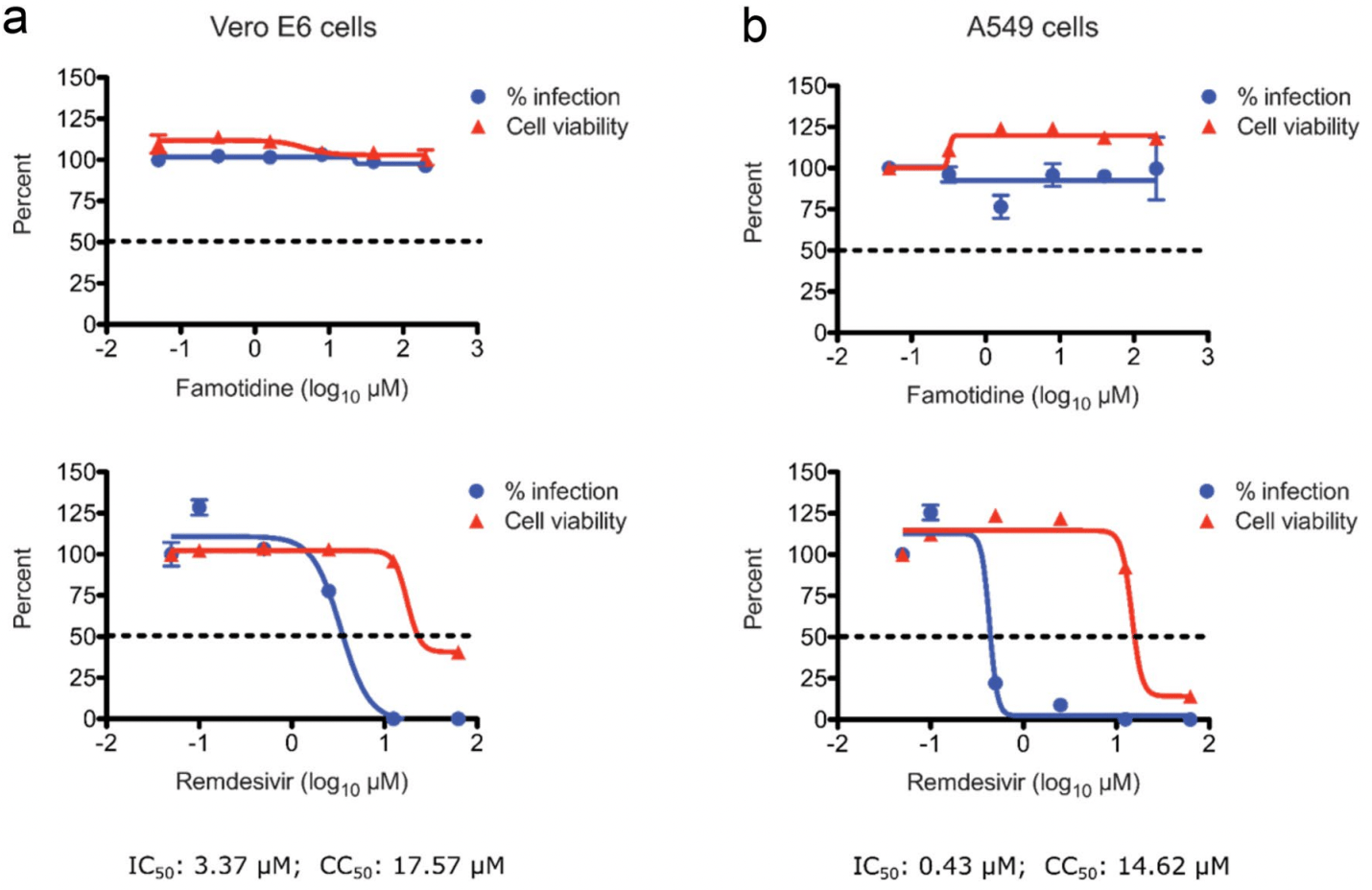 Loffredo et al., 8 Mar 2021, peer-reviewed, 12 authors.
In Vitro studies are an important part of preclinical research, however results may be very different in vivo.
The in-vitro effect of famotidine on SARS-CoV-2 proteases and virus replication
Scientific Reports, doi:10.1038/s41598-021-84782-w
The lack of coronavirus-specific antiviral drugs has instigated multiple drug repurposing studies to redirect previously approved medicines for the treatment of SARS-CoV-2, the coronavirus behind the ongoing COVID-19 pandemic. A recent, large-scale, retrospective clinical study showed that famotidine, when administered at a high dose to hospitalized COVID-19 patients, reduced the rates of intubation and mortality. A separate, patient-reported study associated famotidine use with improvements in mild to moderate symptoms such as cough and shortness of breath. While a prospective, multi-center clinical study is ongoing, two parallel in silico studies have proposed one of the two SARS-CoV-2 proteases, 3CL pro or PL pro , as potential molecular targets of famotidine activity; however, this remains to be experimentally validated. In this report, we systematically analyzed the effect of famotidine on viral proteases and virus replication. Leveraging a series of biophysical and enzymatic assays, we show that famotidine neither binds with nor inhibits the functions of 3CL pro and PL pro . Similarly, no direct antiviral activity of famotidine was observed at concentrations of up to 200 µM, when tested against SARS-CoV-2 in two different cell lines, including a human cell line originating from lungs, a primary target of COVID-19. These results rule out famotidine as a direct-acting inhibitor of SARS-CoV-2 replication and warrant further investigation of its molecular mechanism of action in the context of COVID-19.
Author contributions Competing interests The authors declare no competing interests.
References
Jacobs, Probe Reports from the NIH Molecular Libraries Program
Kallal, Lee, Thrombotic thrombo-cytopenic purpura associated with histamine H2-receptor antagonist therapy, West. J. Med
Keithley, Histamine H2-receptor antagonists, Nurs Clin North Am