Post-COVID-19 complications in home and hospital-based care: A study from Dhaka city, Bangladesh
Post-COVID-19 complications in home and hospital-based care: A study from Dhaka city, Bangladesh
,
Frontiers in Rehabilitation Sciences, doi:10.3389/fresc.2022.1037649
,
Retrospective 925 COVID-19 patients in Bangladesh reporting that "physical activity and exposure to sunlight was positively associated with earlier recovery from COVID-19 both in home and hospital care". Details are not provided.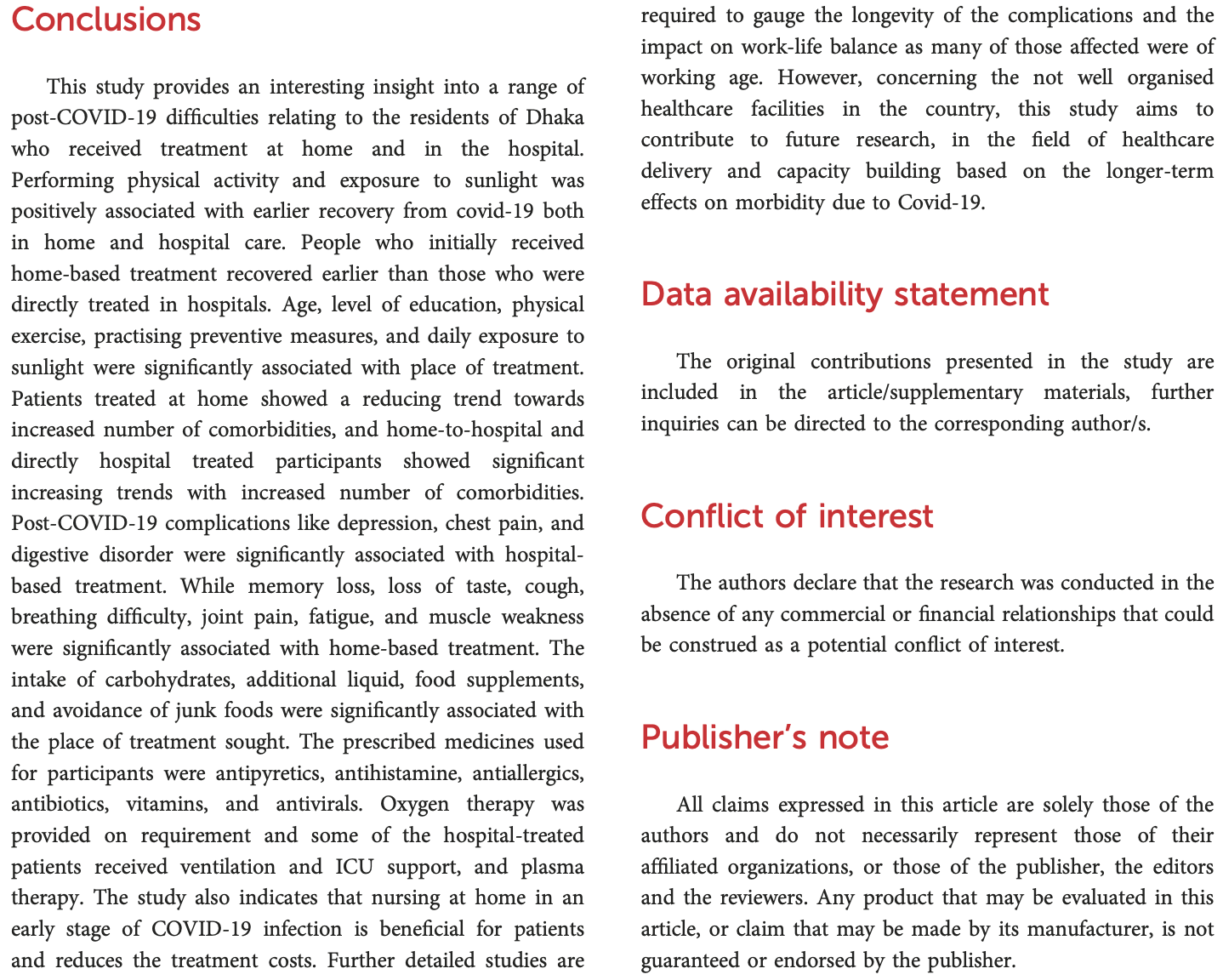 Khandker et al., 24 Nov 2022, retrospective, Bangladesh, peer-reviewed, survey, mean age 38.4, 7 authors.
Contact: rsalamat@daffodilvarsity.edu.bd.
Abstract: | EDITED BY Md. Aftab Uddin, University of Chittagong, Bangladesh REVIEWED BY Mahmudur Rahman, Southern Cross University, Australia Sungida Rashid, Assumption University, Thailand Md. Alamgir Hossain, Hajee Mohammad Danesh Science & Technology University, Bangladesh Munshi Muhammad Abdul Kader Jilani, Bangladesh Institute of Governance and Management (BIGM), Bangladesh Amer Saeed, University of Technology and Applied Sciences (Oman), Oman *CORRESPONDENCE Salamat Khandker rsalamat@daffodilvarsity.edu.bd SPECIALTY SECTION This article was submitted to Medical and Surgical Rehabilitation, a section of the journal Frontiers in Rehabilitation Sciences RECEIVED 06 September 2022 ACCEPTED 21 October 2022 PUBLISHED 24 November 2022 CITATION Khandker S, Akther A, Syed BH, Shafiullah R, Ahmed K, Chowdhury AA and Khan S (2022) Post-COVID-19 complications in home and hospital-based care: A study from Dhaka city, Bangladesh. Front. Rehabilit. Sci. 3:1037649. doi: 10.3389/fresc.2022.1037649 COPYRIGHT © 2022 Khandker, Akther, Syed, Shafiullah, Ahmed, Chowdhury and Khan. This is an openaccess article distributed under the terms of the Creative Commons Attribution License (CC BY). The use, distribution or reproduction in other forums is permitted, provided the original author(s) and the copyright owner(s) are credited and that the original publication in this journal is cited, in accordance with accepted academic practice. No use, distribution or reproduction is permitted which does not comply with these terms. TYPE Original Research PUBLISHED 24 November 2022 DOI 10.3389/fresc.2022.1037649 Post-COVID-19 complications in home and hospital-based care: A study from Dhaka city, Bangladesh Salamat Khandker1*, Aivee Akther1, Billal H. Syed1, 1 2 1 Rezoun Shafiullah , Kawsar Ahmed , Alauddin A. Chowdhury and Salim Khan3 1 Department of Public Health, Daffodil International University, Dhaka, Bangladesh, 2School of Mathematics & Statistics, Central South University, Changsha, China, 3Head, Department of Public Health, Birmingham City University, Birmingham, United Kingdom A cross-sectional survey was undertaken to understand the management patterns and post-COVID-19 complications among hospital and hometreated participants. Retrospective information was collected from four COVID-19 dedicated hospitals and four selected community settings. Using probability proportional sampling, 925 participants were selected. Data were collected using a semi-structured questionnaire. Bivariate and multivariate logistic regression analysis and the exact chi-square tests were utilized to analyze the association between the studied variables. A total of 659 participants responded (response rate 70.93%); 375 from hospitals and 284 from communities. About 80% of participants were mild cases, 75% were treated at home, and 65% of hospital-treated participants were referred after home treatment. Participants treated at home-to hospital and directly in the hospital had 1.64 and 3.38 times longer recovery time respectively than what home-based participants had. A significant increasing trend ( p < 0.001) of co-morbidities was found among referred and hospital treated participants. Age, level of education, physical exercise, practicing preventive measures, exposure to sunlight, and intake of carbohydrate, additional liquid, food supplements, and avoidance of junk foods were significantly associated with place of treatment. Post-COVID-19 difficulties of all factors were..
khandker
Please send us corrections, updates, or comments. Vaccines and treatments are complementary. All practical, effective, and safe means should be used based on risk/benefit analysis. No treatment, vaccine, or intervention is 100% available and effective for all current and future variants. We do not provide medical advice. Before taking any medication, consult a qualified physician who can provide personalized advice and details of risks and benefits based on your medical history and situation.
FLCCC
and
WCH
provide treatment protocols.
Submit