Case control study examining medication usage with a healthcare database in Israel, showing lower risk of hospitalization with calcium + zinc supplements (defined as being picked up within 35 days prior to PCR+), however only 10 patients took the supplements. Other patients may have acquired supplements outside of the healthcare system. This study is excluded in the after exclusion results of meta analysis: treatment or control group size extremely small.
risk of hospitalization,

>99.99% lower

, OR < 0.001, p = 0.04
, treatment 0 of 6,953 (0.0%) cases, 10 of 13,906 (0.1%) controls, NNT 3.0, case control OR, PCR+, cohort 2.
Effect extraction follows pre-specified rules prioritizing more serious outcomes. Submit updates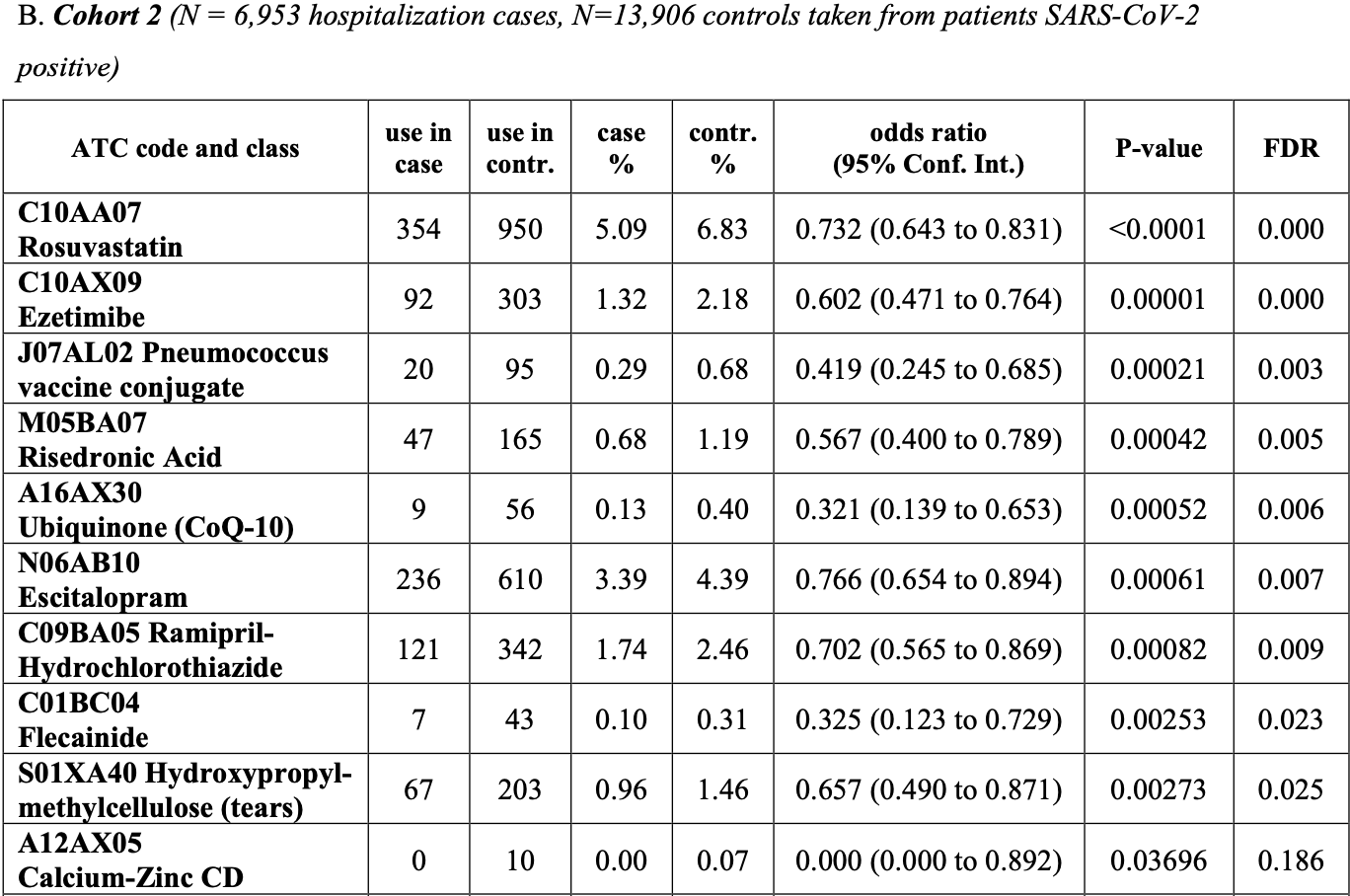 Israel et al., 27 Jul 2021, retrospective, Israel, peer-reviewed, 10 authors, this trial uses multiple treatments in the treatment arm (combined with calcium) - results of individual treatments may vary.
Identification of drugs associated with reduced severity of COVID-19 – a case-control study in a large population
eLife, doi:10.7554/elife.68165
Background: Until coronavirus disease 2019 (COVID-19) drugs specifically developed to treat COVID-19 become more widely accessible, it is crucial to identify whether existing medications have a protective effect against severe disease. Toward this objective, we conducted a large population study in Clalit Health Services (CHS), the largest healthcare provider in Israel, insuring over 4.7 million members. Methods: Two case-control matched cohorts were assembled to assess which medications, acquired in the last month, decreased the risk of COVID-19 hospitalization. Case patients were adults aged 18 to 95 hospitalized for COVID-19. In the first cohort, five control patients, from the general population, were matched to each case (n=6202); in the second cohort, two nonhospitalized SARS-CoV-2 positive control patients were matched to each case (n=6919). The outcome measures for a medication were: odds ratio (OR) for hospitalization, 95% confidence interval (CI), and the p-value, using Fisher's exact test. False discovery rate was used to adjust for multiple testing. Results: Medications associated with most significantly reduced odds for COVID-19 hospitalization include: ubiquinone (OR=0.185, 95% CI [0.058 to 0.458], p<0.001), ezetimibe (OR=0.488, 95% CI [0.377 to 0.622], p<0.001), rosuvastatin (OR=0.673, 95% CI [0.596 to 0.758], p<0.001), flecainide (OR=0.301, 95% CI [0.118 to 0.641], p<0.001), and vitamin D (OR=0.869, 95% CI [0.792 to 0.954], p<0.003). Remarkably, acquisition of artificial tears, eye care wipes, and several ophthalmological products were also associated with decreased risk for hospitalization. Conclusions: Ubiquinone, ezetimibe, and rosuvastatin, all related to the cholesterol synthesis pathway were associated with reduced hospitalization risk. These findings point to a promising protective effect which should be further investigated in controlled, prospective studies.
The funders had no role in study design, data collection and interpretation, or the decision to submit the work for publication. Additional files Author contributions Supplementary files . Source code 1. R source code, producing Figure 1 . . Supplementary file 1. Supplementary tables and figures. Suppl Tab 1 Multivariable logistic regression for hospitalization status according to ethnicity and medication consumption in Cohort 1. Suppl Tab 2 Multivariable logistic regression for hospitalization status according to ethnicity and medication consumption in Cohort 2. Figure supplements Forest plot showing association between drug use and hospitalization risk in each of the cohorts, divided by body mass index (BMI) category. Data availability Data were obtained from patients' electronic health records, and IRB approval restrains its use to researchers inside Clalit Health Services. For further information regarding data availability, researchers may contact Dr. Lavie gillav@clalit.org.il. This study is based on real-world patient drug purchases, and it cannot be made available due to patient privacy concerns. R code used to produce Figure 1 is available as a supplementary file named 'Source code 1'.
References
Antonelli, Feldman, Freedberg, Darawsha, Rosenfeld, Intravenous flecainide administration for conversion of paroxysmal atrial fibrillation in the emergency room, Harefuah
Benjamini, Hochberg, Controlling the false discovery rate: a practical and powerful approach to multiple testing, Journal of the Royal Statistical Society: Series B