Analysis of 491 hospitalized patients in Portugal showing that polymorphisms in the vitamin D binding protein encoded by the GC gene are related to COVID-19 severity (
p
= 0.005). There was an association between vitamin D polygenic risk score and vitamin D levels (
p
= 0.042), and between vitamin D levels and mortality (
p
= 1.5e-4). Authors conclude that a genetic susceptibility for vitamin D deficiency may explain higher severity in COVID-19.This is the
57th of 184 COVID-19 sufficiency studies
for vitamin D, which collectively show higher levels reduce risk with
p<0.0000000001 (1 in 712 vigintillion)
.
risk of death,

41.2% lower

, RR 0.59, p = 0.02
, high D levels 23 of 179 (12.8%), low D levels 68 of 311 (21.9%), NNT 11, >20ng/mL.
Effect extraction follows pre-specified rules prioritizing more serious outcomes. Submit updates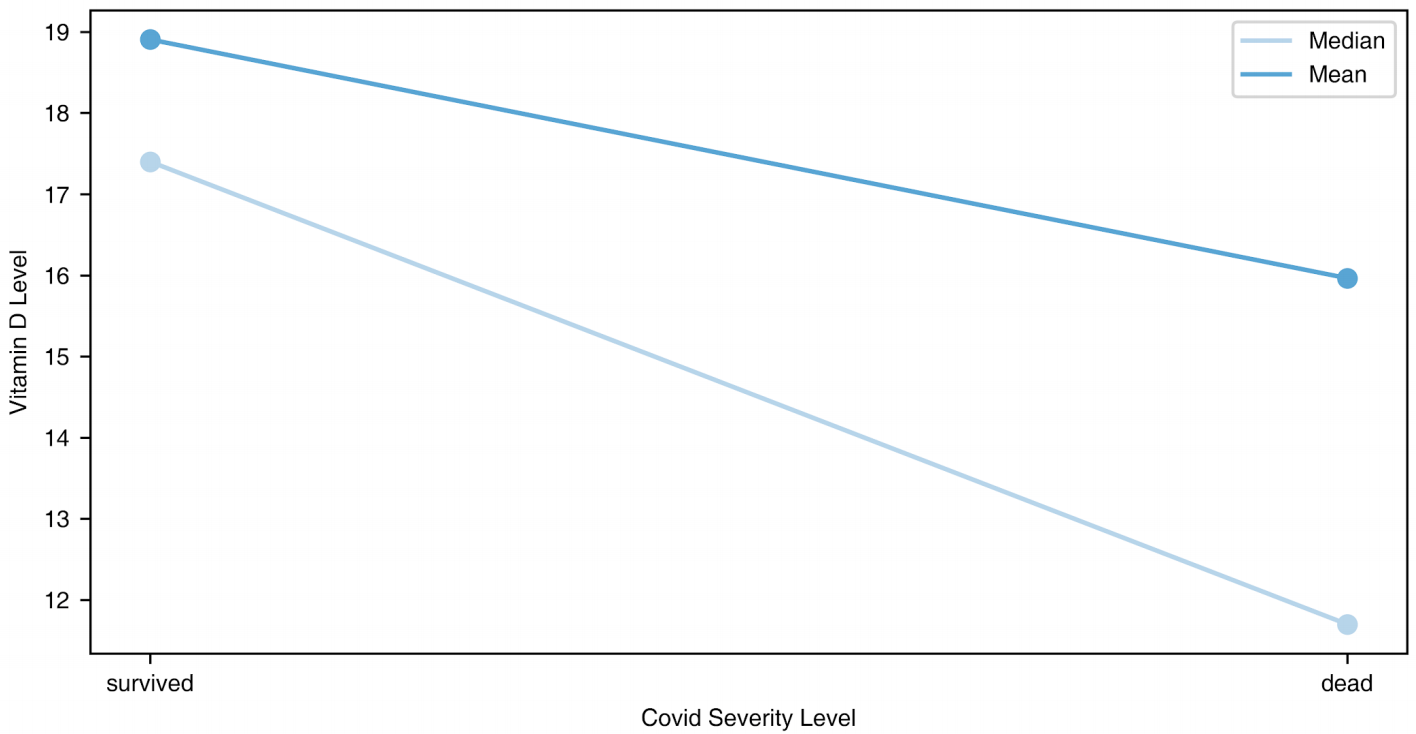 Freitas et al., 27 Mar 2021, retrospective, Portugal, preprint, 36 authors.
Vitamin D-related polymorphisms and vitamin D levels as risk biomarkers of COVID-19 infection severity
doi:10.1101/2021.03.22.21254032
Biotechnology SA, declare that the company developed a genetic test, the MyVitDGenes®, that was used to evaluate all the polymorphisms under analysis in this work. All other authors have declared that no conflict of interest exists.
Data analysis. Clinical history, genotypic and phenotypic data was evaluated using statistical, machine learning and polygenic risk scores methodologies. Vitamin D polymorphisms prevalence in different populations was obtained from 1000 Genomes database (https://www.internationalgenome.org/) and from HeartGenetics's research database for the Portuguese population, with more than 8,000 Portuguese individuals. Regarding the methodological approach, the following steps were undertaken: 1. Data cleaning and validation: All variables were analysed for outliers and missing values. Some discrepancies, such as different units of measure and data entry errors, were identified and fixed. No imputation was made. Regarding data transformation, both disease severity and vitamin D levels were categorized in different levels, and the genetic variants were aggregated in PRSs. Descriptive analysis: A complete, graphical descriptive analysis of the data was created for all variables of interest as univariate analysis. Data are presented as numbers or percentages for categorical variables, while continuous variables are shown as mean and standard deviation, and median and interquartile range (25th percentile -75th percentile). Analysis of data distribution: The data normality was accessed using Shapiro-Wilk test and D'Agostino Pearson's test. Statistical normality testing is relevant in order to set up the category of statistical methods (parametric or non-parametric) used in further..
References
Manousaki, Genome-wide Association Study for Vitamin D Levels Reveals