RCT 24 patients with olfactory dysfunction post-COVID-19 in Hong Kong, showing significantly improved recovery with the addition of vitamin A to aerosolised diffuser olfactory training. 25,000IU vitamin A for 14 days.
relative BTT improvement,

75.1% better

, RR 0.25, p = 0.048
, treatment mean 3.01 (±2.52) n=9, control mean 0.75 (±1.67) n=8, vitamin A + OT vs. OT.
anosmia,

68.0% lower

, RR 0.32, p = 0.47
, treatment 0 of 9 (0.0%), control 1 of 8 (12.5%), NNT 8.0, relative risk is not 0 because of continuity correction due to zero events (with reciprocal of the contrasting arm), vitamin A + OT vs. OT.
severe microsmia,

70.4% lower

, RR 0.30, p = 0.29
, treatment 1 of 9 (11.1%), control 3 of 8 (37.5%), NNT 3.8, vitamin A + OT vs. OT.
moderate microsmia,

74.6% lower

, RR 0.25, p = 0.02
, treatment 2 of 9 (22.2%), control 7 of 8 (87.5%), NNT 1.5, vitamin A + OT vs. OT.
Effect extraction follows pre-specified rules prioritizing more serious outcomes. Submit updates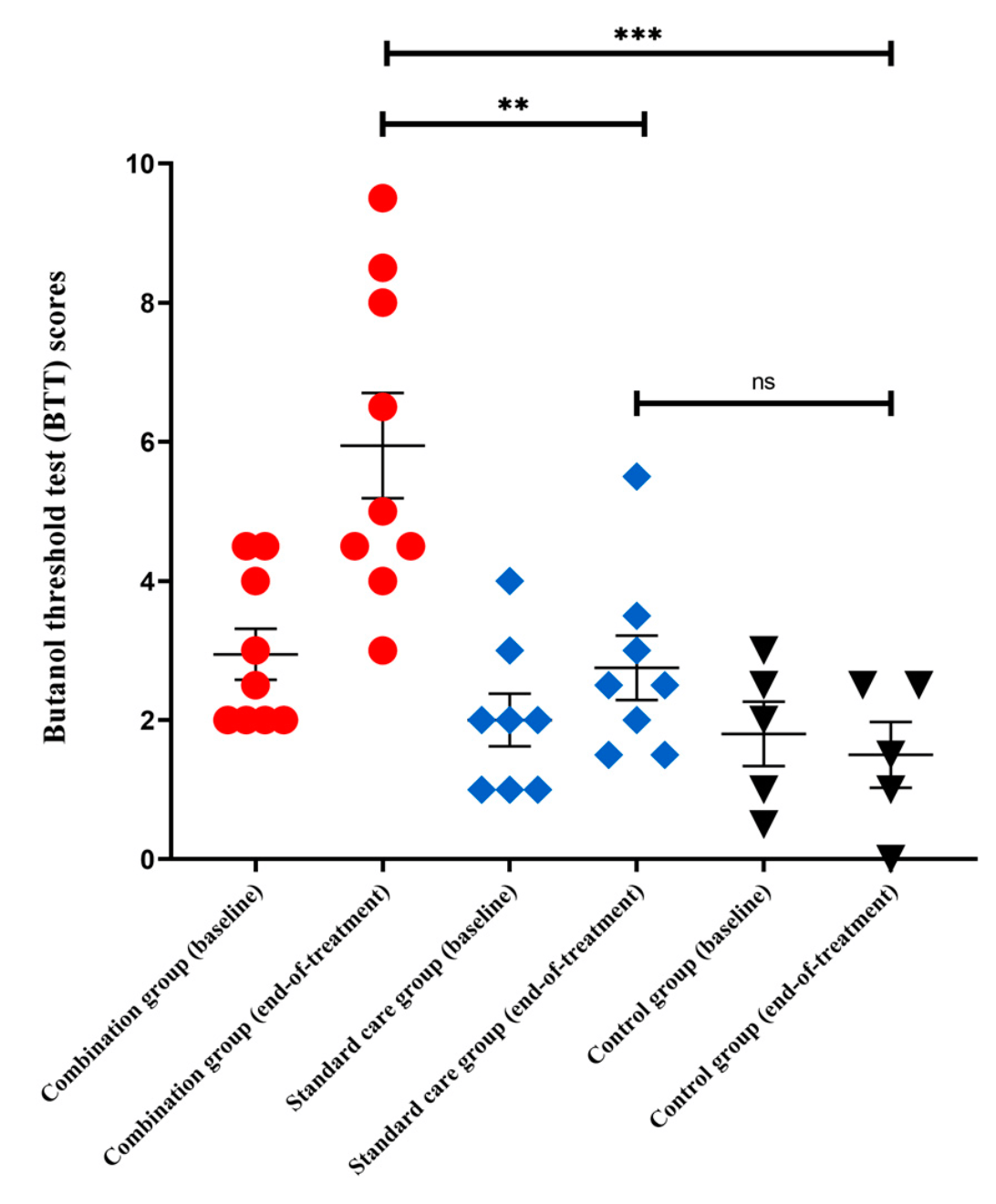 Chung et al., 30 Jun 2023, Randomized Controlled Trial, China, peer-reviewed, 14 authors, study period 14 August, 2020 - 11 June, 2021, trial
NCT04900415
(history)
.
Contact: tomwhc@hku.hk (corresponding author), ivanhung@hku.hk, makkf@hku.hk.
A Pilot Study of Short-Course Oral Vitamin A and Aerosolised Diffuser Olfactory Training for the Treatment of Smell Loss in Long COVID
Brain Sciences, doi:10.3390/brainsci13071014
Background: Olfactory dysfunction (OD) is a common neurosensory manifestation in long COVID. An effective and safe treatment against COVID-19-related OD is needed. Methods: This pilot trial recruited long COVID patients with persistent OD. Participants were randomly assigned to receive short-course (14 days) oral vitamin A (VitA; 25,000 IU per day) and aerosolised diffuser olfactory training (OT) thrice daily (combination), OT alone (standard care), or observation (control) for 4 weeks. The primary outcome was differences in olfactory function by butanol threshold tests (BTT) between baseline and end-of-treatment. Secondary outcomes included smell identification tests (SIT), structural MRI brain, and serial seed-based functional connectivity (FC) analyses in the olfactory cortical network by resting-state functional MRI (rs-fMRI). Results: A total of 24 participants were randomly assigned to receive either combination treatment (n = 10), standard care (n = 9), or control (n = 5). Median OD duration was 157 days (IQR 127-175). Mean baseline BTT score was 2.3 (SD 1.1). At end-of-treatment, mean BTT scores were significantly higher for the combination group than control (p < 0.001, MD = 4.4, 95% CI 1.7 to 7.2) and standard care (p = 0.009) groups. Interval SIT scores increased significantly (p = 0.009) in the combination group. rs-fMRI showed significantly higher FC in the combination group when compared to other groups. At end-of-treatment, positive correlations were found in the increased FC at left inferior frontal gyrus and clinically significant improvements in measured BTT (r = 0.858, p < 0.001) and SIT (r = 0.548, p = 0.042) scores for the combination group. Conclusions: Short-course oral VitA and aerosolised diffuser OT was effective as a combination treatment for persistent OD in long COVID.
References
Chung, Zhang, Wong, Sridhar, Chan et al., Neurosensory Rehabilitation and Olfactory Network Recovery in Covid-19-related Olfactory Dysfunction, Brain Sci
Everett, Lean, Byrne, Van Diemen, Rhodes et al., Intranasal Infection of Ferrets with SARS-CoV-2 as a Model for Asymptomatic Human Infection
Fjaeldstad, Fernandes, Van Hartevelt, Gleesborg, Møller et al., Brain fingerprints of olfaction: A novel structural method for assessing olfactory cortical networks in health and disease, Sci. Rep
Huiming, Chaomin, Meng, Vitamin A for treating measles in children, Cochrane Database Syst Rev
Vihta, Pouwels, Peto, Pritchard, House et al., Omicron-associated changes in SARS-CoV-2 symptoms in the United Kingdom, Clin. Infect. Dis
Yousem, Geckle, Bilker, Mckeown, Doty, Posttraumatic olfactory dysfunction: MR and clinical evaluation, AJNR Am. J. Neuroradiol
Zheng, Wong, Li, Verma, Ortiz et al., COVID-19 treatments and pathogenesis including anosmia in K18-hACE2 mice, Nature