Analysis of hydrogen peroxide use in a dental clinic. Portable air cleaners with HEPA filters were placed in a dental clinic waiting room and treatment rooms. After 3 months, filters were tested for SARS-CoV-2. Virus was detected on filters from the waiting room where patients wore masks, but not from the treatment rooms where patients rinsed with 1% hydrogen peroxide mouthwash. The results suggest using 1% hydrogen peroxide mouthwash rinses for 1 minute in dental clinics could help prevent COVID-19 transmission.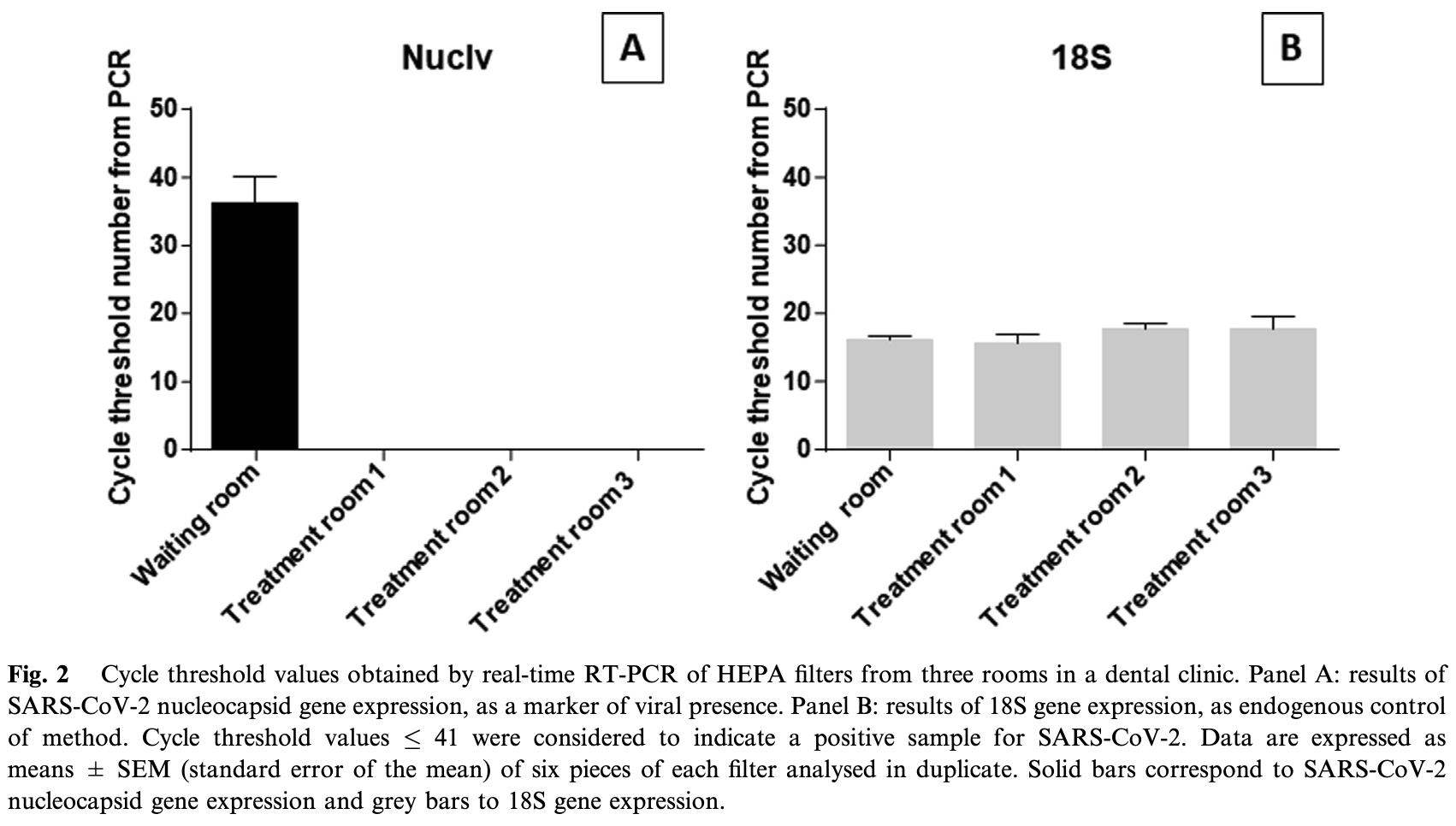 Burgos-Ramos et al., 31 Jan 2022, Spain, peer-reviewed, 3 authors, study period January 2021 - March 2021.
Contact: diana.rodriguez@uclm.es.
Is hydrogen peroxide an effective mouthwash for reducing the viral load of SARS-CoV-2 in dental clinics?
The Saudi Dental Journal, doi:10.1016/j.sdentj.2022.01.005
Background: Previous studies have demonstrated that SARS-CoV-2 is mainly transmitted by inhalation of aerosols and can remain viable in the air for hours. Viruses can spread in dental settings and put professionals and patients at high risk of infection due to proximity and aerosolgenerating procedures, and poor air ventilation. Objectives: The aim of this study was to investigate the effects of a 1% hydrogen peroxide (H 2 O 2 ) mouth rinse on reducing the intraoral SARS-CoV-2 load. Methods: Portable air cleaners with HEPA filters exposed for 3 months were analysed to test for virus presence in a waiting room (where patients wore a face mask but did not undergo mouth rinsing) and three treatment rooms (where patients wore no mask but carried out mouth rinsing). As CO 2 is coexhaled with aerosols containing SARS-CoV-2 by COVID-19 infected people, we also measured CO 2 as a proxy of infection risk indoors. Specific primer and probe RT-PCR were applied to detect viral genomes of the SARS-CoV-2 virus in the filters. Specifically, we amplified the nucleocapsid gene (Nuclv) of SARS-CoV-2.
Declaration of Competing Interest The authors declare that they have no known competing financial interests or personal relationships that could have appeared to influence the work reported in this paper. Author Statement D.R (diana.rodriguez@uclm.es) and I.R.U (itziar.rodriguez@ uclm.es) created the project, measured the CO 2 concentration, and collected the HEPA filters. E.B-R. (emma.burgos@uclm. es) did the analyses. All authors drafted the manuscript and contributed to the discussion of the results. Ethical Statement This article requires no human or animal in research.
References
Cdc, Interim infection prevention and control guidance for dental settings during the COVID-19 response
Tovani-Palone, Shamsoddin, Franchi, Recommendations for safe paediatric dental practices during the COVID-19 pandemic: an update, Eur. J. Paediatr. Dent