The relationship between vitamin D and the severity of COVID-19
Prospective study of 204 patients with COVID-19-like pneumonia in Turkey, 42 outpatients (mild cases), and 162 inpatients (serious cases), showing significantly higher risk of severe cases with vitamin D deficiency.
risk of severe case,

68.6% lower

, RR 0.31, p = 0.005
, high D levels 82 of 119 (68.9%), low D levels 80 of 85 (94.1%), NNT 4.0, inverted to make RR<1 favor high D levels, odds ratio converted to relative risk, >10μg/L, per standard deviation increase in levels.
Effect extraction follows pre-specified rules prioritizing more serious outcomes. Submit updates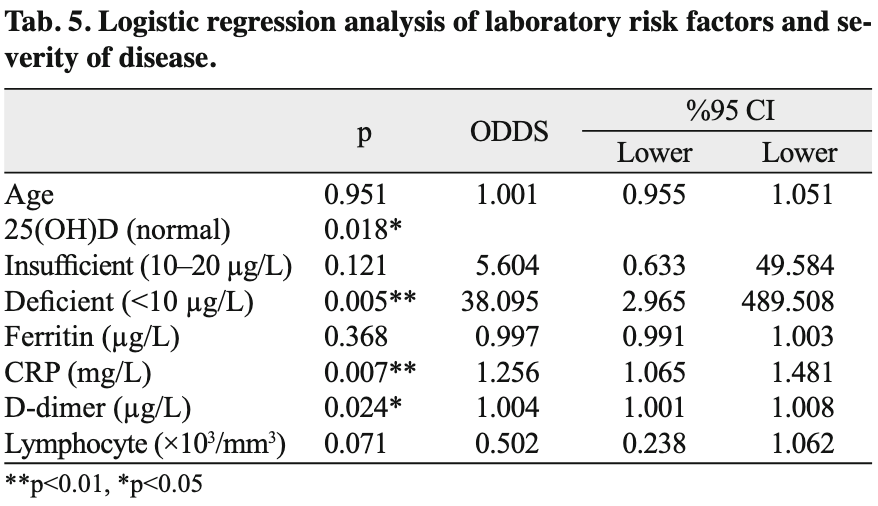 Basaran et al., 12 Feb 2021, retrospective, Turkey, peer-reviewed, 6 authors.
Abstract: DOI: 10.4149/BLL_2021_034 Bratisl Med J 2021; 122 (3) 200 – 205 CLINICAL STUDY The relationship between vitamin D and the severity of COVID-19 Basaran N1, Adas M2, Gokden Y2, Turgut N3, Yildirmak T4, Guntas G1,5 Department of Biochemistry, Prof.Dr. Cemil Tascioglu City Hospital, Istanbul, Turkey. gulcanguntas@gmail.com ABSTRACT AIM: Vitamin D, which has immunomodulatory effect, can reduce risk of infections and concentrations of proinflammatory cytokines. The aim of this study was to investigate the relationship between the levels of vitamin D and severity of COVID-19. METHODS: A total of 204 patients with COVID-19 disease were enrolled in the study. All patients had viral pneumonia, which was confirmed with chest computer tomography. All cases were divided in two groupsmild (outpatients); and serious (inpatients)- according to their clinical and laboratory data. Serum vitamin D levels were measured by chemiluminescence method. RESULTS: Vitamin D deficiency was found in 41.7 % (n = 85) of cases and insufficiency was found in 46.0 % (n = 94), while in 12.3 % (n = 25) of cases normal vitamin D levels were found. The odds of having a serious clinical outcome were increased for vitamin D insufficiency patients 5.604 times (%95 CI:0.633–49.584) and for vitamin D deficiency patients 38.095 times (%95 CI:2.965–489.50) for each standard deviation decrease in serum 25(OH)D. CONCLUSION: Adequate levels of vitamin D could suppress inflammation and reduce the severity of COVID-19. Vitamin D supplementation may have an important role in decreasing the impact of the pandemic (Tab. 5, Fig. 2, Ref. 27). Text in PDF www.elis.sk KEY WORDS: COVID-19, CRP, d-dimer, ferritin, vitamin D.
Please send us corrections, updates, or comments. Vaccines and treatments are complementary. All practical, effective, and safe means should be used based on risk/benefit analysis. No treatment, vaccine, or intervention is 100% available and effective for all current and future variants. We do not provide medical advice. Before taking any medication, consult a qualified physician who can provide personalized advice and details of risks and benefits based on your medical history and situation.
FLCCC
and
WCH
provide treatment protocols.
Submit