Prospective study of 123 COVID+ patients and 48 controls, showing significantly lower zinc levels in COVID-19 patients, and a negative correlation between zinc levels and COVID-19 severity. Moderate and severe cases were significantly older, however the negative correlation remained significant after adjusting for age.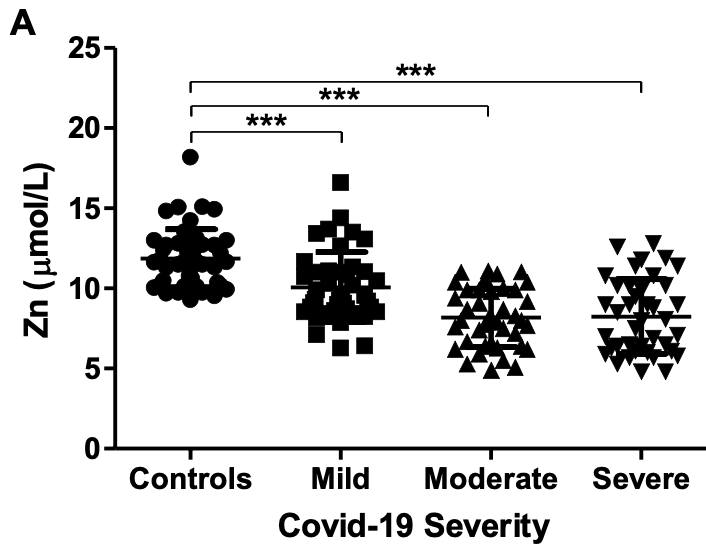 Almasaud et al., 10 Jan 2023, prospective, Saudi Arabia, peer-reviewed, 8 authors, study period 25 June, 2020 - 3 March, 2022.
Contact: iqbalja@ngha.med.sa (corresponding author).
Association of Serum Zinc and Inflammatory Markers with the Severity of COVID-19 Infection in Adult Patients
Nutrients, doi:10.3390/nu15020340
COVID-19 infection can spread in the host body without any adequate immune response. Zinc is an essential trace element with strong immunoregulatory and antiviral properties and its deficiency might lead to inflammation and oxidative stress. The aim of the current study was to determine the association of serum zinc and inflammatory markers with the severity of COVID-19 infection. This was a prospective observational study in which 123 COVID-19-positive adult patients and 48 controls were recruited. The initial comparative analysis was conducted between COVID-19 patients and controls. COVID-19-positive patients were further divided into three different groups (mild, moderate, and severe) based on the severity of COVID-19 infection. COVID-19 patients showed significantly lower serum zinc levels (8.8 ± 2.3 µmol/L) compared to healthy controls (11.9 ± 1.8 µmol/L). There was a negative correlation between serum zinc levels and the severity of COVID-19 infection (r = −0.584, p < 0.0001) and this effect was independent of age (r = −0.361, p < 0.0001). Furthermore, inflammatory markers showed a positive correlation with the severity of COVID-19 infection and a negative correlation with the levels of serum zinc. The study demonstrated an association between COVID-19 infection with low serum zinc levels and elevated inflammatory markers. Further studies to assess the significance of this observation are needed, which may justify zinc supplementation to mitigate the severity of COVID-19 infection.
Author Contributions: A.S.A. and J.I. contributed to the conception and design of the study. J.C., A.A.A., A.A.Q., A.A. and Z.N. helped in the recruitment and collection of demographic data from the patients. S.A. conducted the biochemical and hematological assessment of the samples. A.S.A. and J.I. performed data analysis and interpretation. J.I. drafted the first manuscript. A.S.A., J.C., A.A.A. Conflicts of Interest: The authors declare no conflict of interest.
References
Jackson, Farzan, Chen, Choe, Mechanisms of SARS-CoV-2 entry into cells, Nat. Rev. Mol. Cell Biol
Jothimani, Kailasam, Danielraj, Nallathambi, Ramachandran et al., COVID-19: Poor outcomes in patients with zinc deficiency, Int. J. Infect. Dis
Matute-Bello, Liles, Steinberg, Kiener, Mongovin et al., Soluble Fas ligand induces epithelial cell apoptosis in humans with acute lung injury (ARDS), J. Immunol
Zhang, Liu, Potential interventions for novel coronavirus in China: A systematic review, J. Med. Virol