Association of Serum Zinc and Inflammatory Markers with the Severity of COVID-19 Infection in Adult Patients
Association of Serum Zinc and Inflammatory Markers with the Severity of COVID-19 Infection in Adult Patients
,
Nutrients, doi:10.3390/nu15020340
,
Prospective study of 123 COVID+ patients and 48 controls, showing significantly lower zinc levels in COVID-19 patients, and a negative correlation between zinc levels and COVID-19 severity. Moderate and severe cases were significantly older, however the negative correlation remained significant after adjusting for age.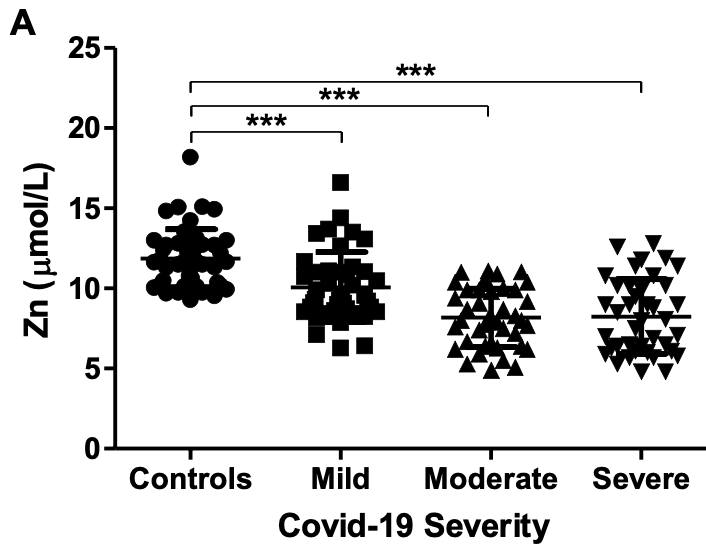 Almasaud et al., 10 Jan 2023, prospective, Saudi Arabia, peer-reviewed, 8 authors, study period 25 June, 2020 - 3 March, 2022.
Contact: iqbalja@ngha.med.sa (corresponding author).
Abstract: nutrients Article Association of Serum Zinc and Inflammatory Markers with the Severity of COVID-19 Infection in Adult Patients Abdulaziz Saad Almasaud, Jamal Chalabi, Abdulmajid Al Arfaj, Ali Al Qarni Sana Akhtar and Jahangir Iqbal * , Ammar Alkroud, Zuheb Nagoor, King Abdulaziz Hospital, King Abdullah International Medical Research Center-Eastern Region, King Saud Bin Abdulaziz University for Health Sciences, Ministry of National Guard-Health Affairs, Al Ahsa 31982, Saudi Arabia * Correspondence: iqbalja@ngha.med.sa Citation: Almasaud, A.S.; Chalabi, J.; Abstract: COVID-19 infection can spread in the host body without any adequate immune response. Zinc is an essential trace element with strong immunoregulatory and antiviral properties and its deficiency might lead to inflammation and oxidative stress. The aim of the current study was to determine the association of serum zinc and inflammatory markers with the severity of COVID-19 infection. This was a prospective observational study in which 123 COVID-19-positive adult patients and 48 controls were recruited. The initial comparative analysis was conducted between COVID-19 patients and controls. COVID-19-positive patients were further divided into three different groups (mild, moderate, and severe) based on the severity of COVID-19 infection. COVID-19 patients showed significantly lower serum zinc levels (8.8 ± 2.3 µmol/L) compared to healthy controls (11.9 ± 1.8 µmol/L). There was a negative correlation between serum zinc levels and the severity of COVID-19 infection (r = −0.584, p < 0.0001) and this effect was independent of age (r = −0.361, p < 0.0001). Furthermore, inflammatory markers showed a positive correlation with the severity of COVID-19 infection and a negative correlation with the levels of serum zinc. The study demonstrated an association between COVID-19 infection with low serum zinc levels and elevated inflammatory markers. Further studies to assess the significance of this observation are needed, which may justify zinc supplementation to mitigate the severity of COVID-19 infection. Arfaj, A.A.; Qarni, A.A.; Alkroud, A.; Nagoor, Z.; Akhtar, S.; Iqbal, J. Keywords: COVID-19; SARS-CoV-2; zinc; inflammatory markers; viral infection Association of Serum Zinc and Inflammatory Markers with the Severity of COVID-19 Infection in Adult Patients. Nutrients 2023, 15, 340. https://doi.org/10.3390/nu15020340 Academic Editors: Carlo Agostoni and Gregorio Paolo Milani Received: 23 October 2022 Revised: 6 November 2022 Accepted: 9 November 2022 Published: 10 January 2023 Copyright: © 2023 by the authors. Licensee MDPI, Basel, Switzerland. This article is an open access article distributed under the terms and conditions of the Creative Commons Attribution (CC BY) license (https:// creativecommons.org/licenses/by/ 4.0/).
Please send us corrections, updates, or comments. Vaccines and treatments are complementary. All practical, effective, and safe means should be used based on risk/benefit analysis. No treatment, vaccine, or intervention is 100% available and effective for all current and future variants. We do not provide medical advice. Before taking any medication, consult a qualified physician who can provide personalized advice and details of risks and benefits based on your medical history and situation.
FLCCC
and
WCH
provide treatment protocols.
Submit