A Randomized Trial of Sitagliptin and Spironolactone With Combination Therapy in Hospitalized Adults With COVID-19
A Randomized Trial of Sitagliptin and Spironolactone With Combination Therapy in Hospitalized Adults With..
,
Journal of the Endocrine Society, doi:10.1210/jendso/bvac017
,
RCT including 51 spironolactone patients and 87 control patients in Iran, showing improved recovery with spironolactone, sitagliptin, and the combination of both.
risk of death,

55.1% lower

, RR 0.45, p = 0.10
, treatment 5 of 51 (9.8%), control 19 of 87 (21.8%), NNT 8.3, day 5.
risk of mechanical ventilation,

33.7% lower

, RR 0.66, p = 0.36
, treatment 7 of 51 (13.7%), control 18 of 87 (20.7%), NNT 14, day 5.
risk of ICU admission,

18.8% lower

, RR 0.81, p = 0.67
, treatment 10 of 51 (19.6%), control 21 of 87 (24.1%), NNT 22, day 5.
risk of no recovery,

47.3% lower

, RR 0.53, p < 0.001
, treatment mean 1.64 (±0.81) n=51, control mean 3.11 (±2.45) n=87, relative clinical score, day 5.
Effect extraction follows pre-specified rules prioritizing more serious outcomes. Submit updates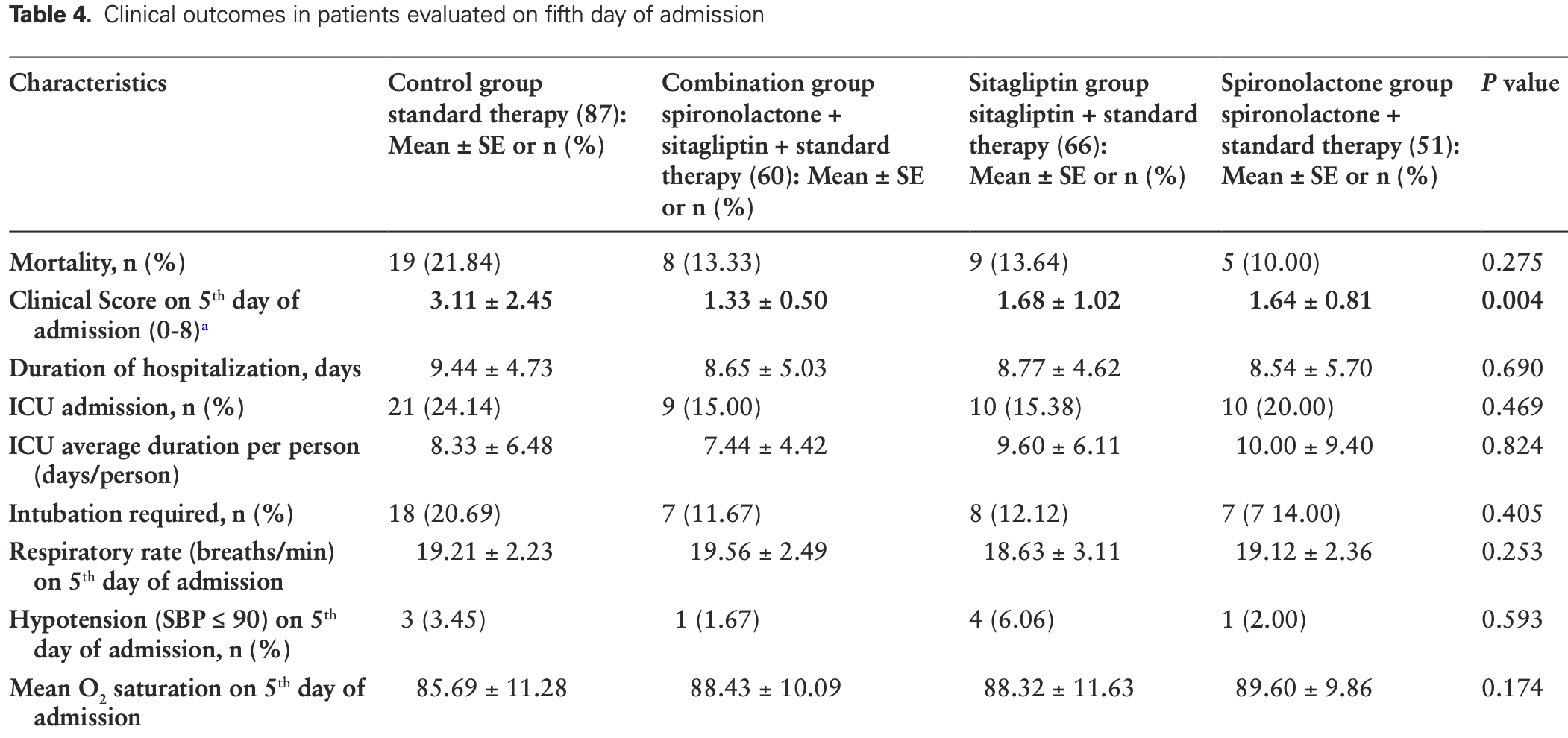 Abbasi et al., 7 Feb 2022, Single Blind Randomized Controlled Trial, Iran, peer-reviewed, 11 authors, study period December 2020 - April 2021.
Abstract: Journal of the Endocrine Society, 2022, 6, 1–11 https://doi.org/10.1210/jendso/bvac017 Advance access publication 07 February 2022 Clinical Research Article A Randomized Trial of Sitagliptin and Spironolactone With Combination Therapy in Hospitalized Adults With COVID-19 Farhad Abbasi,1 Reuben Adatorwovor,2 Mohammad Ali Davarpanah,3 Yasaman Mansoori,4 Mehdi Hajiani,4 Farzan Azodi,5 Sepideh Sefidbakht,6 Shayesteh Davoudi,7 Farzana Rezaei,7 Shayan Mohammadmoradi,8,9 and Kamyar Asadipooya10, 2 Correspondence: Kamyar Asadipooya, MD, Department of Medicine, Division of Endocrinology, Diabetes, and Metabolism, Barnstable Brown Diabetes and Obesity Center, 2195 Harrodsburg Rd, University of Kentucky, Lexington, KY 40504, USA. Email: kas224@uky.edu. Abstract Context: COVID-19 may cause respiratory distress syndrome and death. Treatment of COVID-19 to prevent complications remains a priority. Objective: Our investigation sought to determine whether combination of spironolactone and sitagliptin could reduce mortality for inpatients with SARS-CoV-2 infection. Methods: This single-blind, 4-arm, prospective randomized clinical trial was conducted at Shiraz and Bushehr University of Medical Sciences hospitals between December 2020 and April 2021. We randomized hospitalized adult patients with COVID-19 pneumonia into 4 groups: control, combination therapy, sitagliptin add-on, or spironolactone add-on. The primary outcome was the clinical improvement of the patients in the hospital as measured on an 8-point numerical scale. The secondary outcomes included intubation, ICU admission, end organ damages, CT findings, and paraclinical information. Results: A total of 263 admitted patients were randomly assigned to control group (87 patients), combination group (60 patients), sitagliptin group (66 patients), and spironolactone group (50 patients). There were no significant differences in baseline characteristics, except for higher age in control group. The intervention groups, especially combination therapy, had better clinical outcomes (clinical score on fifth day of admission: 3.11 ± 2.45 for controls, 1.33 ± 0.50 for combination, 1.68 ± 1.02 for sitagliptin, and 1.64 ± 0.81 for spironolactone; P = 0.004). However, the mortality rate was lower in patients who received spironolactone (21.84% control, 13.33% combination, 13.64% sitagliptin, 10.00% spironolactone; P = 0.275). Our intervention reduced lung infiltration but not the area of involvement in lungs. Conclusion: Sitagliptin and spironolactone can potentially improve clinical outcomes of hospitalized COVID-19 patients. Key Words: COVID-19, ACE2, spironolactone, DPP4 inhibitor Abbreviations: ACE2, angiotensin-converting enzyme 2; ADAM17, disintegrin and metalloproteinase domain-containing protein 17; BMI, body mass index; COVID-19, coronavirus disease 2019; CRP, C-reactive protein; CT, computed tomography; DPP4, dipeptidyl peptidase-4; ESR, erythrocyte sedimentation rate; ICU, intensive care unit; IL-6, interleukin-6; INR, international normalized ratio; LDH, lactate dehydrogenase; PCR, polymerase chain reaction; PT, prothrombin time; PTT, partial thromboplastin time; SARS-CoV-2, severe acute respiratory syndrome coronavirus 2; TMPRSS2, transmembrane protease serine 2, WHO, World Health Organization. Severe acute respiratory syndrome coronavirus 2 (SARSCoV-2), the cause of coronavirus disease 2019 (COVID-19), has generated huge workloads for healthcare facilities since late 2019. It also has..
Please send us corrections, updates, or comments. Vaccines and treatments are complementary. All practical, effective, and safe means should be used based on risk/benefit analysis. No treatment, vaccine, or intervention is 100% available and effective for all current and future variants. We do not provide medical advice. Before taking any medication, consult a qualified physician who can provide personalized advice and details of risks and benefits based on your medical history and situation.
FLCCC
and
WCH
provide treatment protocols.
Submit