UK Biobank retrospective showing significantly lower COVID-19 cases with objectively measured physical activity.
risk of death,

26.0% lower

, OR 0.74, p = 0.17
, adjusted per study, AMPA, per SD increase, multivariable, RR approximated with OR.
risk of case,

18.0% lower

, OR 0.82, p = 0.01
, adjusted per study, AMPA, per SD increase, multivariable, RR approximated with OR.
Effect extraction follows pre-specified rules prioritizing more serious outcomes. Submit updates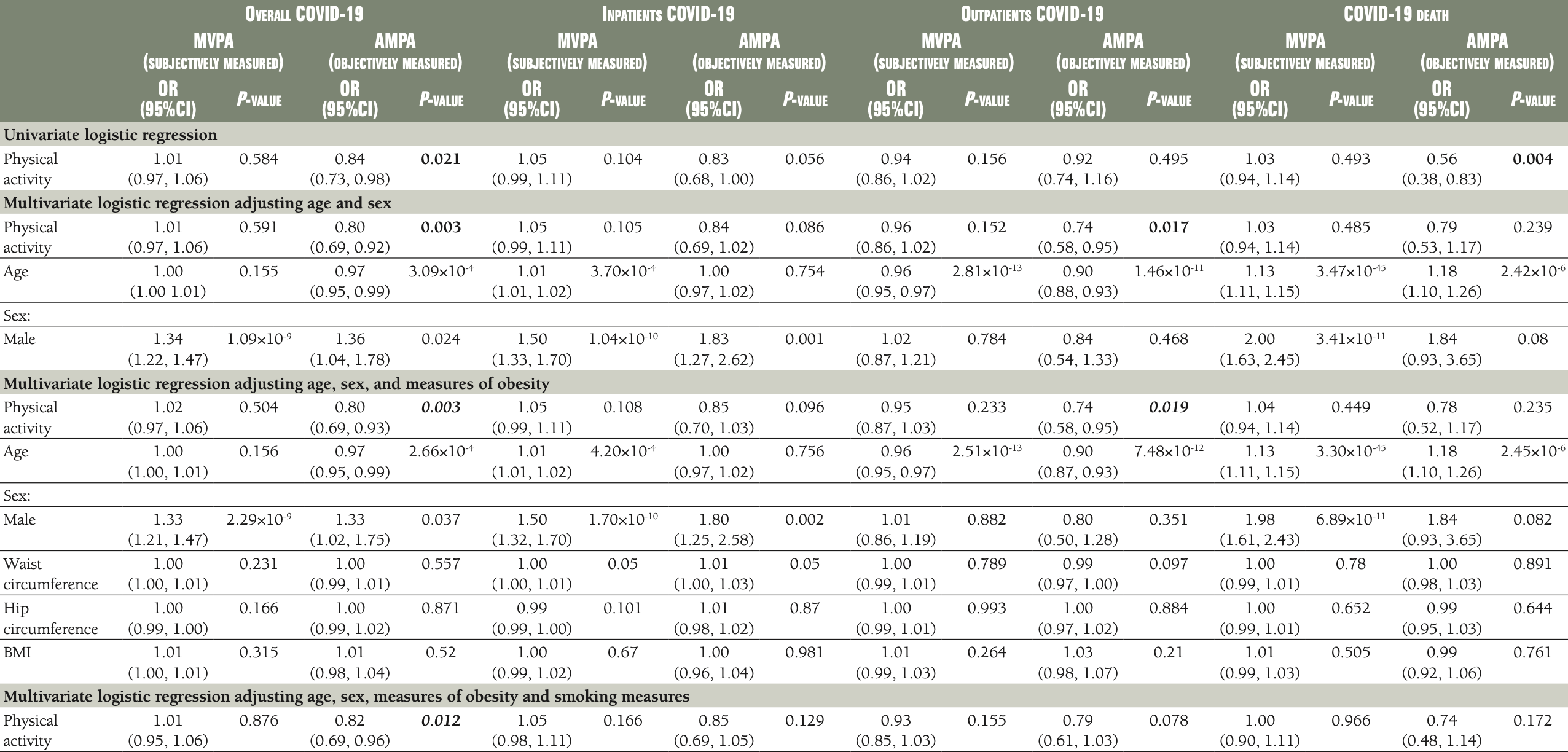 Zhang et al., 6 Dec 2020, retrospective, United Kingdom, peer-reviewed, 9 authors.
Physical activity and COVID-19: an observational and Mendelian randomisation study
Journal of Global Health, doi:10.7189/jogh.10.020514
Background Physical activity (PA) is known to be a protective lifestyle factor against several non-communicable diseases while its impact on infectious diseases, including Coronavirus Disease 2019 (COVID-19) is not as clear. Methods We performed univariate and multivariate logistic regression to identify associations between both objectively and subjectively measured PA collected prospectively and COVID-19 related outcomes in the UK Biobank cohort. Subsequently, we tested causality by using Mendelian randomisation (MR) analyses. Results In the multivariable model, the increased acceleration vector magnitude PA (AMPA) is associated with a decreased probability of overall and outpatient COVID-19 with an odds ratio (OR) and 95% confidence interval (CI) of 0.80 (0.69, 0.93) and 0.74 (0.58, 0.95), respectively. No association is found between self-reported moderate-to-vigorous PA (MVPA) and COVID-19 related outcomes. No association is found by MR analyses. Conclusions Our results indicate a protective effect of objectively measured PA and COVID-19 outcomes (outpatient COVID-19 and overall COVID-19) independent of age, sex, measures of obesity, and smoking status. Although the MR analyses do not support a causal association, that may be due to limited power. We conclude that policies to encourage and facilitate exercise at a population level during the pandemic should be considered.
Authors' contributions: MGD, MT, and ET conceived this study. XZ, XL, MT and ET designed the methodology. XZ conducted data analysis and drafted the manuscript. XZ conducted data interpretation with ET, MT, and MGD. XL, ZS, YH, WX, HC, MGD, MT, and ET contributed to the manuscript drafting and revision. Competing interests: Harry Campbell is the Co-Editor in Chief of the Journal of Global Health. To ensure that any possible conflict of interest relevant to the journal has been addressed, this article was reviewed according to best practice guidelines of international editorial organisations. The authors completed the ICMJE Unified Competing Interest form (available upon request from the corresponding author) and declare no conflicts of interest. Additional material Online Supplementary Document VIEWPOINTS RESEARCH THEME 1: COVID-19 PANDEMIC
References
Biobank, Records of COVID-19 test results
Jakobsson, Malm, Furberg, Ekelund, Svensson, Physical Activity During the Coronavirus (COVID-19) Pandemic: Prevention of a Decline in Metabolic and Immunological Functions, Front Sports Act Living
Who, Coronavirus disease (COVID-2019) situation reports