Effect of aspirin in COVID-19 outcomes of older adults with a history of coronary artery disease
Retrospective 4,017 coronary artery disease patients hospitalized for COVID-19 in the USA, showing no significant difference in outcomes with low dose aspirin use.
risk of death,

37.0% lower

, RR 0.63, p = 0.28
.
risk of ICU admission,

1.0% higher

, RR 1.01, p = 0.79
.
Effect extraction follows pre-specified rules prioritizing more serious outcomes. Submit updates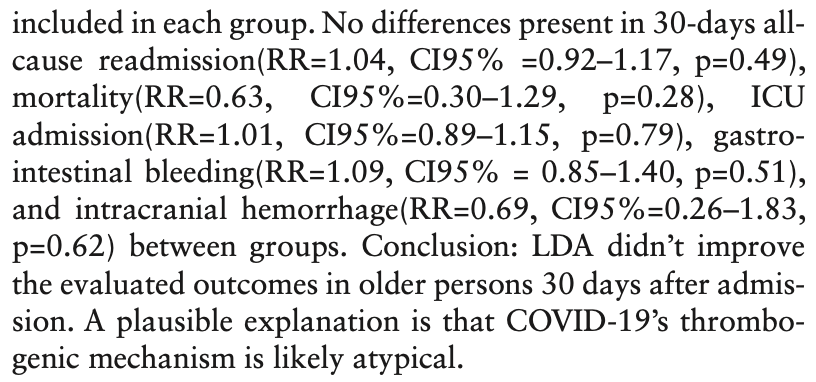 Zadeh et al., 20 Dec 2022, retrospective, USA, peer-reviewed, mean age 62.2, 8 authors.
Abstract: 850 IMPACT OF OACS ON OUTCOMES OF COVID-19 INFECTION IN OLDER ADULTS WITH HISTORY OF ATRIAL FIBRILLATION Ricardo Criado Carrero,1 Andrew Carl Crawford,1 Ali Vaeli Zadeh,2 Alan Wong,3 Ana De Diego Diaz,4 Elias Collado,2 and Joshua Larned5, 1. University of Miami/ Holy Cross Hospital, Fort Lauderdale, Florida, United States, 2. Holy Cross Health-Jim Moran Cardiovascular Research Institute, Fort Lauderdale, Florida, United States, 3. Holy Cross Health-University of Miami, Fort Lauderdale, Florida, United States, 4. University of Miami/Holy Cross Hospital, Fort Luderdale, Florida, United States, 5. Holy Cross Health- University of Miami, Miami, Florida, United States Background: Age, atrial fibrillation (AF), and COVID-19 infection predispose patients to hypercoagulability and poor outcomes. It is unclear if older adults with AF and COVID19 infection would benefit from oral anticoagulants (OACs). Methods: A retrospective study was conducted using the PearlDiver database (PearlDiver Technologies, Fort Wayne, IN). Using ICD-10 codes, adults aged 65–75 and Elixhauser Comorbidity index(ECI) >4 with a history of AF admitted for COVID-19 were identified. The use of OACs for 6 months before the index event was used to split the cohort into two propensity score-matched groups considering age, gender, and ECI. Records from both groups were reviewed for multiple outcomes during the same admission. Pearson's chi-squared test was used to compare groups. The strength of association was reported using Risk Ratios (RR). A p-value < 0.05 was deemed significant. Results: We compared 16,967 individuals in both anticoagulated and non-anticoagulated groups. Anticoagulated patients had a lower risk of mortality (RR=0.11, p=0.026), and a higher risk of 30-day all-cause readmission(RR=1.12, p < 0.0001). However, there were no differences in ICU admission, gastrointestinal bleeding, intracranial hemorrhage, thromboembolic events, or length of hospitalization. Conclusion: Compared to non-anticoagulated patients, older adults with a history AF on chronic oral anticoagulants had a lower risk of all-cause mortality, and higher risk of 30-day all-cause readmission. This information would help clinicians decide whether to prescribe OACs to this population of patients. GENDER AND AGE EFFECTS ON PTG EXPLAINED BY PSYCHOLOGICAL FACTORS IN CARDIAC PATIENTS Amy Ai, and Crim Sabuncu, Florida State University, Tallahassee, Florida, United States The present study explored the role of gender on posttraumatic growth (PTG) 30-months after cardiac surgery and mediation of preoperative psychosocial factors. Two previous meta-analyses found that woman tended to have more growth than men, and that PTG was associated with improved overall health, but most studies were cross-sectional and smallscale. Using a prospective design, we followed 262 patients undergoing cardiovascular operations with surveys and objectively measured medical indices from the Society of Thoracic Surgeons' (STS) national database. Participants completed a follow-up survey on PTG 30-month after surgery. Bivariate correlations related PTG with female gender, age, minority race, marriage, and faith-based factors, but no medical or other psychosocial factors. In hierarchical regressions, gender and age were linked with PTG, alongside other demographics in Step-1. These effects sustained after entry of STS indices, in Step-2, but the gender role diminished after adding medical comorbidities, preoperative..
Please send us corrections, updates, or comments. Vaccines and treatments are complementary. All practical, effective, and safe means should be used based on risk/benefit analysis. No treatment, vaccine, or intervention is 100% available and effective for all current and future variants. We do not provide medical advice. Before taking any medication, consult a qualified physician who can provide personalized advice and details of risks and benefits based on your medical history and situation.
FLCCC
and
WCH
provide treatment protocols.
Submit