Effect of aspirin in COVID-19 outcomes of older adults with a history of coronary artery disease
Retrospective 4,017 coronary artery disease patients hospitalized for COVID-19 in the USA, showing no significant difference in outcomes with low dose aspirin use.
risk of death,

37.0% lower

, RR 0.63, p = 0.28
.
risk of ICU admission,

1.0% higher

, RR 1.01, p = 0.79
.
Effect extraction follows pre-specified rules prioritizing more serious outcomes. Submit updates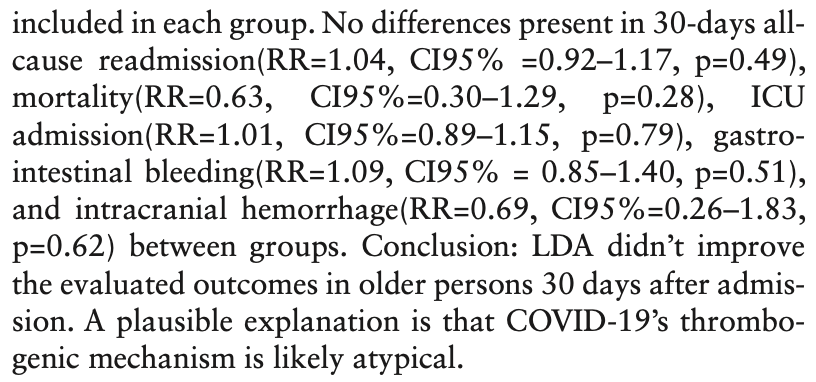 Zadeh et al., 20 Dec 2022, retrospective, USA, peer-reviewed, mean age 62.2, 8 authors.
IMPACT OF OACS ON OUTCOMES OF COVID-19 INFECTION IN OLDER ADULTS WITH HISTORY OF ATRIAL FIBRILLATION
diseases. Records from both groups were reviewed for the first episode of HF over 12 months following the initiation of treatment. Pearson's chi-squared test was used to compare groups. The strength of association was reported using Risk Ratios (RR). A p-value < 0.05 was deemed significant. Results: 6,446 were included in each group. The mean age, gender and ECI were indifferent. 958 (15%) of patients treated with AADs and 987 (15.3%) of patients treated with CA had a first episode of HF over a year after the treatment which was not significantly different between groups (RR=1.03, CI95% = 0.95-1.11, p=0.49). Conclusion: The modality of treatment after the first episode of AF in older population doesn't significantly affect the risk of HF over the first year.
Please send us corrections, updates, or comments. Vaccines and treatments are complementary. All practical, effective, and safe means should be used based on risk/benefit analysis. No treatment, vaccine, or intervention is 100% available and effective for all current and future variants. We do not provide medical advice. Before taking any medication, consult a qualified physician who can provide personalized advice and details of risks and benefits based on your medical history and situation.
FLCCC
and
WCH
provide treatment protocols.
Submit