High-dose vitamin C ameliorates cardiac injury in COVID-19 pandemic: a retrospective cohort study
High-dose vitamin C ameliorates cardiac injury in COVID-19 pandemic: a retrospective cohort study
,
Aging, doi:10.18632/aging.203503
,
Retrospective 113 severe and critical patients in China with cardiac injury, 51 treated with high dose vitamin C, showing treatment associated with improvement of myocardial injury.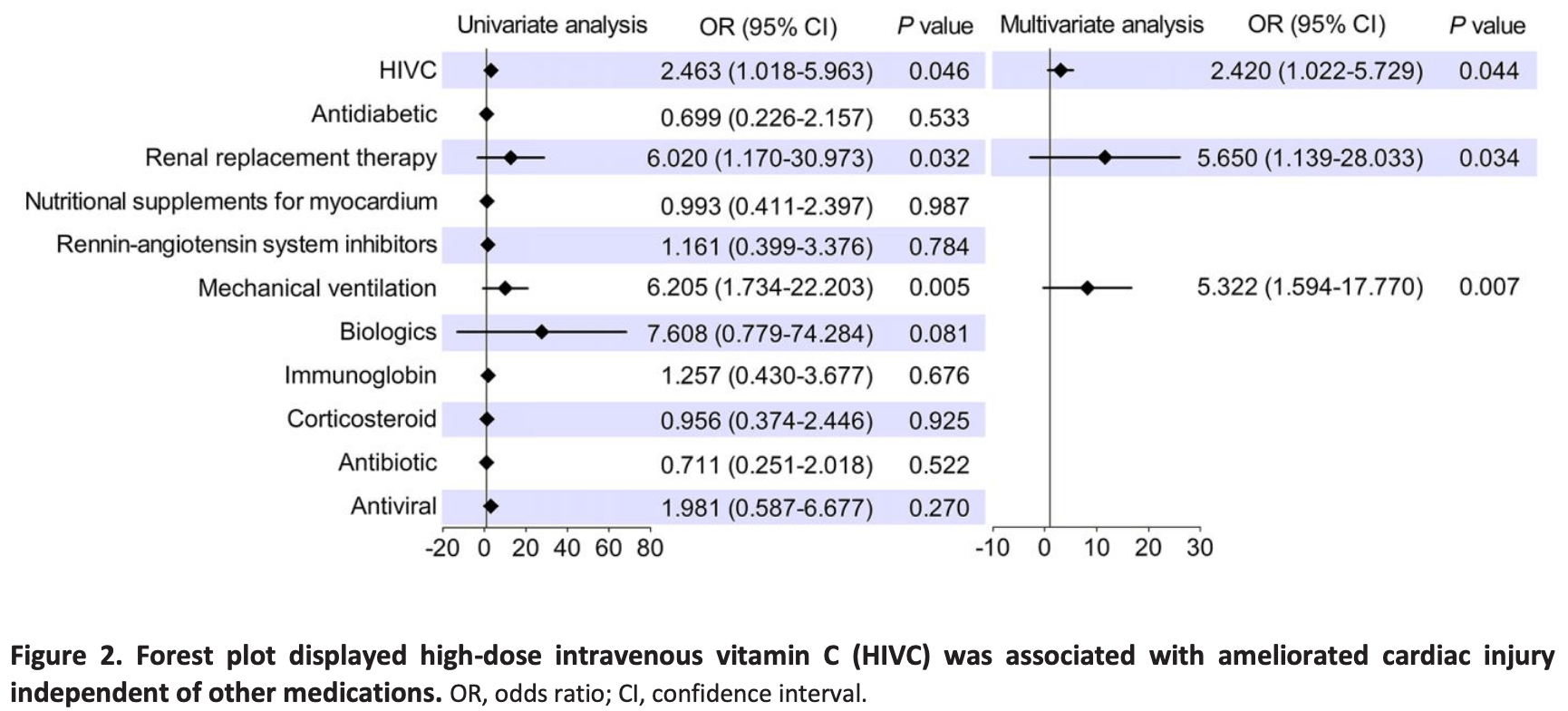 Xia et al., 7 Sep 2021, China, peer-reviewed, 5 authors.
Abstract: www.aging-us.com AGING 2021, Vol. 13, No. 17 Research Paper High-dose vitamin C ameliorates cardiac injury in COVID-19 pandemic: a retrospective cohort study Guozhi Xia1, Bowen Qin2, Chaoran Ma3, Yaowu Zhu4, Qiangsun Zheng1 1 Department of Cardiology, The Second Affiliated Hospital of Xi'an Jiaotong University, Xi'an 710004, Shaanxi Province, China 2 National-Local Joint Engineering Research Center of Biodiagnostics and Biotherapy, The Second Affiliated Hospital of Xi'an Jiaotong University, Xi'an 710004, Shaanxi Province, China 3 Department of Nutritional Sciences, Pennsylvania State University, University Park, PA 16802, USA 4 Department of Laboratory Medicine, Tongji Hospital of Huazhong University of Science and Technology, Wuhan 430030, Hubei Province, China Correspondence to: Guozhi Xia; email: hatozy@126.com, https://orcid.org/0000-0002-6307-4563 Keywords: vitamin C, inflammation, cardiac injury, COVID-19 Received: March 11, 2021 Accepted: August 23, 2021 Published: September 9, 2021 Copyright: © 2021 Xia et al. This is an open access article distributed under the terms of the Creative Commons Attribution License (CC BY 3.0), which permits unrestricted use, distribution, and reproduction in any medium, provided the original author and source are credited. ABSTRACT Background: Cardiac injury is common and associated with poor clinical outcomes in COVID-19. Data are lacking whether high-dose intravenous vitamin C (HIVC) could help to ameliorate myocardial injury in the pandemic. Methods: The retrospective cohort study included consecutive severe and critically ill COVID-19 patients with cardiac injury receiving symptomatic supportive treatments alone or together with HIVC. Troponin I and inflammatory markers were collected at admission and day 21 during hospitalization from the electronic medical records. Results: The patients (n = 113) were categorized into the ameliorated cardiac injury (ACI) group (n = 70) and the non-ameliorated cardiac injury (NACI) group (n = 43). Overall, fifty-one (45.1%) patients were administered with HIVC, the percentages of patients with HIVC were higher in the ACI group than those in the NACI group. Logistic regression analysis revealed that HIVC was independently associated with the improvement of myocardial injury. Further analysis showed that inflammatory markers levels significantly decreased at day 21 during hospitalization in patients with HIVC therapy compared to those administered with symptomatic supportive treatments alone. Meanwhile, similar results were also observed regarding changes in inflammatory markers levels from baseline to day 21 during hospitalization in the patients treated with HIVC. Conclusions: HIVC can ameliorate cardiac injury through alleviating hyperinflammation in severe and critically ill patients with COVID-19.
Please send us corrections, updates, or comments. Vaccines and treatments are complementary. All practical, effective, and safe means should be used based on risk/benefit analysis. No treatment, vaccine, or intervention is 100% available and effective for all current and future variants. We do not provide medical advice. Before taking any medication, consult a qualified physician who can provide personalized advice and details of risks and benefits based on your medical history and situation.
FLCCC
and
WCH
provide treatment protocols.
Submit