Prophylaxis RCT in China with 98 healthcare workes in close contact with COVID-19 patients treated with Bactoblis oropharyngeal probiotic containing S. thermophilus ENT-K12, and 95 control patients, showing lower incidence of respiratory infections with treatment (none were confirmed COVID-19, details of testing are not provided).The immune effects of probiotics are strain-specific.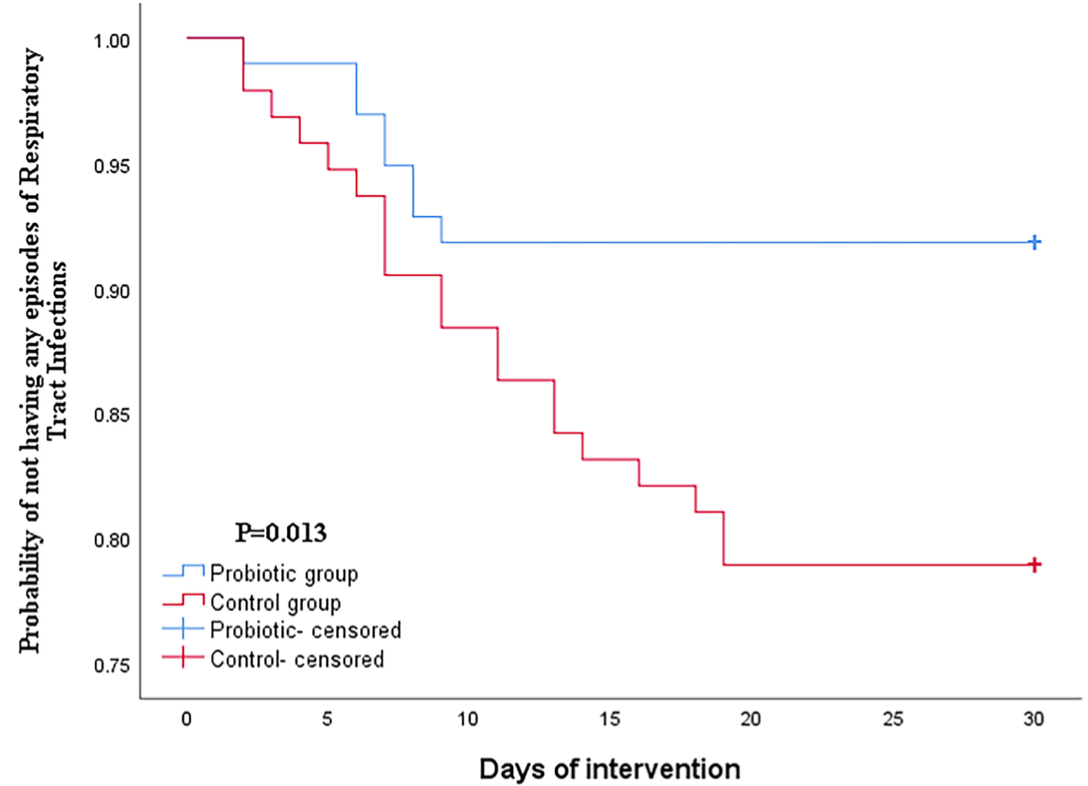 Wang et al., 24 Jun 2021, peer-reviewed, 13 authors.
Oropharyngeal Probiotic ENT-K12 Prevents Respiratory Tract Infections Among Frontline Medical Staff Fighting Against COVID-19: A Pilot Study
Frontiers in Bioengineering and Biotechnology, doi:10.3389/fbioe.2021.646184
Healthcare workers at the frontline are facing a substantial risk of respiratory tract infection during the COVID-19 outbreak due to an extremely stressful work schedule and public health event. A well-established first-line defense on oropharyngeal microbiome could be a promising strategy to protect individuals from respiratory tract infections including COVID-19. The most thoroughly studied oropharyngeal probiotic product which creates a stable upper respiratory tract microbiota capable of preventing upper respiratory tract infections was chosen to evaluate the safety and efficacy on reducing episodes of upper respiratory tract infections for COVID-19 healthcare workers. To our knowledge to date, this is the very first study describing the beneficial effects of oropharyngeal probiotic been administered by healthcare workers during the COVID-19 pandemic. In this randomized controlled trial, we provided the probiotics to frontline medical staff who work in the hospitals in Wuhan and had been in close contact with hospitalized COVID-19 patients for prophylactic use on a daily basis. Our finding suggests that oropharyngeal probiotic administration significantly reduced the incidence of respiratory tract infections by 64.8%, reduced the time experiencing respiratory tract infections and oral ulcer symptoms by 78%, shortened the days absent from work by 95.5%, and reduced the time under medication where there is no record of antibiotic and anti-viral drug intake in the probiotic group. Furthermore, medical staff treated with Bactoblis experienced sustained protection from respiratory tract infections since the 10th day of oropharyngeal probiotic administration resulting in an extremely low incidence rate of respiratory tract infections.
Conflict of Interest: The authors declare that the research was conducted in the absence of any commercial or financial relationships that could be construed as a potential conflict of interest. Copyright © 2021 Wang, Lin, Xiang, Liu, Fang, Chen, Tang, Guo, Chen, Hu, Wu, Zhu and Xia. This is an open-access article distributed under the terms of the Creative Commons Attribution License (CC BY). The use, distribution or reproduction in other forums is permitted, provided the original author(s) and the copyright owner(s) are credited and that the original publication in this journal is cited, in accordance with accepted academic practice. No use, distribution or reproduction is permitted which does not comply with these terms.
References
De Francesco, Giorgio, Hassan, Manes, Vannella et al., Worldwide H. pylori antibiotic resistance: a systematic review, J. Gastrointestin Liver Dis
Ilchenko, Fialkovska, Mozheiko, Modern possibilities of correcting dysbiotic disorders of the mucous membranes of the upper respiratory tract in infants, Clin. Pediatr