A tertiary center experience of multiple myeloma patients with COVID-19: lessons learned and the path forward
A tertiary center experience of multiple myeloma patients with COVID-19: lessons learned and the path forward
,
Journal of Hematology & Oncology, doi:10.1186/s13045-020-00934-x
,
Retrospective 58 multiple myeloma COVID-19 patients in the USA, showing no significant difference with aspirin treatment.
risk of death,

57.7% lower

, RR 0.42, p = 0.43
, treatment 1 of 9 (11.1%), control 13 of 49 (26.5%), NNT 6.5, odds ratio converted to relative risk.
Effect extraction follows pre-specified rules prioritizing more serious outcomes. Submit updates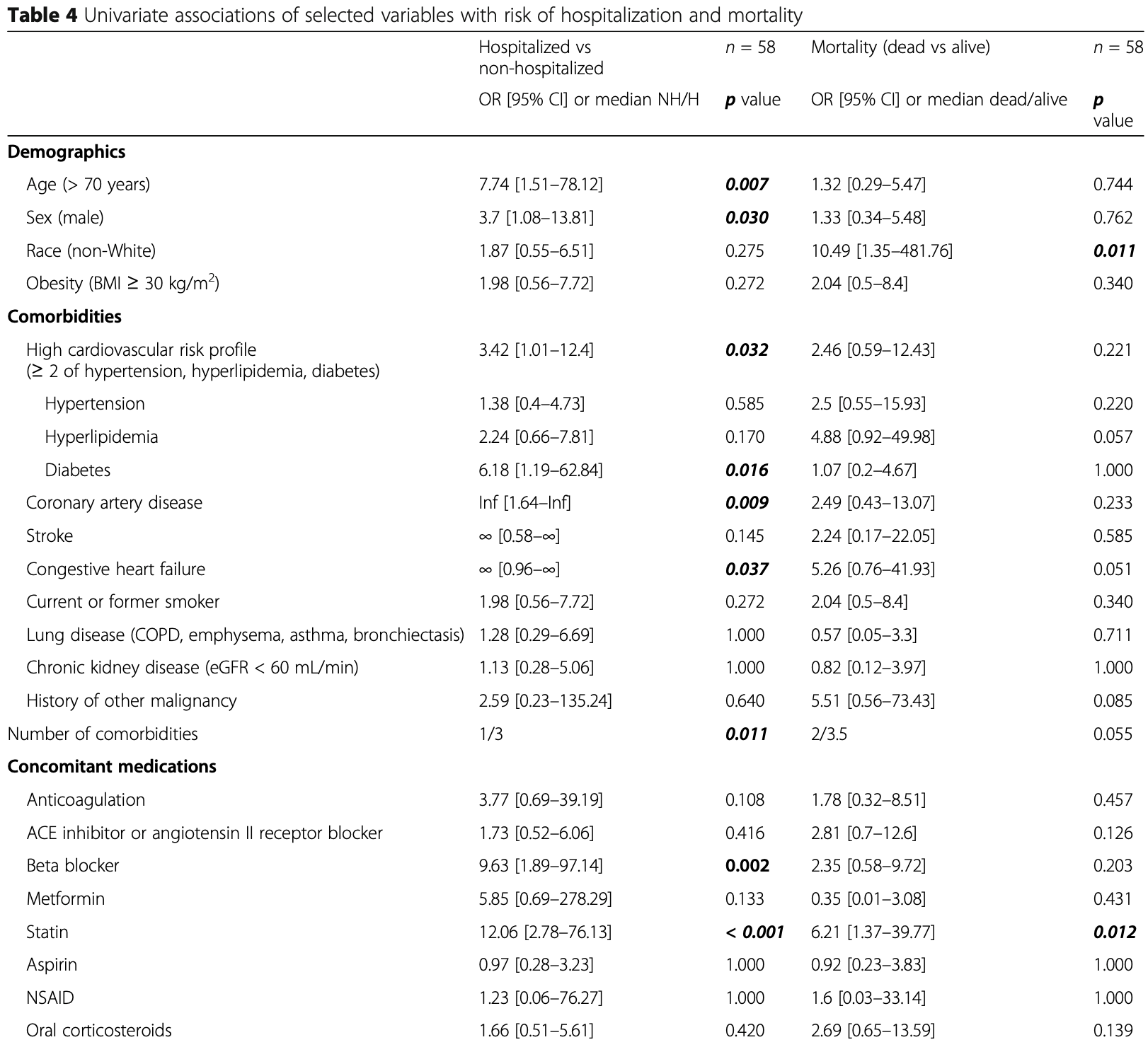 Wang et al., 14 Jul 2020, retrospective, USA, peer-reviewed, 13 authors.
Abstract: Wang et al. Journal of Hematology & Oncology https://doi.org/10.1186/s13045-020-00934-x (2020) 13:94 RESEARCH Open Access A tertiary center experience of multiple myeloma patients with COVID-19: lessons learned and the path forward Bo Wang1†, Oliver Van Oekelen1†, Tarek H. Mouhieddine2, Diane Marie Del Valle1, Joshua Richter1, Hearn Jay Cho1, Shambavi Richard1, Ajai Chari1, Sacha Gnjatic1, Miriam Merad1,3, Sundar Jagannath1, Samir Parekh1 and Deepu Madduri1* Abstract Background: The COVID-19 pandemic, caused by SARS-CoV-2 virus, has resulted in over 100,000 deaths in the USA. Our institution has treated over 2000 COVID-19 patients during the pandemic in New York City. The pandemic directly impacted cancer patients and the organization of cancer care. Mount Sinai Hospital has a large and diverse multiple myeloma (MM) population. Herein, we report the characteristics of COVID-19 infection and serological response in MM patients in a large tertiary care institution in New York. Methods: We performed a retrospective study on a cohort of 58 patients with a plasma-cell disorder (54 MM, 4 smoldering MM) who developed COVID-19 between March 1, 2020, and April 30, 2020. We report epidemiological, clinical, and laboratory characteristics including the persistence of viral detection by polymerase chain reaction (PCR) and anti-SARS-CoV-2 antibody testing, treatments initiated, and outcomes. Results: Of the 58 patients diagnosed with COVID-19, 36 were hospitalized and 22 were managed at home. The median age was 67 years; 52% of patients were male and 63% were non-White. Hypertension (64%), hyperlipidemia (62%), obesity (37%), diabetes mellitus (28%), chronic kidney disease (24%), and lung disease (21%) were the most common comorbidities. In the total cohort, 14 patients (24%) died. Older age (> 70 years), male sex, cardiovascular risk, and patients not in complete remission (CR) or stringent CR were significantly (p < 0.05) associated with hospitalization. Among hospitalized patients, laboratory findings demonstrated elevation of traditional inflammatory markers (CRP, ferritin, D-dimer) and a significant (p < 0.05) association between elevated inflammatory markers, severe hypogammaglobulinemia, non-White race, and mortality. Ninety-six percent (22/23) of patients developed antibodies to SARS-CoV-2 at a median of 32 days after initial diagnosis. The median time to PCR negativity was 43 (range 19–68) days from initial positive PCR. (Continued on next page) * Correspondence: deepu.madduri@mountsinai.org † Bo Wang and Oliver Van Oekelen contributed equally to this work. 1 Tisch Cancer Institute, Icahn School of Medicine at Mount Sinai, 10 East 102nd Street, 6th Floor, New York, NY 10029, USA Full list of author information is available at the end of the article © The Author(s). 2020 Open Access This article is licensed under a Creative Commons Attribution 4.0 International License, which permits use, sharing, adaptation, distribution and reproduction in any medium or format, as long as you give appropriate credit to the original author(s) and the source, provide a link to the Creative Commons licence, and indicate if changes were made. The images or other third party material in this article are included in the article's Creative Commons licence, unless indicated otherwise in a credit line to the material. If material is not included in the article's Creative Commons licence and your intended use is not permitted by statutory regulation or exceeds..
wang3
Please send us corrections, updates, or comments. Vaccines and treatments are complementary. All practical, effective, and safe means should be used based on risk/benefit analysis. No treatment, vaccine, or intervention is 100% available and effective for all current and future variants. We do not provide medical advice. Before taking any medication, consult a qualified physician who can provide personalized advice and details of risks and benefits based on your medical history and situation.
FLCCC
and
WCH
provide treatment protocols.
Submit