Retrospective 35 ICU patients in Spain showing 71% of patients had vitamin D levels <20 ng/mL, and 40% <10 ng/mL.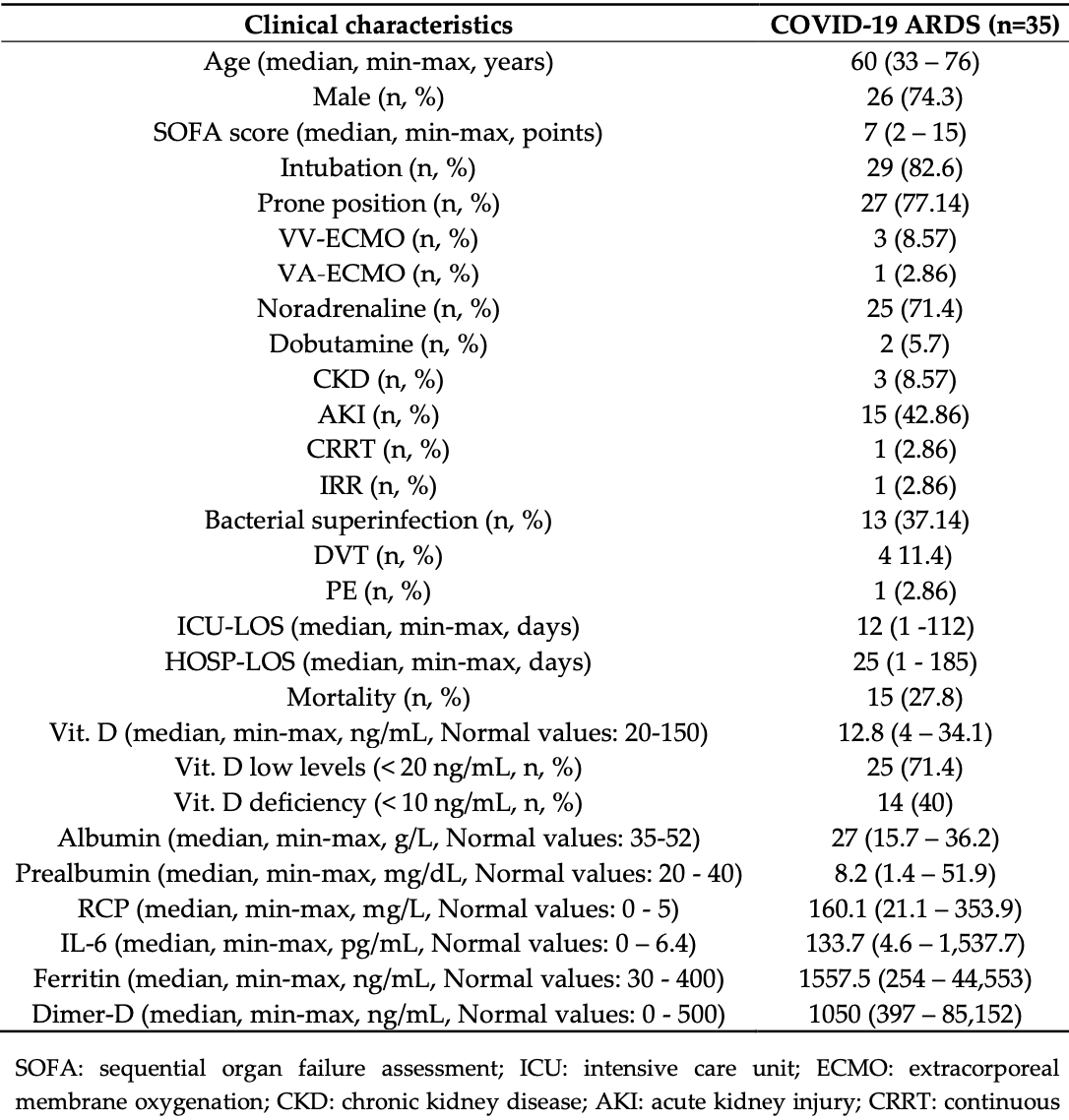 Tomasa-Irriguible et al., 23 Sep 2020, retrospective, preprint, 2 authors.
Contact: teresatomasa@gmail.com (corresponding author), larabielsa@gmail.com, luisabordeje@gmail.com.
Up to 40% of COVID-19 Critically Ill Patients Have Vitamin D Deficiency
doi:10.20944/preprints202009.0555.v1
Background: Coronavirus disease (COVID-19) has caused more than 745,000 deaths worldwide. Vitamin D has been identified as a potential strategy to prevent or treat this disease. The purpose of the study was to measure vitamin D at hospital admission of COVID-19; Methods: We included critically ill patients with the polymerase chain reaction positive test for COVID-19, from March to April, 2020. Statistical significance was defined as P < .05. All tests were 2-tailed; Results: A total of 35 patients (median age, 60 years; 26 [74.3%] male) were included. Vitamin D levels were categorized as deficient for 14 participants (40%). Vitamin D deficiency was associated with vitamin A (P= 0.003) and Zinc (P= 0.019) deficiency and lower levels of albumin (P= 0.026) and prealbumin (P= 0.009). Overall, none of the studied variables were associated with vitamin D status: mortality, intensive care unit (ICU) or hospital stay, necessity of vasoactive agents, intubation, prone position, C reactive protein (CRP), Dimer-D, Interleukin 6 levels (IL-6), ferritin levels, or bacterial superinfection; Conclusions: In this single-center, retrospective cohort study, deficient vitamin D status was found in 40% in COVID-19 critically ill patients. However, deficient vitamin D status was not associated with inflammation or outcome.
Conflicts of Interest: The authors declare no conflict of interest.
References
Ards Definition, Force, Ranieri, Rubenfeld, Thompson et al., Acute respiratory distress syndrome: the Berlin definition, JAMA
Castillo, Costa, Barrios, Díaz, Miranda et al., Effect of calcifediol treatment and best available therapy versus best available therapy on intensive care unit admission and mortality among patients hospitalized for COVID-19: A pilot randomized clinical study, Journal of Steroid Biochemistry and Molecular Biology
Laird, Rhodes, Kenny, Vitamin, And inflammation: potential implications for severity of Covid-19, Ir. Med. J