Early Outpatient Treatment for Covid-19 with Convalescent Plasma
et al., New England Journal of Medicine,
RCT 1,181 outpatients in the USA, mean 6 days from symptom onset, showing lower hospitalization with treatment.
NCT04373460
(history)
.
risk of death,

85.7% lower

, RR 0.14, p = 0.12
, treatment 0 of 592 (0.0%), control 3 of 589 (0.5%), NNT 196, relative risk is not 0 because of continuity correction due to zero events (with reciprocal of the contrasting arm).
risk of ICU admission,

25.4% lower

, RR 0.75, p = 0.73
, treatment 3 of 592 (0.5%), control 4 of 589 (0.7%), NNT 580.
risk of hospitalization,

54.3% lower

, RR 0.46, p = 0.005
, treatment 17 of 592 (2.9%), control 37 of 589 (6.3%), NNT 29.
Effect extraction follows pre-specified rules prioritizing more serious outcomes. Submit updates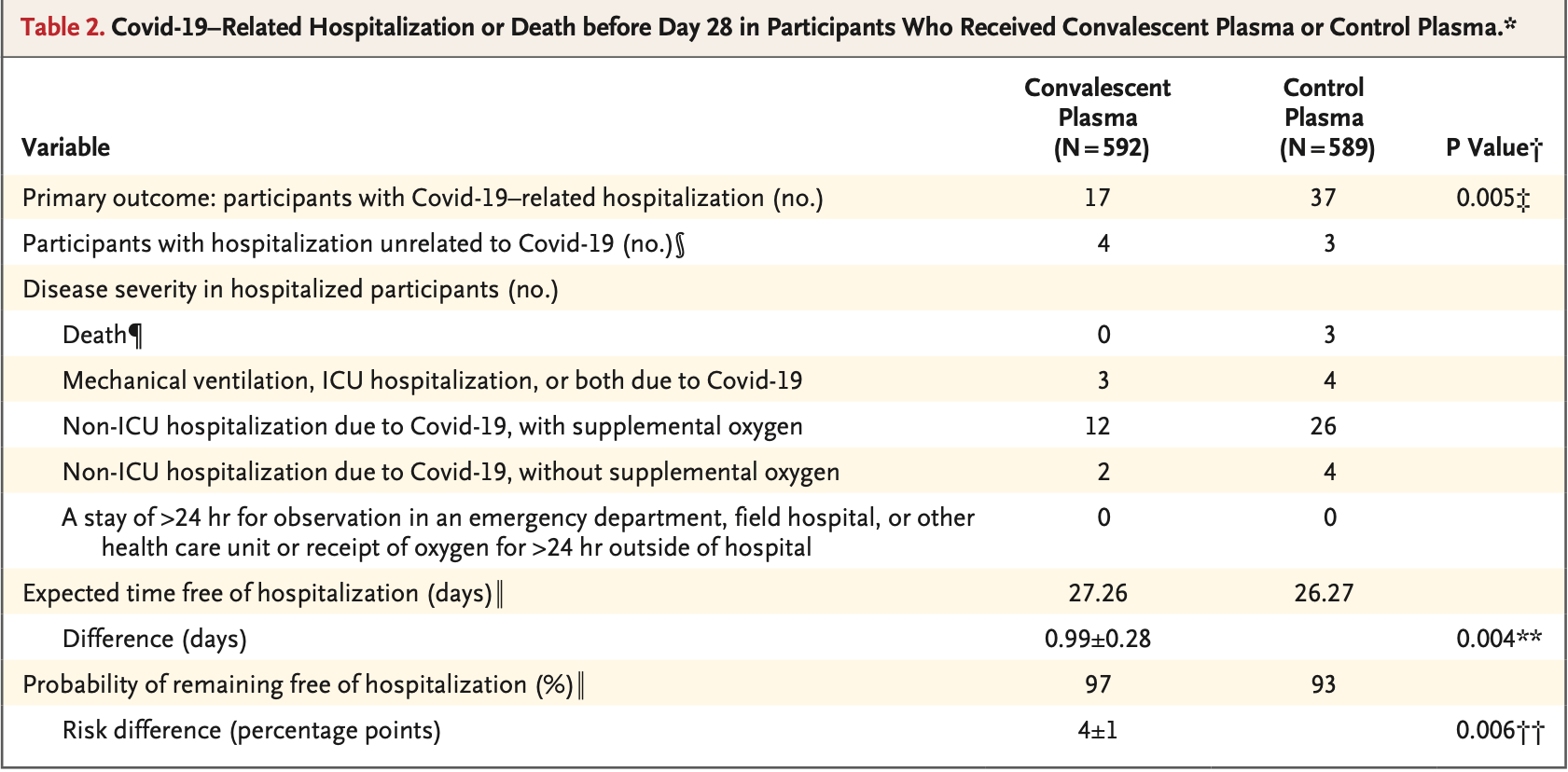 Sullivan et al., 21 Dec 2021, Double Blind Randomized Controlled Trial, USA, peer-reviewed, 58 authors, study period 3 June, 2020 - 1 October, 2021, average treatment delay 6.0 days, trial
NCT04373460
(history)
.
Abstract: T h e n e w e ng l a n d j o u r na l o f m e dic i n e Original Article Early Outpatient Treatment for Covid-19 with Convalescent Plasma D.J. Sullivan, K.A. Gebo, S. Shoham, E.M. Bloch, B. Lau, A.G. Shenoy, G.S. Mosnaim, T.J. Gniadek, Y. Fukuta, B. Patel, S.L. Heath, A.C. Levine, B.R. Meisenberg, E.S. Spivak, S. Anjan, M.A. Huaman, J.E. Blair, J.S. Currier, J.H. Paxton, J.M. Gerber, J.R. Petrini, P.B. Broderick, W. Rausch, M.-E. Cordisco, J. Hammel, B. Greenblatt, V.C. Cluzet, D. Cruser, K. Oei, M. Abinante, L.L. Hammitt, C.G. Sutcliffe, D.N. Forthal, M.S. Zand, E.R. Cachay, J.S. Raval, S.G. Kassaye, E.C. Foster, M. Roth, C.E. Marshall, A. Yarava, K. Lane, N.A. McBee, A.L. Gawad, N. Karlen, A. Singh, D.E. Ford, D.A. Jabs, L.J. Appel, D.M. Shade, S. Ehrhardt, S.N. Baksh, O. Laeyendecker, A. Pekosz, S.L. Klein, A. Casadevall, A.A.R. Tobian, and D.F. Hanley​​ A BS T R AC T BACKGROUND Polyclonal convalescent plasma may be obtained from donors who have recovered from coronavirus disease 2019 (Covid-19). The efficacy of this plasma in preventing serious complications in outpatients with recent-onset Covid-19 is uncertain. METHODS In this multicenter, double-blind, randomized, controlled trial, we evaluated the efficacy and safety of Covid-19 convalescent plasma, as compared with control plasma, in symptomatic adults (≥18 years of age) who had tested positive for severe acute respiratory syndrome coronavirus 2, regardless of their risk factors for disease progression or vaccination status. Participants were enrolled within 8 days after symptom onset and received a transfusion within 1 day after randomization. The primary outcome was Covid-19–related hospitalization within 28 days after transfusion. The authors' full names, academic degrees, and affiliations are listed in the Appendix. Dr. Sullivan can be contacted at dsulliv7@jhmi.edu or at Rm. W4606, Johns Hopkins Bloomberg School of Public Health, Department of Molecular Microbiology and Immunology, 615 N. Wolfe St., Baltimore, MD 21205. Drs. Sullivan, Gebo, Casadevall, Tobian, and Hanley contributed equally to this article. This article was published on March 30, 2022, at NEJM.org. DOI: 10.1056/NEJMoa2119657 Copyright © 2022 Massachusetts Medical Society. RESULTS Participants were enrolled from June 3, 2020, through October 1, 2021. A total of 1225 participants underwent randomization, and 1181 received a transfusion. In the prespecified modified intention-to-treat analysis that included only participants who received a transfusion, the primary outcome occurred in 17 of 592 participants (2.9%) who received convalescent plasma and 37 of 589 participants (6.3%) who received control plasma (absolute risk reduction, 3.4 percentage points; 95% confidence interval, 1.0 to 5.8; P = 0.005), which corresponded to a relative risk reduction of 54%. Evidence of efficacy in vaccinated participants cannot be inferred from these data because 53 of the 54 participants with Covid-19 who were hospitalized were unvaccinated and 1 participant was partially vaccinated. A total of 16 grade 3 or 4 adverse events (7 in the convalescent-plasma group and 9 in the controlplasma group) occurred in participants who were not hospitalized. CONCLUSIONS In participants with Covid-19, most of whom were unvaccinated, the administration of convalescent plasma within 9 days after the onset of symptoms reduced the risk of disease progression leading to hospitalization. (Funded by the Department of Defense and others;..
Please send us corrections, updates, or comments. Vaccines and treatments are complementary. All practical, effective, and safe means should be used based on risk/benefit analysis. No treatment, vaccine, or intervention is 100% available and effective for all current and future variants. We do not provide medical advice. Before taking any medication, consult a qualified physician who can provide personalized advice and details of risks and benefits based on your medical history and situation.
FLCCC
and
WCH
provide treatment protocols.
Submit