Retrospective 80 mild COVID-19 patients in Italy, showing no significant difference in long COVID with acetaminophen use during infection. Acetaminophen is also known as paracetamol.
risk of PASC,

18.5% higher

, RR 1.19, p = 0.62
, treatment 11 of 23 (47.8%), control 23 of 57 (40.4%).
Effect extraction follows pre-specified rules prioritizing more serious outcomes. Submit updates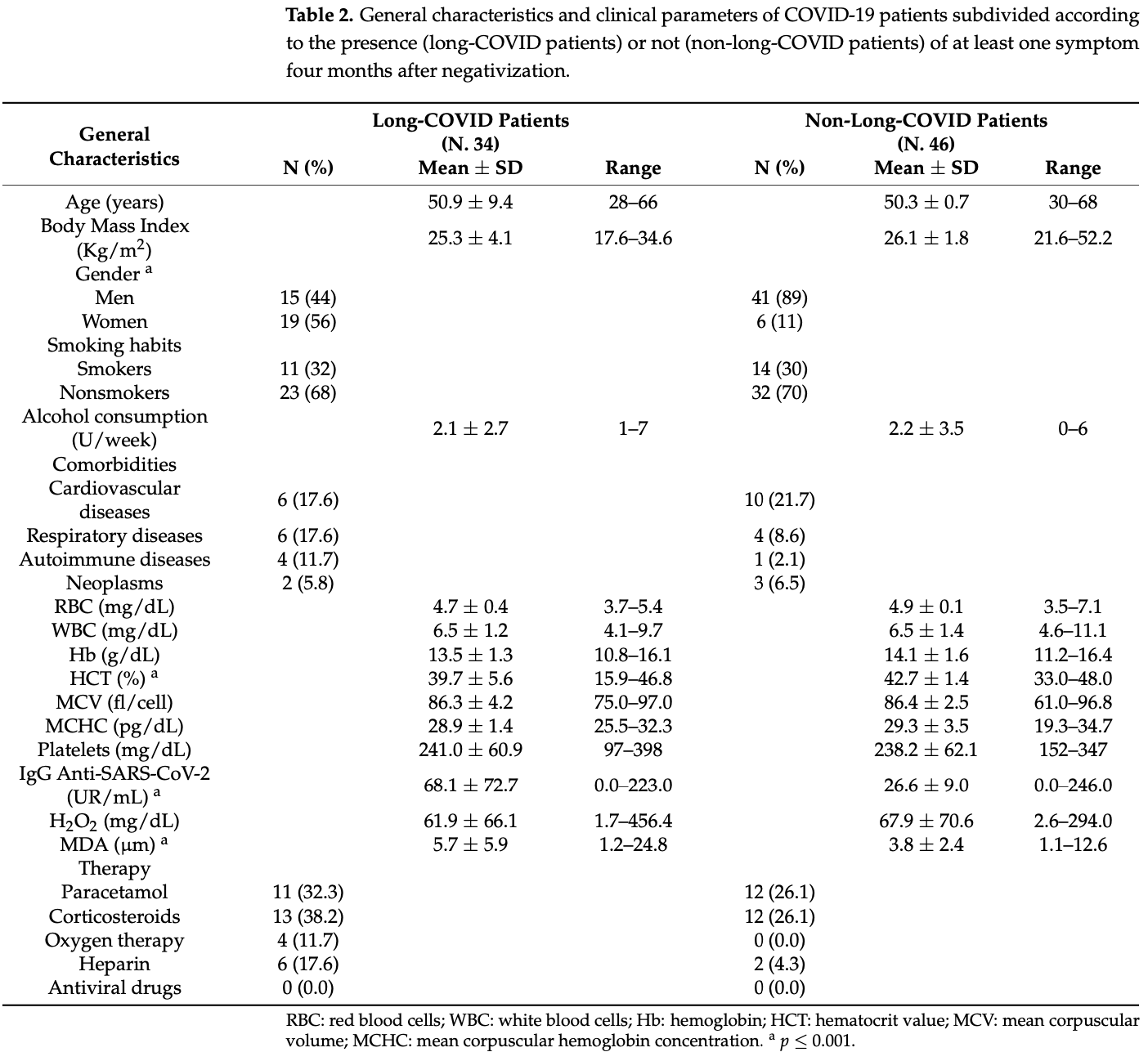 Stufano et al., 18 Apr 2023, retrospective, Italy, peer-reviewed, 7 authors.
Contact: annamaria.sardanelli@uniba.it (corresponding author).
Oxidative Damage and Post-COVID Syndrome: A Cross-Sectional Study in a Cohort of Italian Workers
International Journal of Molecular Sciences, doi:10.3390/ijms24087445
In addition to the acute symptoms after infection, patients and society are also being challenged by the long-term effects of COVID-19, known as long COVID. Oxidative stress, as a pivotal point in the pathophysiology of COVID-19, could potentially be also involved in the development of the post-COVID syndrome. The aim of the present study was to evaluate the relationship between changes in oxidative status and the persistence of long-COVID symptoms in workers with a previous mild COVID-19 infection. A cross-sectional study was conducted among 127 employees of an Italian university (80 with a previous COVID-19 infection, and 47 healthy subjects). The TBARS assay was used to detect malondialdehyde serum levels (MDA), while total hydroperoxide (TH) production was measured by a d-ROMs kit. A significant difference in mean serum MDA values was found between previously infected subjects and healthy controls and (4.9 µm vs. 2.8 µm, respectively). Receiver-operating characteristic (ROC) curves showed high specificity and good sensibility (78.7% and 67.5%, respectively) for MDA serum levels. A random forest classifier identified the hematocrit value, MDA serum levels, and IgG titer against SARS-CoV-2 as features with the highest predictive value in distinguishing 34 long-COVID from 46 asymptomatic post-COVID subjects. Oxidative damage persists in subjects with previous COVID-19 infection, suggesting a possible role of oxidative stress mediators in the pathogenesis of long COVID.
Informed Consent Statement: Informed consent was obtained from all subjects involved in the study. Conflicts of Interest: The authors declare no conflict of interest.
References
Avila-Nava, Pech-Aguilar, Lugo, Medina-Vera, Guevara-Cruz et al., Oxidative Stress Biomarkers and Their Association with Mortality among Patients Infected with SARS-CoV-2 in Mexico, Oxid. Med. Cell. Longev
Group, Clinical characteristics with inflammation profiling of long COVID and association with 1-year recovery following hospitalisation in the UK: A prospective observational study, Lancet Respir. Med
Komaravelli, Casola, Respiratory Viral Infections and Subversion of Cellular Antioxidant Defenses, J. Pharm. Pharm
Plantone, Locci, Bergantini, Manco, Cortese et al., Brain neuronal and glialdamageduring acute COVID-19 infection in absence of clinical neurologicalmanifestations, J. Neurol. Neurosurg. Psychiatry
Wang, Xia, Tang, Wu, Zhu, A Novel Consistent Random Forest Framework: Bernoulli Random Forests, IEEE Trans. Neural Netw. Learn. Syst