Retrospective 403 COVID-19 cases in Israel, showing no significant difference in outcomes with ibuprofen use. Patients were asked about ibuprofen use starting a week before diagnosis of COVID-19 - treatment time may have been early, late, or prophylactic.
risk of death,

21.1% higher

, RR 1.21, p = 0.73
, treatment 3 of 87 (3.4%), control 9 of 316 (2.8%).
risk of mechanical ventilation,

11.8% higher

, RR 1.12, p = 0.77
, treatment 4 of 87 (4.6%), control 13 of 316 (4.1%).
risk of ICU admission,

39.7% higher

, RR 1.40, p = 0.56
, treatment 5 of 87 (5.7%), control 13 of 316 (4.1%).
Effect extraction follows pre-specified rules prioritizing more serious outcomes. Submit updates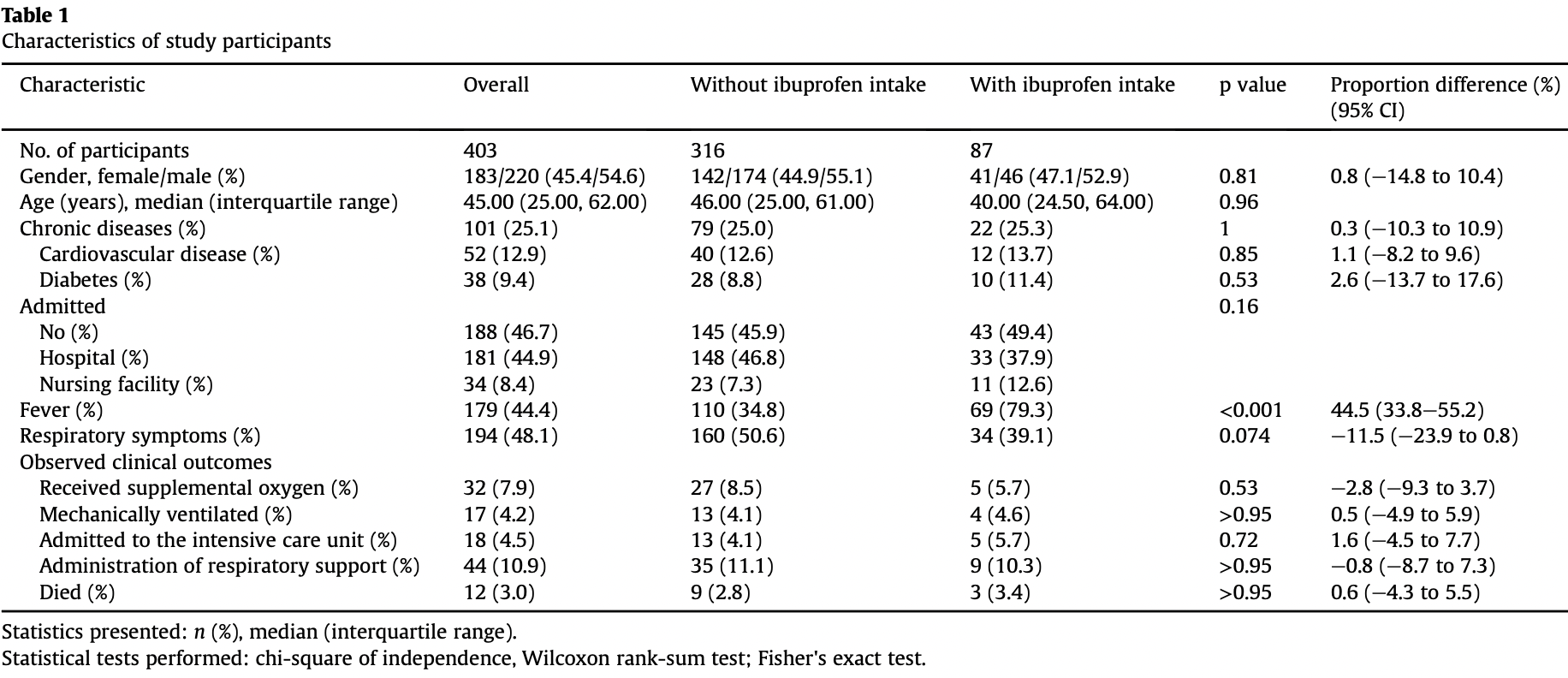 Rinott et al., 30 Sep 2020, retrospective, Israel, peer-reviewed, median age 45.0, 5 authors, study period 15 March, 2020 - 15 April, 2020.
Contact: youngsteri@shamir.gov.il.
Ibuprofen use and clinical outcomes in COVID-19 patients
Clinical Microbiology and Infection, doi:10.1016/j.cmi.2020.06.003
Objective: It was recently suggested that ibuprofen might increase the risk for severe and fatal coronavirus disease 2019 and should therefore be avoided in this patient population. We aimed to evaluate whether ibuprofen use in individuals with COVID-19 was associated with more severe disease, compared with individuals using paracetamol or no antipyretics. Methods: In a retrospective cohort study of patients with COVID-19 from Shamir Medical Centre, Israel, we monitored any use of ibuprofen from a week before diagnosis of COVID-19 throughout the disease. Primary outcomes were mortality and the need for respiratory support, including oxygen administration and mechanical ventilation. Results: The study included 403 confirmed cases of COVID-19, with a median age of 45 years. Of the entire cohort, 44 patients (11%) needed respiratory support and 12 (3%) died. One hundred and seventynine (44%) patients had fever, with 32% using paracetamol and 22% using ibuprofen, for symptom-relief. In the ibuprofen group, 3 (3.4%) patients died, whereas in the non-ibuprofen group, 9 (2.8%) patients died (p 0.95). Nine (10.3%) patients from the ibuprofen group needed respiratory support, compared with 35 (11%) from the non-ibuprofen group (p 1). When compared with exclusive paracetamol users, no differences were observed in mortality rates or the need for respiratory support among patients using ibuprofen. Conclusions: In this cohort of COVID-19 patients, ibuprofen use was not associated with worse clinical outcomes, compared with paracetamol or no antipyretic.
Authors' contributions EK and IY conceptualized the study, IY, YS and ABH collected the data, IY and ER conducted the data analyses, ER wrote the first draft of the manuscript, IY and EK revised the manuscript, all authors approved the final version.
References