Retrospective 103 mechanically ventilated patients, 41 treated with inhaled nitric oxide, and 62 with inhaled epoprostenol, showing no significant difference in outcomes.
Targeted administration to the respiratory tract provides treatment directly to the typical source of initial SARS-CoV-2 infection and replication, and allows for rapid onset of action, higher local drug concentration, and reduced systemic side effects (early treatment may be more beneficial).
risk of death,

13.6% lower

, RR 0.86, p = 0.10
, treatment 32 of 41 (78.0%), control 56 of 62 (90.3%), NNT 8.1.
Effect extraction follows pre-specified rules prioritizing more serious outcomes. Submit updates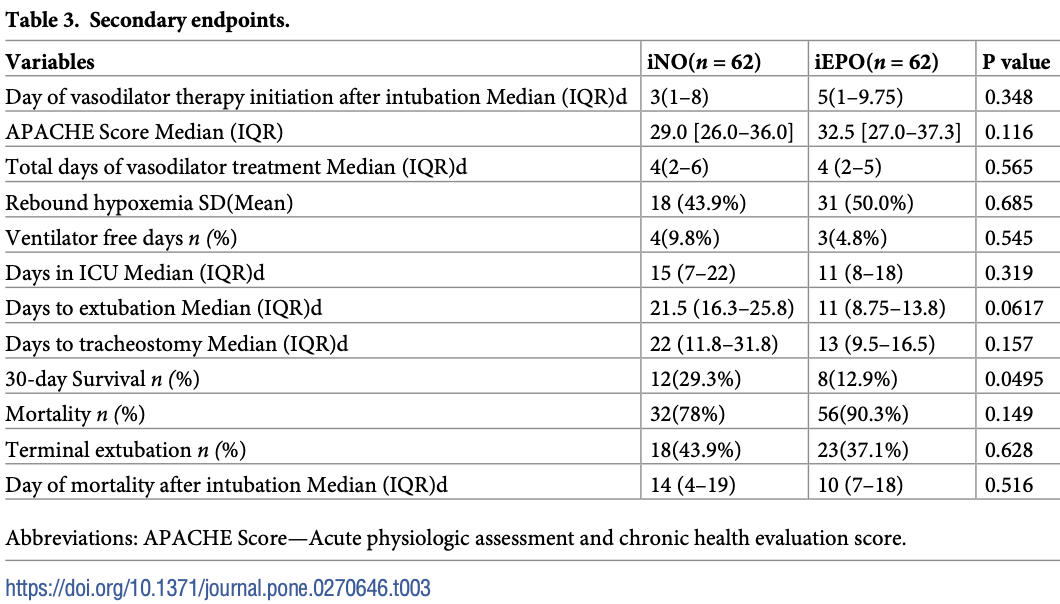 Poonam et al., 27 Jun 2022, retrospective, USA, peer-reviewed, 5 authors, study period 1 March, 2020 - 30 June, 2020, this trial compares with another treatment - results may be better when compared to placebo.
Contact: poonampaibh@gmail.com.
Nitric oxide versus epoprostenol for refractory hypoxemia in Covid-19
PLOS ONE, doi:10.1371/journal.pone.0270646
Objective To compare the efficacy and outcomes with inhaled nitric oxide (iNO) and inhaled epoprostenol (iEPO) in patients with refractory hypoxemia due to COVID-19. Design Retrospective Cohort Study. Setting Single health system multicenter academic teaching hospitals. Patients OR subjects Age group of 18-80 years admitted to the medical ICU. Interventions Mechanically ventilated patients with COVID-19 infection, who
Supporting information S1
References
Boisrame, Helms, Kremer, Schini-Kerth, Endothelial dysfunction in sepsis, Curr Vasc Pharmacol
Gonzales, Lucas, Verin, The Acute Respiratory Distress Syndrome: Mechanisms and Perspective Therapeutic Approaches, Austin J Vasc Med