Retrospective 10,175 people PCR tested in Ecuador, showing lower risk of PCR+ with multivitamin use and suggesting higher risk with acetaminophen use. The study analyzed drug consumption for COVID-19 symptoms during the 14 days before the PCR test, which biases the results towards greater use in PCR+ patients, i.e., the actual ORs may be lower. Therefore the increased risk with acetaminophen may be overestimated, although comparison with COVID-19 treatment, other, and NSAIDs still suggests higher risk with acetaminophen. On the other hand, the decreased risk with multivitamin use is expected to underestimate the true benefit.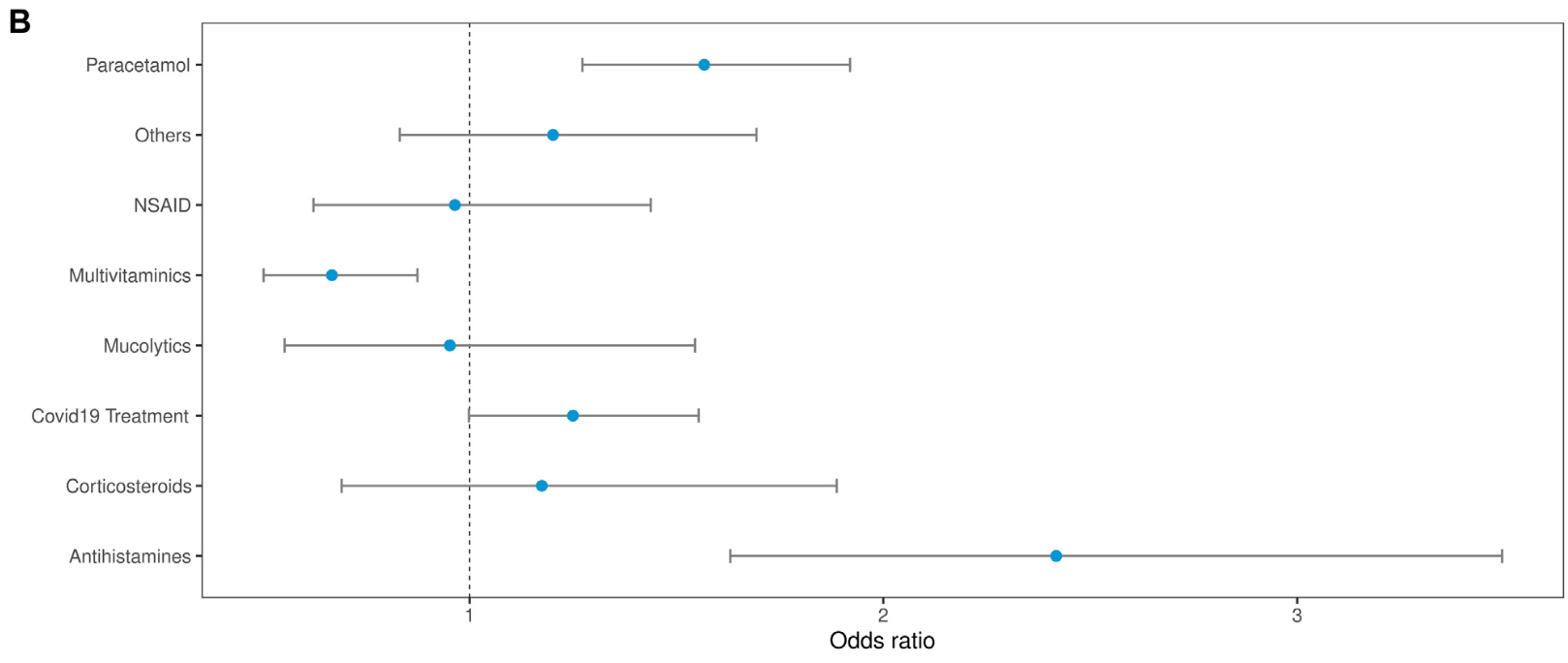 Orellana-Manzano et al., 14 Jun 2023, retrospective, Ecuador, peer-reviewed, survey, 11 authors, study period July 2020 - November 2020.
Contact: akorella@espol.edu.ec.
A report on SARS-CoV-2 first wave in Ecuador: drug consumption dynamics
Frontiers in Pharmacology, doi:10.3389/fphar.2023.1197973
Introduction: The first COVID-19 wave in Ecuador started in March 2020 and extended until November. Several types of drugs have been proposed as a potential treatment during this period, and some affected people have selfmedicated. Method: A retrospective study was conducted with 10,175 individuals who underwent RT-PCR tests for SARS-CoV-2 from July to November 2020. We compared the number of positive and negative cases in Ecuador with symptoms and drug consumption. The Chi-square test of independence compared clinical and demographic data and PCR test results. Odds ratios analyzed drug consumption dynamics. Results: Of 10,175 cases, 570 were positive for COVID-19, while 9,605 were negative. In positive cases, there was no association between the RT-PCR result and sex, age, or comorbidities. When considering demographic data, Cotopaxi and Napo had the highest rates of positive cases (25.7% and 18.8%, respectively). Manabí, Santa Elena, and Guayas regions had fewer than 10% positive cases. The Drug consumption dynamic analysis showed that negative COVID-19 cases presented higher drug consumption than positive cases. In both groups, the most consumed medication was acetaminophen. Acetaminophen and Antihistamines had higher odds of consumption in positive PCR cases than in negative. Symptoms like fever and cough were more related to positive RT-PCR results. Conclusion: The first COVID-19 wave in Ecuador has affected the provinces differently. At a national level, the consumption of drugs has been highly associated with self-medication.
Ethics statement The studies involving human participants were reviewed and approved by "Comité Nacional Expedito para Investigación sobre COVID-19" under protocol No. 024-2020. The patients/participants provided their written informed consent to participate in this study. Author contributions AO-M, FC, AG-A, and EC contributed to the conception and design of the study. RM and SP organized the database. AG-A performed the statistical analysis. AO-M wrote the first draft of the manuscript. WC, DA-M, MM, MV-T, SM, IJ, FC, and EC wrote sections of the manuscript. All authors contributed to the article and approved the submitted version. Conflict of interest The authors declare that the research was conducted in the absence of any commercial or financial relationships that could be construed as a potential conflict of interest. Publisher's note All claims expressed in this article are solely those of the authors and do not necessarily represent those of their affiliated organizations, or those of the publisher, the editors and the reviewers. Any product that may be evaluated in this article, or claim that may be made by its manufacturer, is not guaranteed or endorsed by the publisher. Supplementary material The Supplementary Material for this article can be found online at: https://www.frontiersin.org/articles/10.3389/fphar.2023.1197973/ full#supplementary-material
References
Baracaldo-Santamaría, Pabón-Londoño, Rojas-Rodriguez, Drug safety of frequently used drugs and substances for self-medication in COVID-19
Domingo-Echaburu, Irazola, Prieto, Rocano, None
Montaño, Covid-19 en Ecuador: Indígenas enfrentan el riesgo de la automedicación, Mongabay
Salazar, Barochiner, Espeche, Ennis, COVID-19 and its relationship with hypertension and cardiovascular disease]
Vargas Patiño, Factores asociados a la automedicación y consumo de medicamentos durante la pandemia del coronavirus (SARS-COV2) en países de América Latina