Analysis of 3,947 participants in Vietnam, showing significantly lower risk of COVID-19-like symptoms with physical activity and with a healthy diet. The combination of being physically active and eating healthy reduced risk further compared to either alone. The analyzed period was Feb 14 to Mar 2, 2020, which may have been before testing was widely available.
This study includes exercise and
diet
.
risk of symptomatic case,

20.3% lower

, RR 0.80, p < 0.001
, high activity levels 904 of 2,836 (31.9%), low activity levels 483 of 1,111 (43.5%), NNT 8.6, adjusted per study, odds ratio converted to relative risk, active vs. inactive, COVID-19-like symptoms, multivariable.
risk of symptomatic case,

42.0% lower

, OR 0.58, p < 0.001
, adjusted per study, high HES and physically active, COVID-19-like symptoms, multivariable, RR approximated with OR.
Effect extraction follows pre-specified rules prioritizing more serious outcomes. Submit updates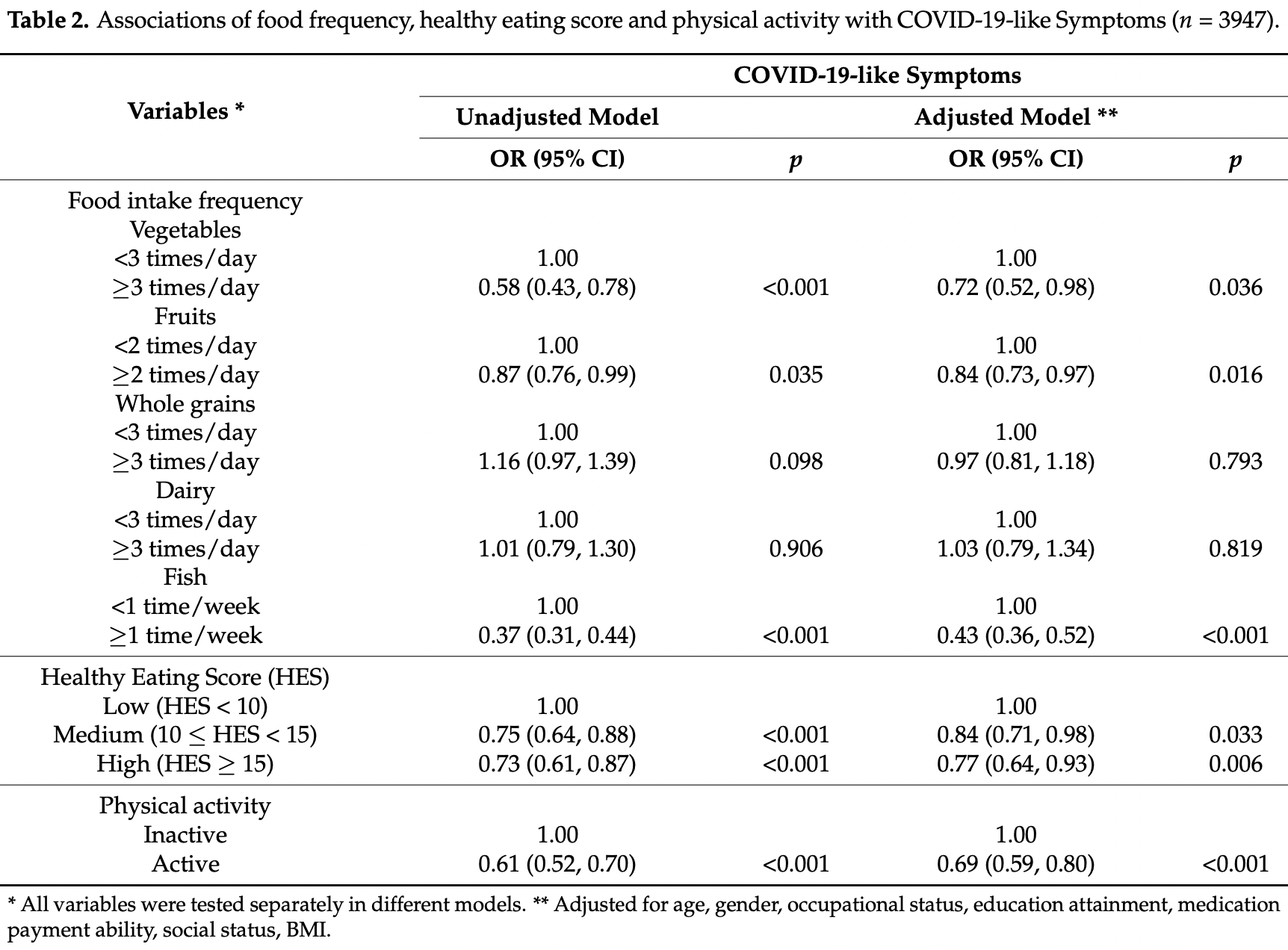 Nguyen et al., 18 Sep 2021, retrospective, Vietnam, peer-reviewed, survey, 17 authors, study period 14 February, 2020 - 2 March, 2020.
Single and Combinative Impacts of Healthy Eating Behavior and Physical Activity on COVID-19-like Symptoms among Outpatients: A Multi-Hospital and Health Center Survey
Nutrients, doi:10.3390/nu13093258
Background: Healthy eating and physical activity are effective non-pharmacological approaches to boost immune function and contain the pandemic. We aimed to explore the associations and interactions between physical activity and healthy eating behavior with COVID-19-like Symptoms (Slike-CV19S). Methods: A cross-sectional study was conducted on 3947 outpatients, from 14 February to 2 March 2020, at nine health facilities in Vietnam. Data collection included sociodemographic characteristics, healthy eating behavior (using the healthy eating score (HES) questionnaire), physical activity (using the short form international physical activity questionnaire), and Slike-CV19S. The associations and interactions were tested using logistic regression models. Results: Frequent
Supplementary Materials: The following are available online at https://www.mdpi.com/article/ 10.3390/nu13093258/s1; Table S1 : Confounders associated with suspected COVID-19 symptoms among outpatients (n = 3947), Table S2 : Spearman's correlation (rho) among potential confounders (n = 3947), Table S3 : Associations of underlying diseases with healthy eating behavior and physical activity among outpatients (n = 3947). Informed Consent Statement: Informed consent was obtained from all subjects involved in the study. Conflicts of Interest: The authors declare no conflict of interest.
References
Craig, Marshall, Sjöström, Bauman, Booth et al., International physical activity questionnaire: 12-country reliability and validity, Med. Sci. Sports Exerc
Diet, Nutrition and the Prevention of Chronic Diseases
Duong, Aringazina, Kayupova, Nurjanah, None
Harrison, Lin, Wang, Mechanisms of SARS-CoV-2 Transmission and Pathogenesis, Trends Immunol
Ipaq Group, Guidelines for Data Processing and Analysis of the International Physical Activity Questionnaire (IPAQ)-Short and Long Forms
Mckie, Would Herd Immunity Stop the Spread of Coronavirus
Steck, Shivappa, Tabung, Harmon, Wirth et al., The dietary inflammatory index: A new tool for assessing diet quality based on inflammatory potential, Digest
Tabak, Feskens, Heederik, Kromhout, Menotti et al., Fruit and fish consumption: A possible explanation for population differences in COPD mortality (The Seven Countries Study), Eur. J. Clin. Nutr