Retrospective 10,427 volunteers in India, 1,058 anti-nucleocapsid antibody positive, showing lower risk of seropositivity with a vegetarian diet.
risk of seropositive,

40.1% lower

, OR 0.60, p < 0.001
, inverted to make OR<1 favor higher quality diet, RR approximated with OR.
Effect extraction follows pre-specified rules prioritizing more serious outcomes. Submit updates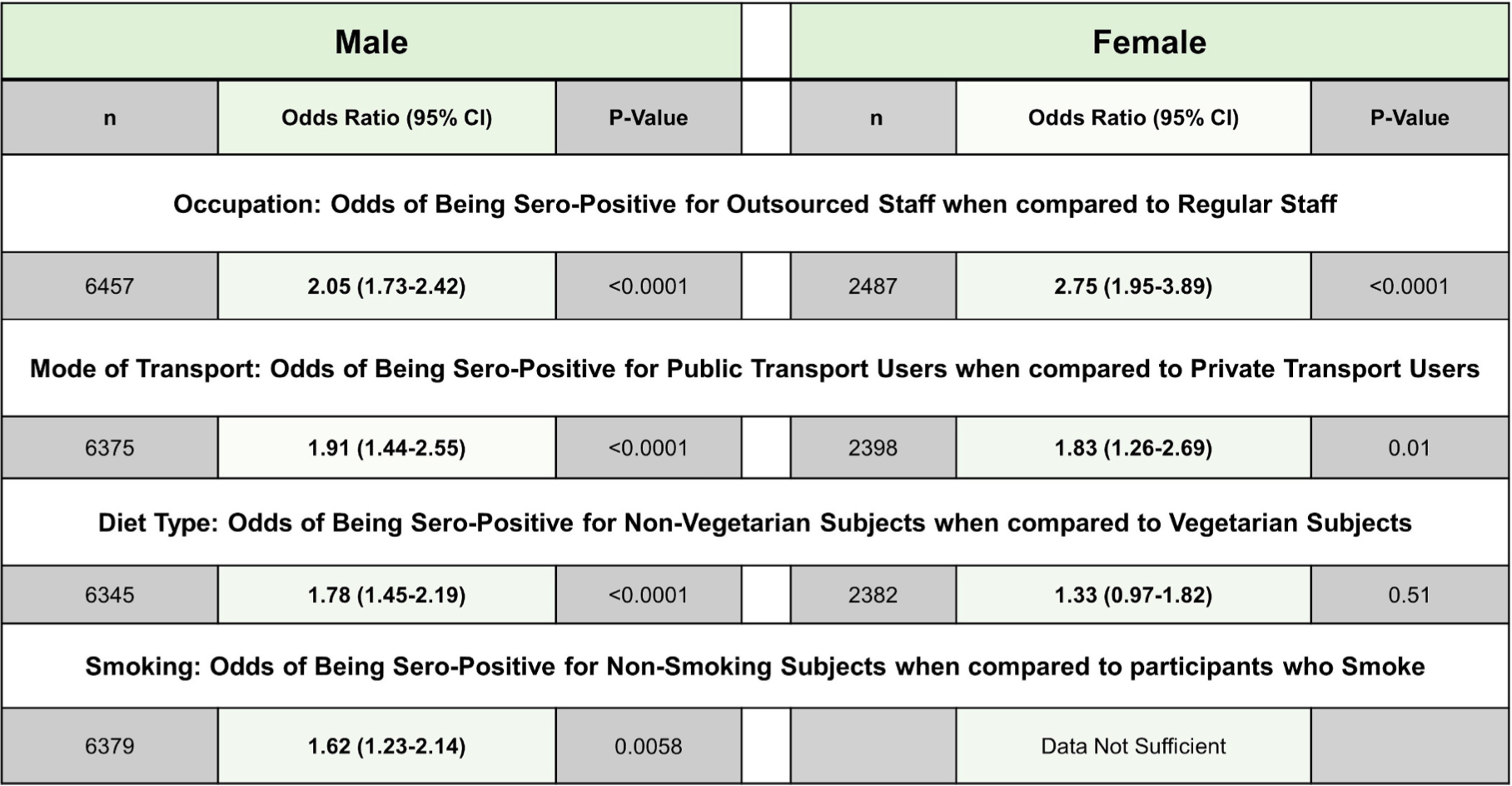 Naushin et al., 20 Apr 2021, retrospective, India, peer-reviewed, survey, 136 authors.
Contact: ddash@igib.res.in, shantanus@igib.res.in.
Insights from a Pan India Sero-Epidemiological survey (Phenome-India Cohort) for SARS-CoV2
eLife, doi:10.7554/elife.66537
To understand the spread of SARS-CoV2, in August and September 2020, the Council of Scientific and Industrial Research (India) conducted a serosurvey across its constituent laboratories and centers across India. Of 10,427 volunteers, 1058 (10.14%) tested positive for SARS-CoV2 anti-nucleocapsid (anti-NC) antibodies, 95% of which had surrogate neutralization activity. Three-fourth of these recalled no symptoms. Repeat serology tests at 3 (n = 607) and 6 (n = 175) months showed stable anti-NC antibodies but declining neutralization activity. Local seropositivity was higher in densely populated cities and was inversely correlated with a 30-day change in regional test positivity rates (TPRs). Regional seropositivity above 10% was associated with declining TPR. Personal factors associated with higher odds of seropositivity were highexposure work (odds ratio,
Additional files Supplementary files . Supplementary file 1. Male:female distribution among asymptomatic and symptomatic seropositive individuals. . Supplementary file 2. Frequency of symptoms in symptomatic seropositive individuals. . Supplementary file 3. Distribution for blood group type in our cohort against national average and positivity among different blood groups. OR: odds ratio. . Transparent reporting form
References
Agrawal, Conceptualization, Resources, Data curation, Formal analysis, Supervision, Funding acquisition, Validation, Investigation, Visualization, Writing -original draft, Project administration, Writing -review and editing; Debasis Dash, Conceptualization, Resources, Data curation, Software, Formal analysis, Supervision, Funding acquisition, Validation, Investigation, Visualization, Writing -original draft, Project administration, Writing -review and editing; Shantanu Sengupta, Conceptualization, Resources, Data curation, Formal analysis, Supervision, Funding acquisition, Validation, Investigation, Visualization, Methodology, Writing -original draft, Project administration, Writing -review and editing Author ORCIDs Viren Sardana
Chakrabarti, None
Dash, None
Dhand, Khatkar, Sample Size Calculator for Estimating a Single Proportion
Khilari, None
Kulkarni, None
Kumar, Visualization, Writing -review and editing
Mahesh S Dharne, None
Miyara, Vale ´rie, Morelot-Panzini, Low Rate of Daily Active Tobacco Smoking in Patients with Symptomatic COVID-19: Qeios
Sengupta, None
Shalini Pradhan ; Raju Khan, Singh Rawat, Bharadwaj Tallapaka, Anumalla, Giriraj Ratan Chandak et al., Formal analysis, Investigation, Methodology, Writing -review and editing; Satyartha Prakash, Data curation, Software, Formal analysis, Visualization
Shanmugam, None
Sharma, None
Singh, Chakraborty, Chaturvedi, Karunakar, Yadav et al., Resources
Singh, None
Subramanian, Formal analysis, Writing -review and editing
Who, Maintenance break
Yogendra S Padwad, None