Insights from a Pan India Sero-Epidemiological survey (Phenome-India Cohort) for SARS-CoV2
Insights from a Pan India Sero-Epidemiological survey (Phenome-India Cohort) for SARS-CoV2
,
eLife, doi:10.7554/eLife.66537
,
Retrospective 10,427 volunteers in India, 1,058 anti-nucleocapsid antibody positive, showing lower risk of seropositivity with a vegetarian diet.
risk of seropositive,

40.1% lower

, OR 0.60, p < 0.001
, inverted to make OR<1 favor higher quality diet, RR approximated with OR.
Effect extraction follows pre-specified rules prioritizing more serious outcomes. Submit updates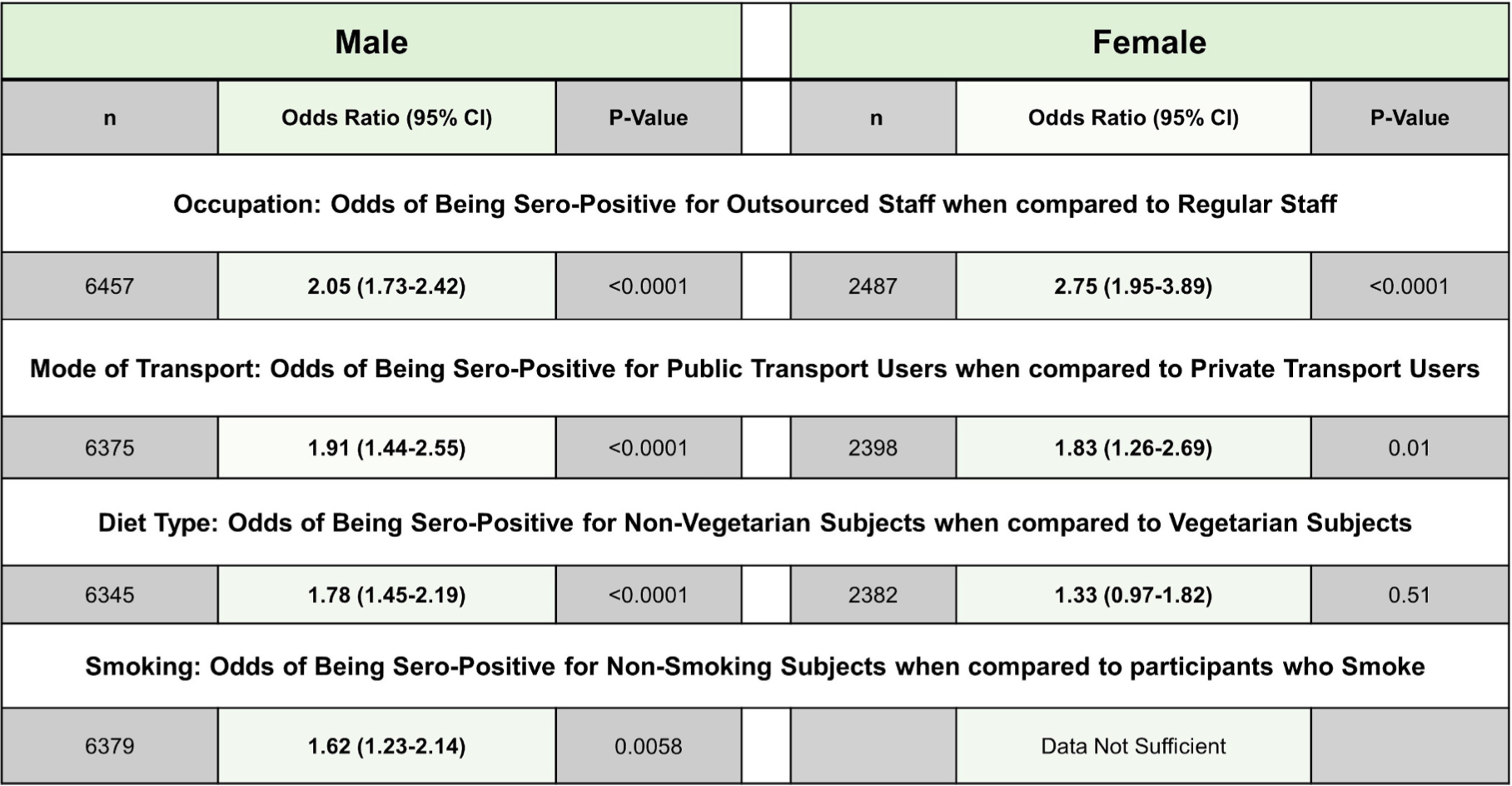 Naushin et al., 20 Apr 2021, retrospective, India, peer-reviewed, survey, 136 authors.
Contact: ddash@igib.res.in, shantanus@igib.res.in.
Abstract: SHORT REPORT Insights from a Pan India SeroEpidemiological survey (Phenome-India Cohort) for SARS-CoV2 *For correspondence: ddash@igib.res.in (DD); shantanus@igib.res.in (SS) † These authors contributed equally to this work Competing interests: The authors declare that no competing interests exist. Funding: See page 9 Received: 14 January 2021 Accepted: 09 April 2021 Published: 20 April 2021 Reviewing editor: Jameel Iqbal, James J Peters Veterans Affairs Medical Center, United States Copyright Naushin et al. This article is distributed under the terms of the Creative Commons Attribution License, which permits unrestricted use and redistribution provided that the original author and source are credited. Salwa Naushin1,2†, Viren Sardana1,2†, Rajat Ujjainiya1,2, Nitin Bhatheja1, Rintu Kutum1,2, Akash Kumar Bhaskar1,2, Shalini Pradhan1, Satyartha Prakash1, Raju Khan2,3, Birendra Singh Rawat2,4, Karthik Bharadwaj Tallapaka5, Mahesh Anumalla5, Giriraj Ratan Chandak2,5, Amit Lahiri2,6, Susanta Kar2,6, Shrikant Ramesh Mulay2,6, Madhav Nilakanth Mugale2,6, Mrigank Srivastava2,6, Shaziya Khan2,6, Anjali Srivastava2,6, Bhawana Tomar2,6, Murugan Veerapandian2,7, Ganesh Venkatachalam2,7, Selvamani Raja Vijayakumar7, Ajay Agarwal2,8, Dinesh Gupta8, Prakash M Halami2,9, Muthukumar Serva Peddha2,9, Gopinath M Sundaram2,9, Ravindra P Veeranna2,9, Anirban Pal2,10, Vinay Kumar Agarwal10, Anil Ku Maurya10, Ranvijay Kumar Singh2,11, Ashok Kumar Raman11, Suresh Kumar Anandasadagopan2,12, Parimala Karuppanan12, Subramanian Venkatesan2,12, Harish Kumar Sardana13, Anamika Kothari13, Rishabh Jain2,13, Anupama Thakur2,13, Devendra Singh Parihar2,13, Anas Saifi2,13, Jasleen Kaur2,13, Virendra Kumar13, Avinash Mishra2,14, Iranna Gogeri2,15, Geethavani Rayasam2,16, Praveen Singh1,2, Rahul Chakraborty1,2, Gaura Chaturvedi1,2, Pinreddy Karunakar1,2, Rohit Yadav1,2, Sunanda Singhmar1, Dayanidhi Singh1,2, Sharmistha Sarkar1,2, Purbasha Bhattacharya1,2, Sundaram Acharya1,2, Vandana Singh1,2, Shweta Verma1,2, Drishti Soni1,2, Surabhi Seth1,2, Sakshi Vashisht1,2, Sarita Thakran1,2, Firdaus Fatima1,2, Akash Pratap Singh1,2, Akanksha Sharma1,2, Babita Sharma1,2, Manikandan Subramanian1, Yogendra S Padwad2,17, Vipin Hallan2,17, Vikram Patial2,17, Damanpreet Singh2,17, Narendra Vijay Tripude2,17, Partha Chakrabarti2,18, Sujay Krishna Maity18, Dipyaman Ganguly2,18, Jit Sarkar2,18, Sistla Ramakrishna2,19, Balthu Narender Kumar19, Kiran A Kumar19, Sumit G Gandhi2,20, Piyush Singh Jamwal20, Rekha Chouhan20, Vijay Lakshmi Jamwal2,20, Nitika Kapoor2,20, Debashish Ghosh2,21, Ghanshyam Thakkar21, Umakanta Subudhi2,22, Pradip Sen2,23, Saumya Ray Chaudhury2,23, Rashmi Kumar2,23, Pawan Gupta2,23, Amit Tuli2,23, Deepak Sharma2,23, Rajesh P Ringe23, Amarnarayan D24, Mahesh Kulkarni2,25, Dhansekaran Shanmugam2,25, Mahesh S Dharne2,25, Sayed G Dastager2,25, Rakesh Joshi2,25, Amita P Patil25, Sachin N Mahajan25, Abujunaid Habib Khan2,25, Vasudev Wagh2,25, Rakesh Kumar Yadav2,25, Ajinkya Khilari2,25, Mayuri Bhadange2,25, Arvindkumar H Chaurasiya2,25, Shabda E Kulsange2,25, Krishna Khairnar2,26, Shilpa Paranjape26, Jatin Kalita27, Narahari G Sastry27, Tridip Phukan27, Prasenjit Manna27, Wahengbam Romi27, Pankaj Bharali27, Dibyajyoti Ozah27, Ravi Kumar Sahu2,27, Elapavalooru VSSK Babu2,28, Rajeev Sukumaran2,29, Aiswarya R Nair29, Prajeesh Kooloth Valappil2,29, Anoop Puthiyamadam2,29, Adarsh Velayudhanpillai29, Kalpana Chodankar2,30, Samir Damare2,30, Yennapu Madhavi2,31, Ved Varun..
Please send us corrections, updates, or comments. Vaccines and treatments are complementary. All practical, effective, and safe means should be used based on risk/benefit analysis. No treatment, vaccine, or intervention is 100% available and effective for all current and future variants. We do not provide medical advice. Before taking any medication, consult a qualified physician who can provide personalized advice and details of risks and benefits based on your medical history and situation.
FLCCC
and
WCH
provide treatment protocols.
Submit