Prospective survey based study with 14,335 participants, showing risk of viral symptoms associated with shorter sleep duration.
risk of symptomatic case,

16.0% lower

, OR 0.84, p < 0.001
, adjusted per study, per extra hour sleep, multivariable, RR approximated with OR.
Effect extraction follows pre-specified rules prioritizing more serious outcomes. Submit updates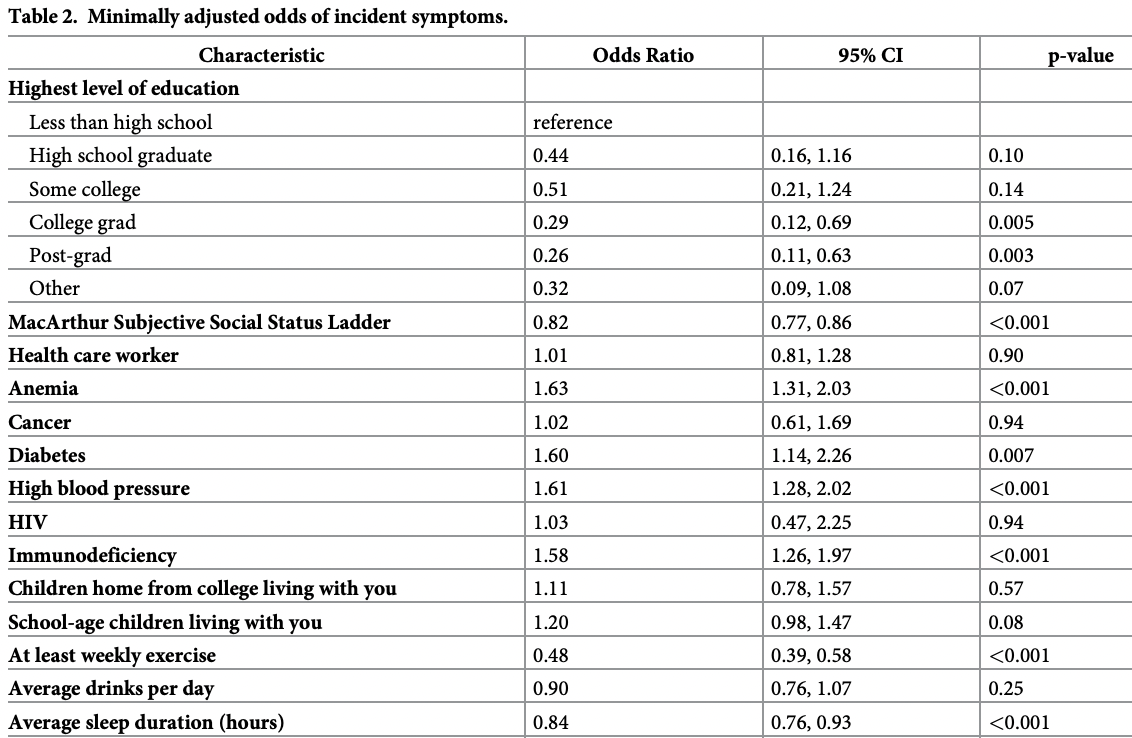 Marcus et al., 17 Jun 2021, prospective, multiple countries, peer-reviewed, survey, 12 authors, study period 26 March, 2020 - 3 May, 2020.
Predictors of incident viral symptoms ascertained in the era of COVID-19
PLOS ONE, doi:10.1371/journal.pone.0253120
Background In the absence of universal testing, effective therapies, or vaccines, identifying risk factors for viral infection, particularly readily modifiable exposures and behaviors, is required to identify effective strategies against viral infection and transmission. Methods We conducted a world-wide mobile application-based prospective cohort study available to English speaking adults with a smartphone. We collected self-reported characteristics, exposures, and behaviors, as well as smartphone-based geolocation data. Our main outcome was incident symptoms of viral infection, defined as fevers and chills plus one other symptom previously shown to occur with SARS-CoV-2 infection, determined by daily surveys. Findings Among 14, 335 participants residing in all 50 US states and 93 different countries followed for a median 21 days (IQR 10-26 days), 424 (3%) developed incident viral symptoms. In pooled multivariable logistic regression models, female biological sex (odds ratio [OR] 1.75, 95% CI 1.39-2.20, p<0.001), anemia (OR 1.45, 95% CI 1.16-1.81, p = 0.001), hypertension (OR 1.35, 95% CI 1.08-1.68, p = 0.007), cigarette smoking in the last 30 days (OR 1.86, p<0.001), any viral symptoms among household members 6-12 days prior (OR 2.06, 95% CI 1.67-2.55, p<0.001), and the maximum number of individuals the participant interacted with within 6 feet in the past 6-12 days (OR 1.15, 95% CI 1.06-1.25, p<0.001) were each associated with a higher risk of developing viral symptoms. Conversely, a higher subjective social status (OR 0.87, 95% CI 0.83-0.93, p<0.001), at least weekly exercise (OR 0.57, 95% CI 0.47-0.70, p<0.001), and sanitizing one's phone (OR 0.79, 95% CI 0.63-0.99, p = 0.037) were each associated with a lower risk of developing viral symptoms.
Supporting information S1 Table. Proportion of participants completing at least one daily survey per week and the proportion completing weekly surveys. (DOCX) S2
References
Adorni, Prinelli, Bianchi, Self-reported symptoms of SARS-CoV-2 infection in a non-hospitalized population: results from the large Italian web-based EPICOVID19 cross-sectional survey, JMIR Public Health Surveill
Dawson, Rabold, Laws, Loss of Taste and Smell as Distinguishing Symptoms of COVID-19, Clin Infect Dis
Richardson, Hirsch, Narasimhan, Presenting Characteristics, Comorbidities, and Outcomes Among 5700 Patients Hospitalized With COVID-19 in the New York City Area, JAMA
Wang, Li, Liu, An overview of the safety, clinical application and antiviral research of the COVID-19 therapeutics, J Infect Public Health
Williamson, Walker, Bhaskaran, OpenSAFELY: factors associated with COVID-19 death in 17 million patients, Nature