Predictors of incident viral symptoms ascertained in the era of COVID-19
Prospective survey based study with 14,335 participants, showing lower risk of viral symptoms with regular exercise.
risk of symptomatic case,

42.1% lower

, RR 0.58, p < 0.001
, high activity levels 240 of 10,627 (2.3%), low activity levels 134 of 3,708 (3.6%), NNT 74, adjusted per study, odds ratio converted to relative risk, multivariable.
Effect extraction follows pre-specified rules prioritizing more serious outcomes. Submit updates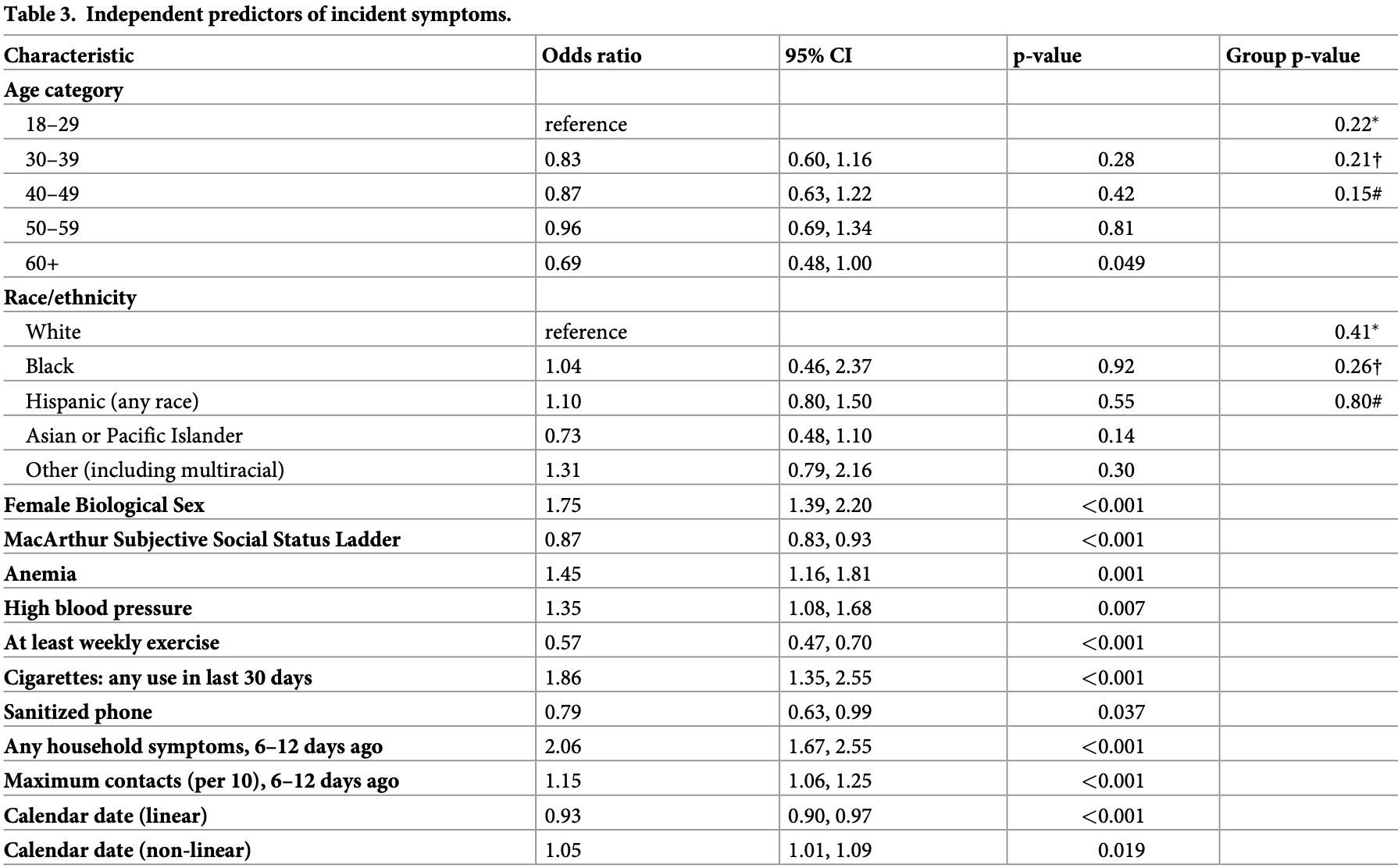 Marcus et al., 17 Jun 2021, prospective, multiple countries, peer-reviewed, survey, 12 authors, study period 26 March, 2020 - 3 May, 2020.
Abstract: PLOS ONE RESEARCH ARTICLE Predictors of incident viral symptoms ascertained in the era of COVID-19 Gregory M. Marcus ID*, Jeffrey E. Olgin, Noah D. Peyser, Eric Vittinghoff ID, Vivian Yang, Sean Joyce, Robert Avram ID, Geoffrey H. Tison, David Wen ID, Xochitl Butcher, Helena Eitel, Mark J. Pletcher Division of Cardiology, Department of Medicine, University of California, San Francisco, California, United States of America a1111111111 a1111111111 a1111111111 a1111111111 a1111111111 * greg.marcus@ucsf.edu Abstract Background OPEN ACCESS Citation: Marcus GM, Olgin JE, Peyser ND, Vittinghoff E, Yang V, Joyce S, et al. (2021) Predictors of incident viral symptoms ascertained in the era of COVID-19. PLoS ONE 16(6): e0253120. https://doi.org/10.1371/journal. pone.0253120 Editor: Antonio Palazón-Bru, Universidad Miguel Hernandez de Elche, SPAIN Received: September 4, 2020 Accepted: May 31, 2021 In the absence of universal testing, effective therapies, or vaccines, identifying risk factors for viral infection, particularly readily modifiable exposures and behaviors, is required to identify effective strategies against viral infection and transmission. Methods We conducted a world-wide mobile application-based prospective cohort study available to English speaking adults with a smartphone. We collected self-reported characteristics, exposures, and behaviors, as well as smartphone-based geolocation data. Our main outcome was incident symptoms of viral infection, defined as fevers and chills plus one other symptom previously shown to occur with SARS-CoV-2 infection, determined by daily surveys. Published: June 17, 2021 Copyright: © 2021 Marcus et al. This is an open access article distributed under the terms of the Creative Commons Attribution License, which permits unrestricted use, distribution, and reproduction in any medium, provided the original author and source are credited. Data Availability Statement: All relevant data are within the manuscript and its Supporting information files. Funding: Drs. GM, JO, and MP received funding from awards IU2CEB021881-01 and 3U2CEB021881-05S1 from the NIH/ NIBIB (https:// www.nibib.nih.gov/). The funders had no role in study design, data collection and analysis, decision to publish, or preparation of the manuscript. Competing interests: The authors have declared that no competing interests exist. Findings Among 14, 335 participants residing in all 50 US states and 93 different countries followed for a median 21 days (IQR 10–26 days), 424 (3%) developed incident viral symptoms. In pooled multivariable logistic regression models, female biological sex (odds ratio [OR] 1.75, 95% CI 1.39–2.20, p<0.001), anemia (OR 1.45, 95% CI 1.16–1.81, p = 0.001), hypertension (OR 1.35, 95% CI 1.08–1.68, p = 0.007), cigarette smoking in the last 30 days (OR 1.86, 95% CI 1.35–2.55, p<0.001), any viral symptoms among household members 6–12 days prior (OR 2.06, 95% CI 1.67–2.55, p<0.001), and the maximum number of individuals the participant interacted with within 6 feet in the past 6–12 days (OR 1.15, 95% CI 1.06–1.25, p<0.001) were each associated with a higher risk of developing viral symptoms. Conversely, a higher subjective social status (OR 0.87, 95% CI 0.83–0.93, p<0.001), at least weekly exercise (OR 0.57, 95% CI 0.47–0.70, p<0.001), and sanitizing one's phone (OR 0.79, 95% CI 0.63–0.99, p = 0.037) were each associated with a lower risk of developing viral symptoms. PLOS ONE |..
Please send us corrections, updates, or comments. Vaccines and treatments are complementary. All practical, effective, and safe means should be used based on risk/benefit analysis. No treatment, vaccine, or intervention is 100% available and effective for all current and future variants. We do not provide medical advice. Before taking any medication, consult a qualified physician who can provide personalized advice and details of risks and benefits based on your medical history and situation.
FLCCC
and
WCH
provide treatment protocols.
Submit