Analysis of 241 adults >65yo in Belgium, showing lower risk of COVID-19 with a history of physical activity.
risk of case,

73.6% lower

, RR 0.26, p = 0.03
, high activity levels 23 of 229 (10.0%), low activity levels 4 of 12 (33.3%), NNT 4.3, inverted to make RR<1 favor high activity levels, odds ratio converted to relative risk.
Effect extraction follows pre-specified rules prioritizing more serious outcomes. Submit updates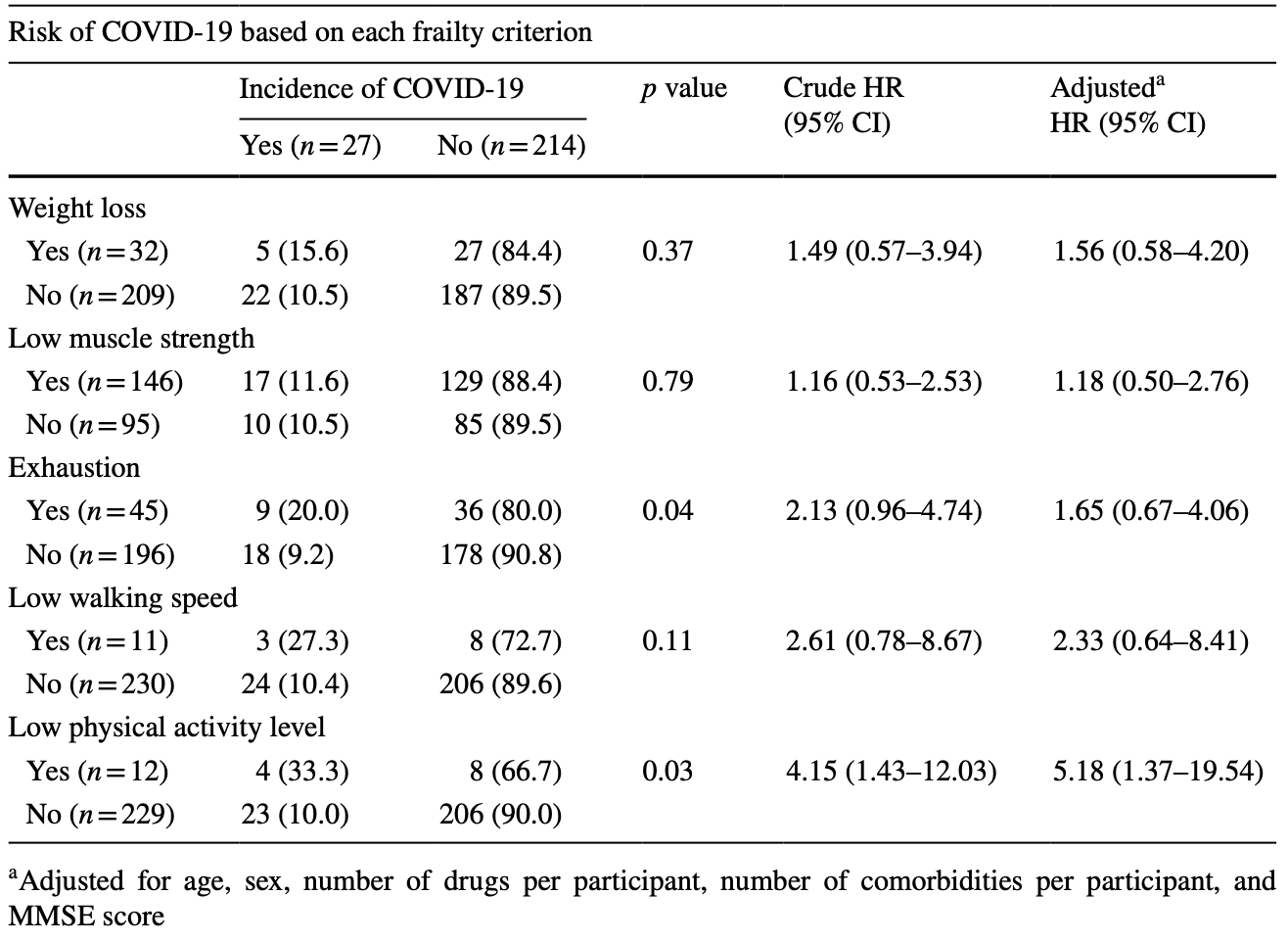 Lengelé et al., 23 Oct 2021, prospective, Belgium, peer-reviewed, median age 75.6, 8 authors, study period March 2020 - April 2021.
Contact: llengele@uliege.be.
Frailty but not sarcopenia nor malnutrition increases the risk of developing COVID-19 in older community-dwelling adults
Aging Clinical and Experimental Research, doi:10.1007/s40520-021-01991-z
Background The identification of coronavirus disease 2019 (COVID-19) risk factors is requested to implement prevention strategies. Aim To explore the associations between the COVID-19 incidence and malnutrition, sarcopenia, and frailty, identified as potential risk factors in previous cross-sectional studies. Methods Malnutrition, sarcopenia, and frailty were assessed at the last available follow-up from the Sarcopenia and Physical Impairments with Advancing Age (SarcoPhAge) cohort (i.e., the fifth year that ended in 2019) according to the Mini-Nutritional Assessment short-form, the European Working Group on Sarcopenia in Older People (EWGSOP2), and the Fried criteria, respectively. Information regarding the COVID-19 was gathered by phone calls interviews in April 2021 to measure its self-declared incidence. Adjusted Cox regressions and Kaplan-Meier curves were performed. Results The present study included 241 participants [median age 75.6 (73.0-80.6) years, 63.1% women]. Among them, 27 participants (11.2%) developed the non-fatal Covid-19. No significant increased risks of COVID-19 were observed in patients with malnutrition [adjusted HR 1.14 (0.26-5.07)] and sarcopenia ]. Nevertheless, the incidence of COVID-19 was significantly higher in frail (44.4%) than in robust participants (8.5%) [Adjusted HR 7.01 (2.69-18.25)], which was confirmed by the Kaplan-Meier curves (p < 0.001). Among the frailty syndrome components, a low physical activity level was the only one significantly associated with an increased risk of ]. Conclusion Despite some limitations in the methodology of this study (i.e., limited sample size, COVID-19 incidence selfreported and not assessed systematically using objective measurements) requiring careful consideration, an increased risk to develop COVID-19 was observed in the presence of the frailty syndrome. Further investigations are needed to elaborate on our findings.
Supplementary Information The online version contains supplementary material available at https:// doi. org/ 10. 1007/ s40520-021-01991-z. Author contributions Conceptualization: ML, CB, J-YR, and OB; methodology: LL, ML, MM, CB, J-FK, and OB; formal analysis: LL; investigation: LL, and ML; writing-original draft preparation: LL; Declarations Conflict of interest The authors declare no conflict of interest. Ethical approval The guidelines of the Declaration of Helsinki were followed, and the present study was approved by the ethics committee of the University of Liege Teaching Hospital (reference 2012/277), with two amendments in 2015 and 2018. Human and animal rights All procedures followed have been performed in accordance with the ethical standards laid down in the 1964 Declaration of Helsinki and its later amendments. Consent to participate Informed consent was obtained from all participants involved in the study. Consent for publication Informed consent was obtained from all participants involved in the study. Publisher's Note Springer Nature remains neutral with regard to jurisdictional claims in published maps and institutional affiliations.
References
Fried, Tangen, Walston, Frailty in older adults: evidence for a phenotype, J Gerontol A Biol Med Sci
Ll, Ml, Mm, Cb, Ob; Resources et al., WHO Director-General's opening remarks at the media briefing on COVID-19-11
Orme, Reis, Herz, Factorial and discriminant validity of the center for epidemiological studies depression (CES-D) scale, J Clin Psychol
Vellas, Villars, Abellan, Overview of the MNA ® -its history and challenges, J Nutr Heal Aging
Yu, Ye, Chen, Erratum to: malnutrition prolongs the hospitalization of patients with COVID-19 infection: a clinical epidemiological analysis (The journal of nutrition, health and aging, J Nutr Heal Aging