RCT with 24 patients treated with potassium canrenoate and 25 placebo patients in Poland, showing no significant differences.
risk of death,

16.7% lower

, RR 0.83, p = 1.00
, treatment 4 of 24 (16.7%), control 5 of 25 (20.0%), NNT 30.
risk of ICU admission,

10.7% lower

, RR 0.89, p = 1.00
, treatment 6 of 24 (25.0%), control 7 of 25 (28.0%), NNT 33.
relative TFS score,

30.4% better

, RR 0.70, p = 0.51
, treatment 24, control 25.
Effect extraction follows pre-specified rules prioritizing more serious outcomes. Submit updates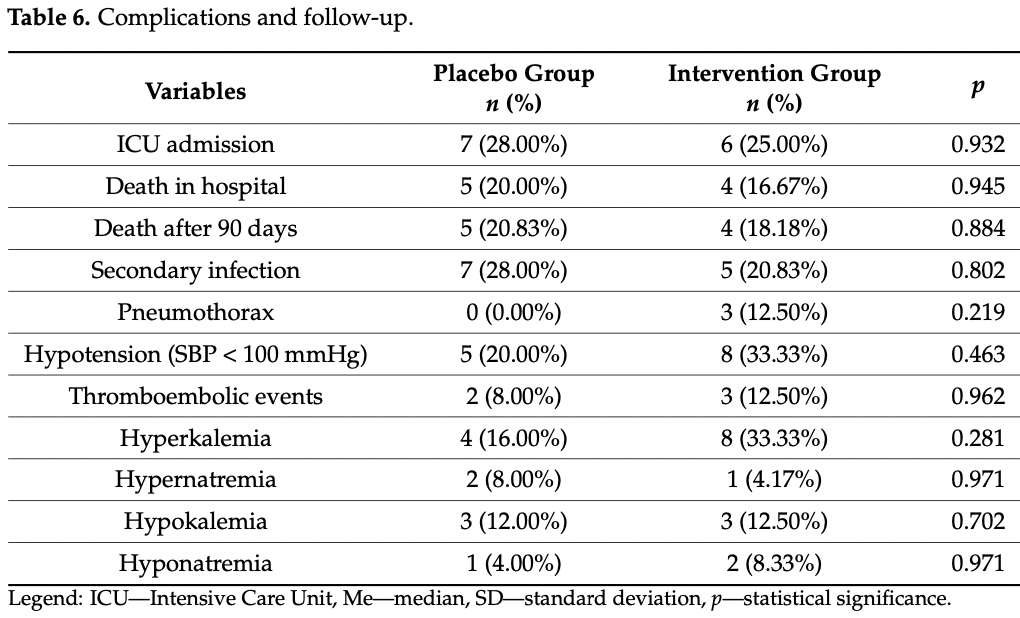 Kotfis et al., 5 Feb 2022, Randomized Controlled Trial, placebo-controlled, Poland, peer-reviewed, 10 authors, study period December 2020 - August 2021, trial
NCT04912011
(history)
.
Contact: katarzyna.kotfis@pum.edu.pl (corresponding author), igor.karolak@gmail.com, kacper.lechowicz@gmail.com, mazegan@wp.pl, apikulska@wp.pl, paulina.niedzwiedzka-rystwej@usz.edu.pl, kawamilosz@gmail.com, jsien@poczta.onet.pl, aleksandra.szylinska@gmail.com, mwisniewska35@gmail.com.
Mineralocorticoid Receptor Antagonist (Potassium Canrenoate) Does Not Influence Outcome in the Treatment of COVID-19-Associated Pneumonia and Fibrosis—A Randomized Placebo Controlled Clinical Trial
Pharmaceuticals, doi:10.3390/ph15020200
In December 2019 the SARS-CoV-2 virus appeared in the world, mainly presenting as an acute infection of the lower respiratory tract, namely pneumonia. Nearly 10% of all patients show significant pulmonary fibrotic changes after the infection. The aim of this study was to evaluate the effectiveness and safety of potassium canrenoate in the treatment of COVID-19-associated pneumonia and pulmonary fibrosis. We performed a randomized clinical trial (RCT) of potassium canrenoate vs placebo. A total of 55 patients were randomized and 49 were included in the final analysis (24 allocated to the intervention group and 25 allocated to the control group). Patients were assessed by physical examination, lung ultrasound, CT imaging and blood samples that underwent biochemical analysis. This RCT has shown that the administration of potassium canrenoate to patients with COVID-19 induced pneumonia was not associated with shorter mechanical ventilation time, shorter passive oxygenation, shorter length of hospitalization or less fibrotic changes on CT imaging. The overall mortality rate was not significantly different between the two groups. Adverse events recorded in this study were not significantly increased by the administration of potassium canrenoate. The negative outcome of the study may be associated with the relatively small number of patients included. Any possible benefits from the use of potassium canrenoate as an antifibrotic drug in COVID-19 patients require further investigation.
Author Contributions: Conceptualization, K.K. and J.S.; Data curation, I.K., M.K. and A.S.; Formal analysis, K.K., I.K., K.L., P.N.-R., M.K. and A.S.; Funding acquisition, K.K. and M.W.; Investigation, K.K., I.K., M.Z.-B. and M.K.; Methodology, K.K., I.K., K.L., A.P., P.N.-R., J.S., A.S. and M.W.; Project administration, K.K. and I.K.; Resources, K.K.; Software, I.K. and K.L.; Supervision, K.K. and A.S.; Validation, M.Z.-B., A.P., P.N.-R. and M.W.; Visualization, I.K. and A.S.; Writing-original draft, K.K., I.K. and A.S.; Writing-review and editing, K.L., M.Z.-B., A.P., P.N.-R., M.K., J.S. and M.W. All authors have read and agreed to the published version of the manuscript. Conflicts of Interest: The authors declare no conflict of interest.
References
Atalay, Dogan, Aykan, Gundogdu, Keles, The efficacy of spironolactone in the treatment of acute respiratory distress syndrome-induced rats, Singap. Med. J
Chen, Zhou, Dong, Qu, Gong et al., Epidemiological and clinical characteristics of 99 cases of 2019 novel coronavirus pneumonia in Wuhan, China: A descriptive study, Lancet
Maleszka, Kruszewski, Comparative evaluation of inhaling a single dose of furosemide or spironolactone on bronchial hyperreactivity of patients with atopic bronchial asthma, Pol. Tyg. Lek
Wang, Hu, Hu, Zhu, Liu et al., Clinical Characteristics of 138 Hospitalized Patients With 2019 Novel Coronavirus-Infected Pneumonia in Wuhan, China, JAMA
Who Team, Summary of Probable SARS Cases with Onset of Illness from 1
Yu, Liu, Xu, Zhang, Lan et al., Prediction of the development of pulmonary fibrosis using serial thin-section ct and clinical features in patients discharged after treatment for COVID-19 pneumonia, Korean J. Radiol