Prospective UK Biobank analysis, showing a history of low physical activity associated with COVID-19 mortality.
risk of death,

29.0% lower

, RR 0.71, p = 0.009
, high activity levels 138 of 106,006 (0.1%), low activity levels 109 of 47,827 (0.2%), adjusted per study, inverted to make RR<1 favor high activity levels, odds ratio converted to relative risk, high vs. low physical activity, multivariable.
Effect extraction follows pre-specified rules prioritizing more serious outcomes. Submit updates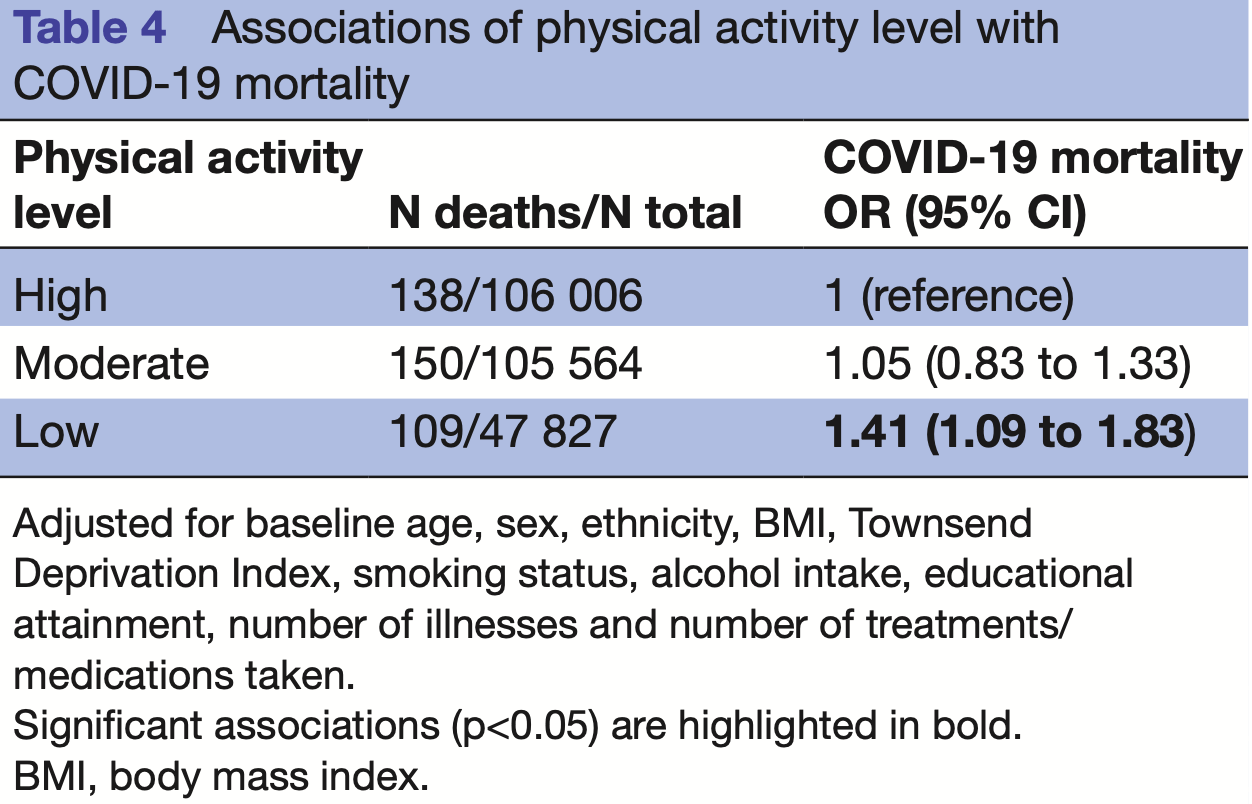 Hamrouni et al., 3 Nov 2021, prospective, United Kingdom, peer-reviewed, 5 authors.
Associations of obesity, physical activity level, inflammation and cardiometabolic health with COVID-19 mortality: a prospective analysis of the UK Biobank cohort
BMJ Open, doi:10.1136/bmjopen-2021-055003
Objectives To investigate the associations of physical activity level with COVID-19 mortality risk across body mass index (BMI) categories, and to determine whether any protective association of a higher physical activity level in individuals with obesity may be explained by favourable levels of cardiometabolic and inflammatory biomarkers. Design Prospective cohort study (baseline data collected between 2006 and 2010). Physical activity level was assessed using the International Physical Activity Questionnaire (high: ≥3000 Metabolic Equivalent of Task (MET)-min/week, moderate: ≥600 MET-min/ week, low: not meeting either criteria), and biochemical assays were conducted on blood samples to provide biomarker data. Setting UK Biobank. Main outcome measures Logistic regressions adjusted for potential confounders were performed to determine the associations of exposure variables with COVID-19 mortality risk. Mortality from COVID-19 was ascertained by death certificates through linkage with National Health Service (NHS) Digital. Results Within the 259 397 included participants, 397 COVID-19 deaths occurred between 16 March 2020 and 27 February 2021. Compared with highly active individuals with a normal BMI (reference group), the ORs (95% CIs) for COVID-19 mortality were 1.61 (0.98 to 2.64) for highly active individuals with obesity, 2.85 (1.78 to 4.57) for lowly active individuals with obesity and 1.94 (1.04 to 3.61) for lowly active individuals with a normal BMI. Of the included biomarkers, neutrophil count and monocyte count were significantly positively associated with COVID-19 mortality risk. In a subanalysis restricted to individuals with obesity, adjusting for these biomarkers attenuated the higher COVID-19 mortality risk in lowly versus highly active individuals with obesity by 10%. Conclusions This study provides novel evidence suggesting that a high physical activity level may attenuate the COVID-19 mortality risk associated with obesity. Although the protective association may be partly explained by lower neutrophil and monocyte counts, it still remains largely unexplained by the biomarkers included in this analysis.
Competing interests None declared. Patient consent for publication Not required. Ethics approval UK Biobank obtained ethical approval from the North West Multi-Centre Research Ethics Committee (REC reference: 11/NW/03820). All participants gave written informed consent before enrolment in the study. Direct dissemination of the results to participants is not applicable. This study was performed under UK Biobank application number 70184. Provenance and peer review Not commissioned; externally peer reviewed. Data availability statement Data are available on reasonable request. Data may be obtained from a third party and are not publicly available. Supplemental material This content has been supplied by the author(s). It has not been vetted by BMJ Publishing Group Limited (BMJ) and may not have been peer-reviewed. Any opinions or recommendations discussed are solely those of the author(s) and are not endorsed by BMJ. BMJ disclaims all liability and responsibility arising from any reliance placed on the content. Where the content includes any translated material, BMJ does not warrant the accuracy and reliability of the translations (including but not limited to local regulations, clinical guidelines, terminology, drug names and drug dosages), and is not responsible for any error and/or omissions arising from translation and adaptation or otherwise. Open access This is an open access article distributed in accordance with the Creative Commons Attribution Non Commercial (CC BY-NC..
References
Ipaq, Guidelines for Data Processing and Analysis of the International Physical Activity Questionnaire (IPAQ)-Short and Long Forms
Townsend, Phillimore, Beattie, Health and deprivation. inequality and the North*, Rev Cuba Hig Epidemiol