PrEP RCT healthcare workers in Spain, showing no significant difference in cases with melatonin prophylaxis. Most cases were asymptomatic or paucisymtomatic, there were two symptomatic cases, no moderate/severe cases, and no hospitalization.
The registered primary outcome is symptomatic cases. Authors report on all cases due to the small number of symptomatic cases. They did not include the original primary outcome results in the paper, but have provided the results via email to a contributor.
The dosage in this trial is very low, 2mg daily. Meta regression suggests higher doses are much more effective.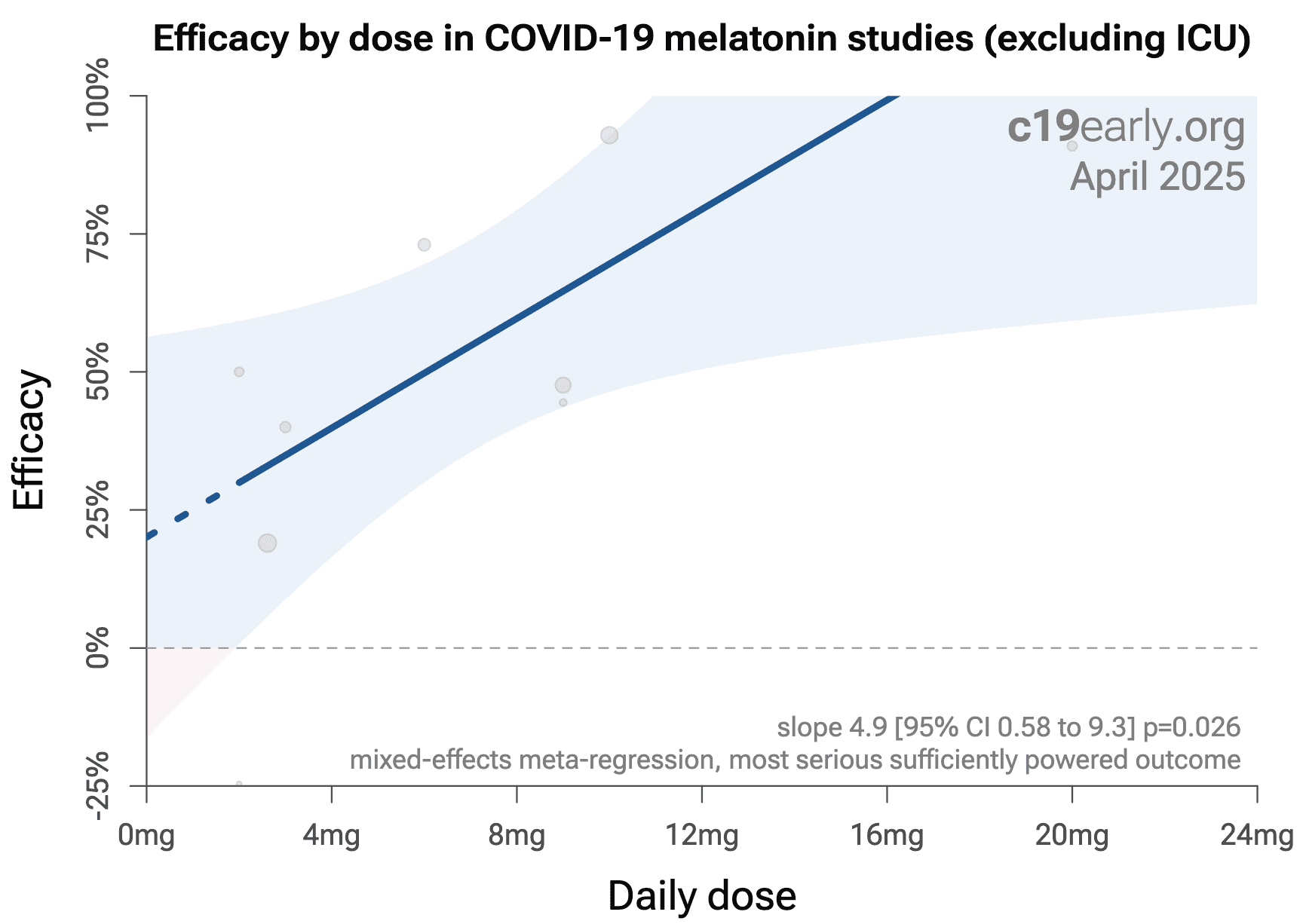 risk of symptomatic case,

7.4% lower

, RR 0.93, p = 1.00
, treatment 1 of 163 (0.6%), control 1 of 151 (0.7%), NNT 2051, primary outcome.
risk of case,

108.4% higher

, RR 2.08, p = 0.26
, treatment 9 of 163 (5.5%), control 4 of 151 (2.6%), post-hoc primary outcome.
Effect extraction follows pre-specified rules prioritizing more serious outcomes. Submit updates

García-García et al., 21 Feb 2022, Double Blind Randomized Controlled Trial, placebo-controlled, Spain, peer-reviewed, 25 authors.
Melatonin in the Prophylaxis of SARS-CoV-2 Infection in Healthcare Workers (MeCOVID): A Randomised Clinical Trial
We evaluated in this randomised, double-blind clinical trial the efficacy of melatonin as a prophylactic treatment for prevention of SARS-CoV-2 infection among healthcare workers at high risk of SARS-CoV-2 exposure. Healthcare workers fulfilling inclusion criteria were recruited in five hospitals in Spain and were randomised 1:1 to receive melatonin 2 mg administered orally for 12 weeks or placebo. The main outcome was the number of SARS-CoV-2 infections. A total of 344 volunteers were screened, and 314 were randomised: 151 to placebo and 163 to melatonin; 308 received the study treatment (148 placebo; 160 melatonin). We detected 13 SARS-CoV-2 infections, 2.6% in the placebo arm and 5.5% in the melatonin arm (p = 0.200). A total of 294 adverse events were detected in 127 participants (139 in placebo; 155 in melatonin). We found a statistically significant difference in the incidence of adverse events related to treatment: 43 in the placebo arm and 67 in the melatonin arm (p = 0.040), and in the number of participants suffering from somnolence related to treatment: 8.8% (n = 14) in the melatonin versus 1.4% (n = 2) in the placebo arm (p = 0.008). No severe adverse
Informed Consent Statement: Informed consent was obtained from all subjects involved in the study. Conflicts of Interest: The authors declare no conflict of interest.
References
Clinicaltrials, gov Daily Regimen of Tenofovir/Emtricitabine as Prevention for COVID-19 in Health Care Personnel in Colombia
Clinicaltrials, gov Randomized Clinical Trial for the Prevention of SARS-CoV-2 Infection (COVID-19) in Healthcare Personnel
Clinicaltrials, gov TAF/FTC for Pre-exposure Prophylaxis of COVID-19 in Healthcare Workers (CoviPrep Study
Del Amo, Polo, Moreno, Diaz-Brito, Martínez et al., Incidence and Severity of COVID-19 in HIV-Positive Persons Receiving Antiretroviral Therapy: A Cohort Study, Ann. Intern. Med
Preparation, -M.; Writing-Review, Supervision, None
Who, Coronavirus Disease