Retrospective 140 mechanically ventilated patients in Spain, showing lower mortality with acetylcysteine treatment in unadjusted results, not reaching statistical significance.
risk of death,

39.0% lower

, RR 0.61, p = 0.08
, treatment 10 of 38 (26.3%), control 44 of 102 (43.1%), NNT 5.9.
Effect extraction follows pre-specified rules prioritizing more serious outcomes. Submit updates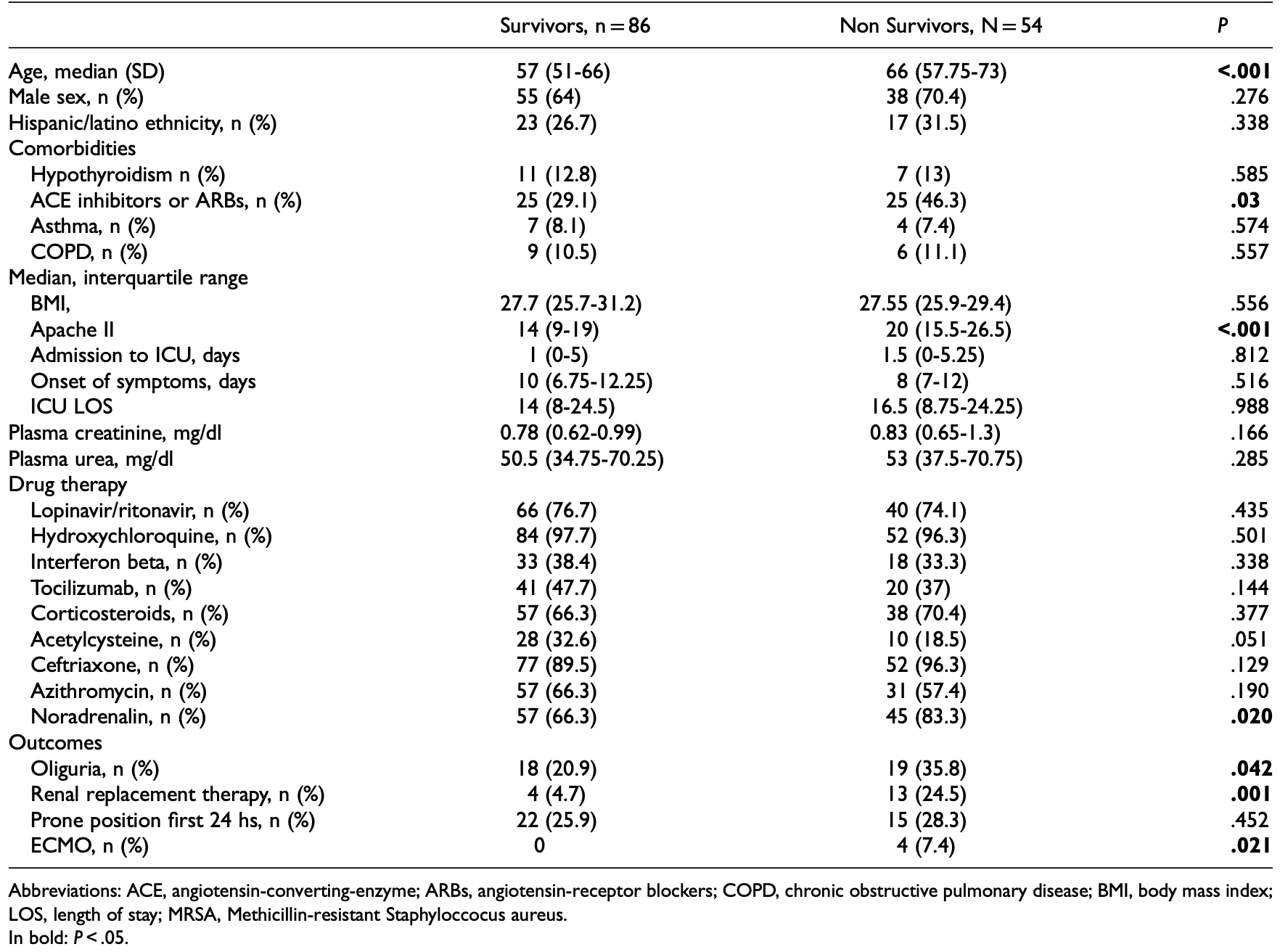 Fariña-González et al., 31 May 2022, retrospective, Spain, peer-reviewed, 8 authors, study period 5 March, 2020 - 30 April, 2020.
Hourly Analysis of Mechanical Ventilation Parameters in Critically Ill Adult Covid-19 Patients: Association with Mortality
Journal of Intensive Care Medicine, doi:10.1177/08850666221105423
Objective: There exists controversy about the pathophysiology and lung mechanics of COVID-19 associated acute respiratory distress syndrome (ARDS), because some report severe hypoxemia with preserved respiratory system mechanics, contrasting with "classic" ARDS. We performed a detailed hourly analysis of the characteristics and time course of lung mechanics and biochemical analysis of patients requiring invasive mechanical ventilation (IMV) for COVID-19-associated ARDS, comparing survivors and nonsurvivors. Methods: Retrospective analysis of the data stored in the ICU information system of patients admitted in our hospital ICU that required IMV due to confirmed SARS-CoV-2 pneumonia between March 5th and April 30th, 2020. We compare respiratory system mechanics and gas exchange during the first ten days of IMV, discriminating volume and pressure controlled modes, between ICU survivors and non-survivors. Results: 140 patients were included, analyzing 11 138 respiratory mechanics recordings. Global mortality was 38.6%. Multivariate analysis showed that age (OR 1.092, 95% (CI 1.014-1.176)) and need of renal replacement therapies (OR 10.15, (95% CI 1.58-65.11)) were associated with higher mortality. Previous use of Angiotensin Converting Enzyme inhibitor (ACEI)/angiotensin-receptor blockers (ARBs) also seemed to show an increased mortality (OR 4.612, (95% CI 1.19-17.84)) although this significance was lost when stratifying by age. Respiratory variables start to diverge significantly between survivors and non-survivors after the 96 to 120 hours (hs) from mechanical ventilation initiation, particularly respiratory system compliance. In non survivors, mechanical power at 24 and 96 hs was higher regardless ventilatory mode. Conclusions: In patients admitted for SARS-CoV-2 pneumonia and requiring mechanical ventilation, non survivors have different respiratory system mechanics than survivors in the first 10 days of ICU admission. We propose a checkpoint at 96-120 hs to assess patients improvement or worsening in order to consider escalating to extracorporeal therapies.
Author Contributions TFG, ANR and MSG designed the study. TFF, ANR and JL extracted and analyzed the data. TFF, JL, MCR, VYZ and SDM drafted the article. MSG revised the article and supervised the project. All authors revised the manuscript. Declaration of Conflicting Interests The author(s) declared no potential conflicts of interest with respect to the research, authorship, and/or publication of this article. Ethical Approval CEIC 21/170-E. Supplemental Material Supplemental material for this article is available online. ORCID iD Tomás F. Fariña-González https://orcid.org/0000-0002-4892-8153
References
Hagadorn, Bloor, Yang, Elevated plasma activity of lactate dehydrogenase isoenzyme-3 (LDH 3) in experimentally induced immunologic lung injury, Am J Pathol