Analysis of COVID-19 deaths in 39 countries, showing mortality negatively correlated with sunshine hours.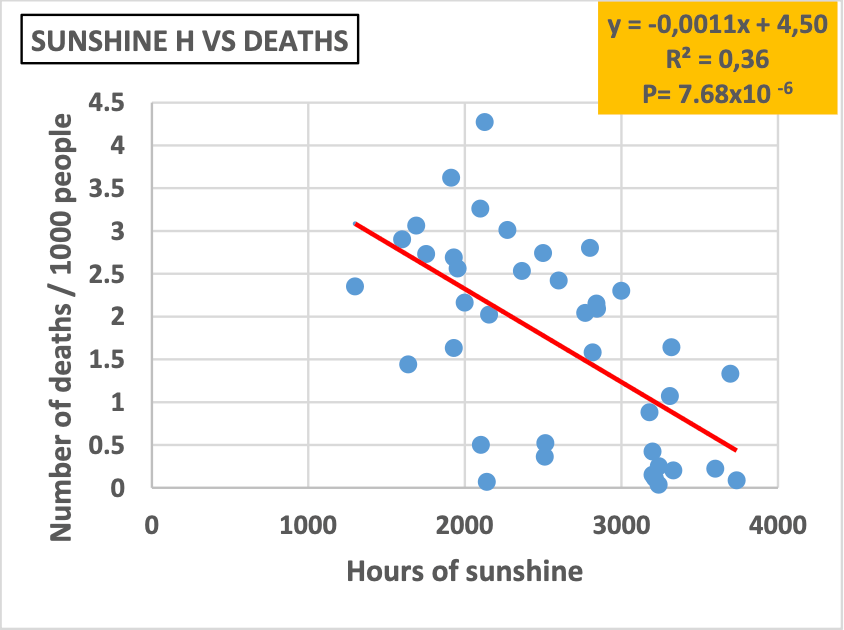 Errasfa et al., 30 Dec 2022, Morocco, peer-reviewed, 1 author.
Contact: mourad.errasfa@usmba.ac.ma.
Higher Scores of Ambient Temperature, Sunshine Hours and UV Index are Associated with Lower COVID-19 Mortality
The Open COVID Journal, doi:10.2174/26669587-v2-e221209-2022-24
Background: Following two years of the COVID-19 pandemic, thousands of deaths were registered around the world. A question on whether climate parameters in each country could or not affect coronavirus incidence and COVID-19 death toll is under debate.
CONFLICT OF INTEREST The author declares no conflict of interest, financial or otherwise. AKNOWLEDGEMENTS Declared none.
References
Arumugam, Menon, Narayan, Ambient temperature and [37] COVID-19 incidence rates: An opportunity for intervention? Western Pac, Surveill Response J
Cuschieri, The STROBE guidelines, J Anaesth
Errasfa, Magnesium therapeutic potential against COVID-19: Could
Fontal, Bouma, San-José, López, Pascual et al., None
Meo, Abukhalaf, Alomar, Climate and COVID-19
Mourad, Milk oligosaccharides and lectins as candidates for clinical [13] trials against COVID-19, Curr Nutr Food Sci
Notari, Temperature dependence of COVID-19 transmission
Tobaiqy, Qashqary, Al-Dahery, Therapeutic management
Verity, Okell, Dorigatti, Estimates of the severity of
Wu, Jing, Liu, Effects of temperature and humidity on the