Prospective study of 127 COVID-19 patients in the USA showing higher risk of replication-competent virologic rebound with paxlovid treatment.Authors note that rebound substantially increases the duration of shedding of replication-competent virus.When compared with previous studies, authors believe the higher frequency of rebound detected is due to the frequent sampling and culture analysis. When authors restrict to 3 timepoints with PCR only, as in prior studies, they detect a similar rate of rebound as in previous studies, but miss 80% of rebound events detected in this study.
viral rebound,

760.8% higher

, RR 8.61, p = 0.04
, treatment 15 of 72 (20.8%), control 1 of 55 (1.8%), adjusted per study, odds ratio converted to relative risk, replication-competent virological rebound, multivariable.
Effect extraction follows pre-specified rules prioritizing more serious outcomes. Submit updates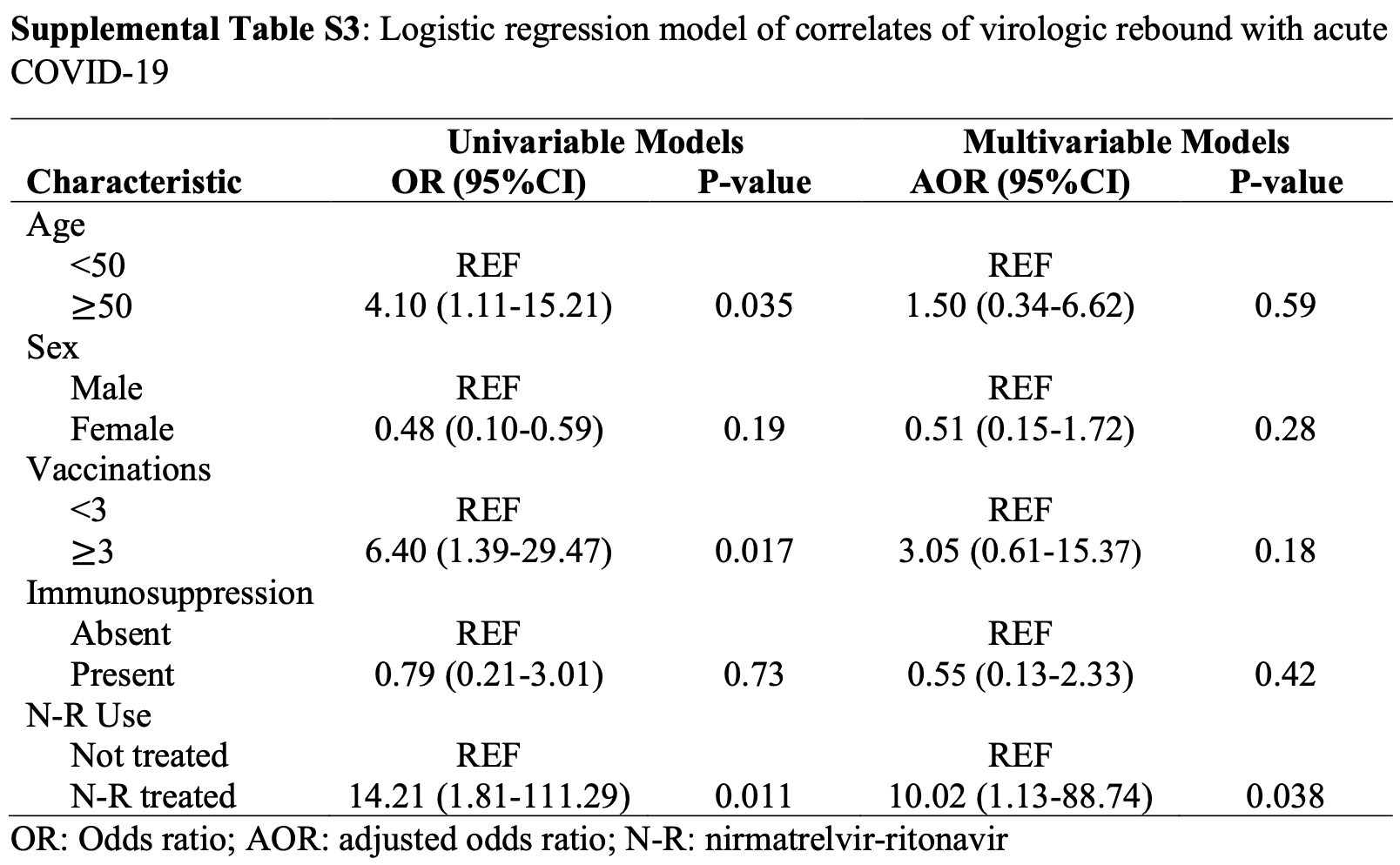 Edelstein et al., 27 Jun 2023, prospective, USA, preprint, 22 authors, POSITIVES trial.
Contact: msiedner@mgh.harvard.edu.
SARS-CoV-2 virologic rebound with nirmatrelvir-ritonavir therapy
doi:10.1101/2023.06.23.23288598
Objective: To compare the frequency of replication-competent virologic rebound with and without nirmatrelvir-ritonavir treatment for acute COVID-19. Secondary aims were to estimate the validity of symptoms to detect rebound and the incidence of emergent nirmatrelvir-resistance mutations after rebound. Design: Observational cohort study. Setting: Multicenter healthcare system in Boston, Massachusetts. Participants: We enrolled ambulatory adults with a positive COVID-19 test and/or a prescription for nirmatrelvir-ritonavir. Exposures: Receipt of 5 days of nirmatrelvir-ritonavir treatment versus no COVID-19 therapy. Main Outcome and Measures: The primary outcome was COVID-19 virologic rebound, defined as either (1) a positive SARS-CoV-2 viral culture following a prior negative culture or (2) two consecutive viral loads ≥4.0 log10 copies/milliliter after a prior reduction in viral load to <4.0 log10 copies/milliliter. Results: Compared with untreated individuals (n=55), those taking nirmatrelvir-ritonavir (n=72) were older, received more COVID-19 vaccinations, and were more commonly immunosuppressed. Fifteen individuals (20.8%) taking nirmatrelvir-ritonavir experienced virologic rebound versus one (1.8%) of the untreated (absolute difference 19.0% [95%CI 9.0-29.0%], P=0.001). In multivariable models, only N-R was associated with VR (AOR 10.02, 95%CI 1.13-88.74). VR occurred more commonly among those with earlier nirmatrelvirritonavir initiation (29.0%, 16.7% and 0% when initiated days 0, 1, and ≥2 after diagnosis, respectively, P=0.089). Among participants on N-R, those experiencing rebound had prolonged shedding of replication-competent virus compared to those that did not rebound (median: 14 vs 3 days). Only 8/16 with virologic rebound reported worsening symptoms (50%, 95%CI 25%-75%); 2 were completely asymptomatic. We detected no post-rebound nirmatrelvir-resistance mutations in the NSP5 protease gene. Conclusions and Relevance: Virologic rebound occurred in approximately one in five people taking nirmatrelvir-ritonavir and often occurred without worsening symptoms. Because it is associated with replication-competent viral shedding, close monitoring and potential isolation of those who rebound should be considered.
References
Anderson, Caubel, Rusnak, Nirmatrelvir-ritonavir and viral load rebound in COVID-19