Nutritional risk factors for SARS-CoV-2 infection: a prospective study within the NutriNet-Santé cohort
Analysis of 7,766 adults in France, showing higher intakes of vitamin C, folate, vitamin K, dietary fibre, and fruit and vegetables associated with lower seropositivity.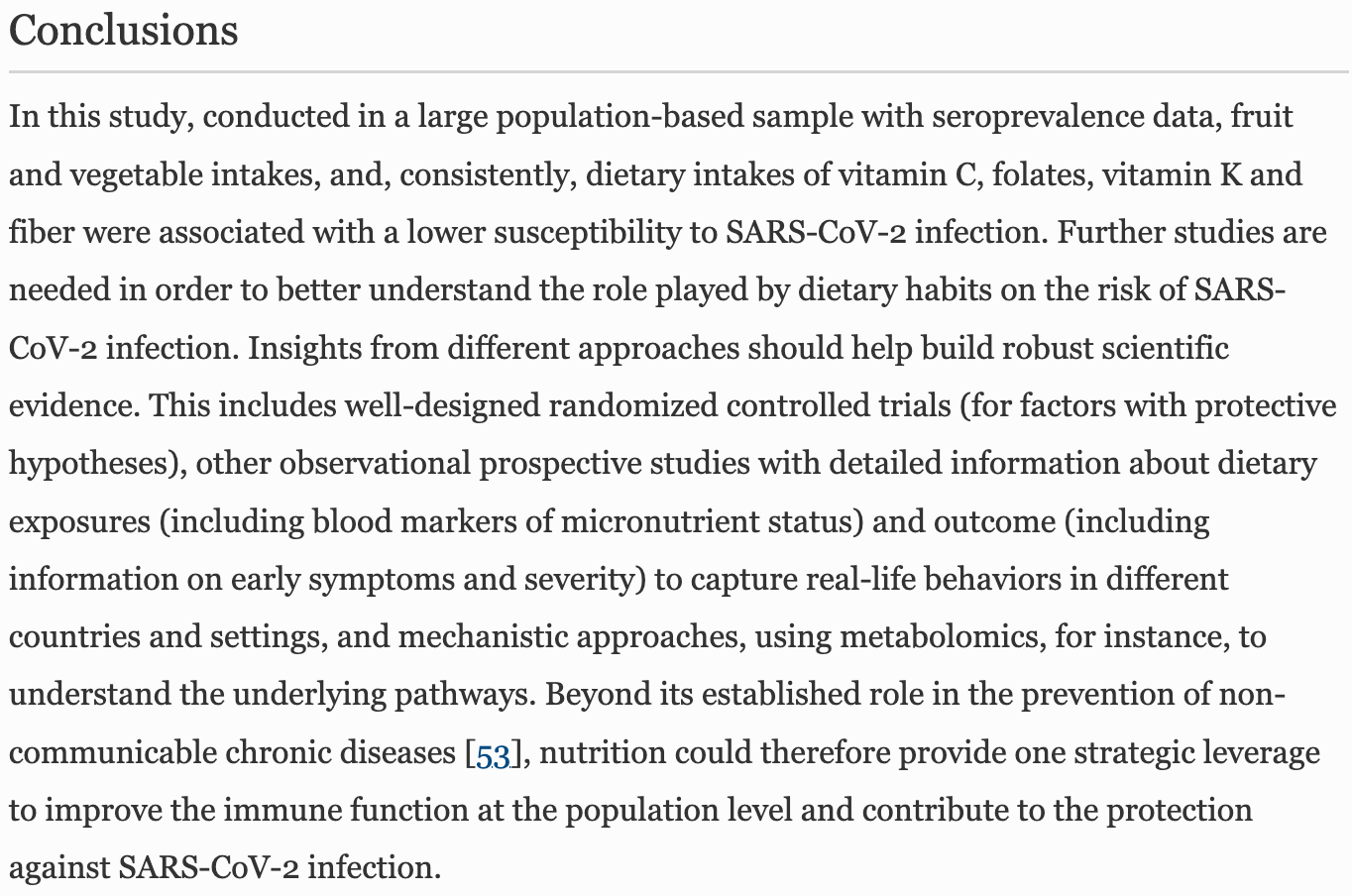 Deschasaux-Tanguy et al., 30 Nov 2021, peer-reviewed, 95 authors.
Nutritional risk factors for SARS-CoV-2 infection: prospective study from the NutriNet-Sante ´cohort
17.3% in men; 35.8% and 18.4% in women) and 10.3% to injuries (4.9% among people aged 65 or more at time of death; 34.5% among people aged 25-44). Approximately 27% of the deaths registered were IDDs, representing approximately 1.8 million YLLs. Conclusions: These preliminary results confirm the importance of YLLs as a metric to target preventive strategies according to age. Moreover, by quantifying IDDs, we highlight that data gaps are important even in settings with highly developed health information systems. Next steps include applying an IDD redistribution methodology, aspirational life table and computing subnational YLLs. The French collaborative initiative should address those gaps and propose national and subnational burden metrics in the following months. Key messages: Methodological and data requirements to compute YLLs constitute a challenge even in settings with developed health information systems, highlighting the need of national institutional collaborations. Highlight data gaps in terms of ill-defined deaths in mortality database.
Please send us corrections, updates, or comments. Vaccines and treatments are complementary. All practical, effective, and safe means should be used based on risk/benefit analysis. No treatment, vaccine, or intervention is 100% available and effective for all current and future variants. We do not provide medical advice. Before taking any medication, consult a qualified physician who can provide personalized advice and details of risks and benefits based on your medical history and situation.
FLCCC
and
WCH
provide treatment protocols.
Submit