Retrospective 293 patients in South Korea, showing higher risk of progression with ibuprofen use, without statistical significance.
risk of progression,

240.0% higher

, OR 3.40, p = 0.26
, treatment 6 of 36 (16.7%) cases, 2 of 36 (5.6%) controls, case control OR, propensity score matching.
Effect extraction follows pre-specified rules prioritizing more serious outcomes. Submit updates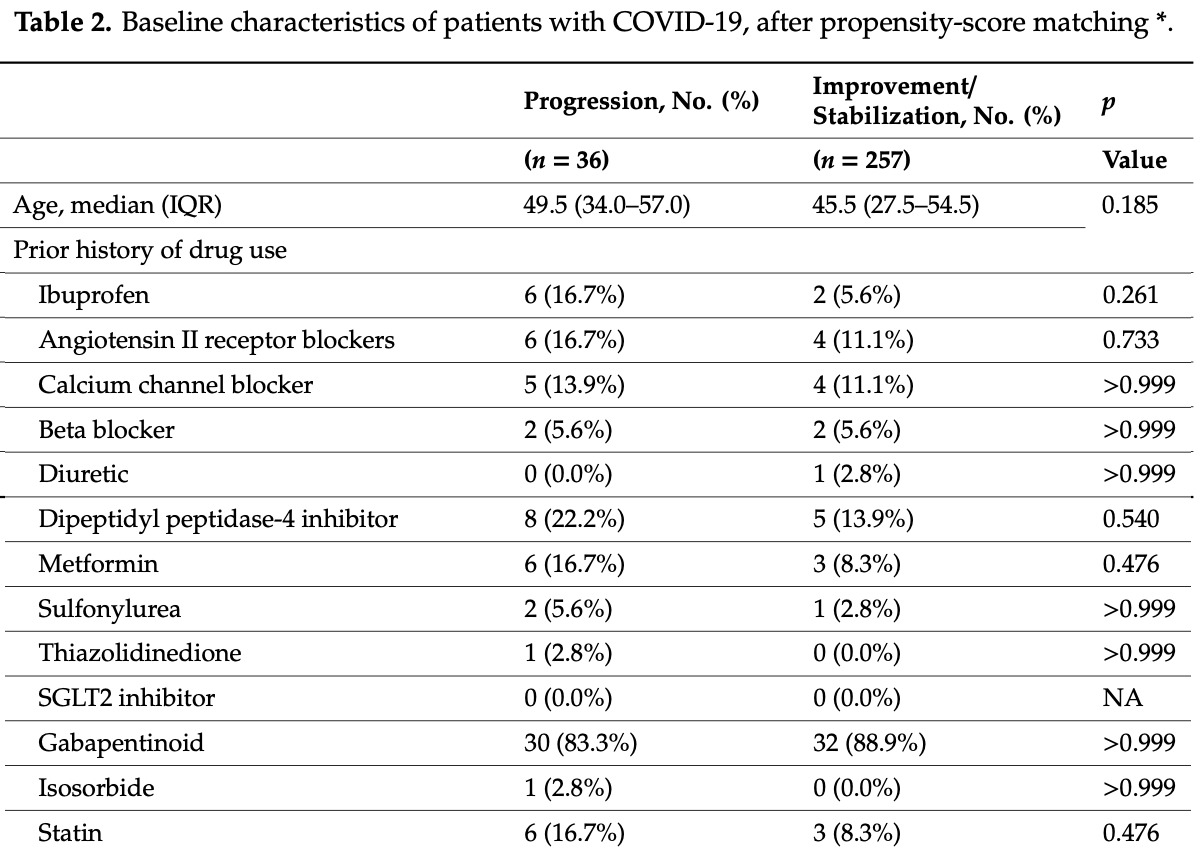 Choi et al., 23 Jun 2020, retrospective, South Korea, peer-reviewed, median age 29.0, 8 authors, study period 5 March, 2020 - 18 March, 2020.
Contact: kscpjsh@yuhs.ac (corresponding author), tcmhwd@yuhs.ac, overhyun@gmail.com, cpcforever@nate.com, rla20404@naver.com, zun54@naver.com, yessul88@naver.com, jinote0504@gmail.com.
Clinical Characteristics and Disease Progression in Early-Stage COVID-19 Patients in South Korea
Journal of Clinical Medicine, doi:10.3390/jcm9061959
A rapid increase in the number of patients with coronavirus disease 19 (COVID-19) may overwhelm the available medical resources. We aimed to evaluate risk factors for disease severity in the early stages of COVID-19. The cohort comprised 293 patients with COVID-19 from 5 March 2020, to 18 March 2020. The Korea Centers for Disease Control and Prevention (KCDC) classification system was used to triage patients. The clinical course was summarized, including the impact of drugs (angiotensin II receptor blockers [ARB], ibuprofen, and dipeptidyl peptidase-4 inhibitors [DPP4i]) and the therapeutic effect of lopinavir/ritonavir. After adjusting for confounding variables, prior history of drug use, including ARB, ibuprofen, and DPP4i was not a risk factor associated with disease progression. Patients treated with lopinavir/ritonavir had significantly shorter progression-free survival than those not receiving lopinavir/ritonavir. KCDC classification I clearly distinguished the improvement/stabilization group from the progression group of COVID-19 patients (AUC 0.817; 95% CI, 0.740-0.895).
Author Contributions: Conceptualization, M.H.C., H.A., and S.H.J.; data curation, M.H.C. and H.A.; writingoriginal draft, M.H.C.; writing-review and editing, H.S.R., B.-J.K., J.J., M.J., and J.K. All authors have read and agreed to the published version of the manuscript. Conflicts of Interest: The authors declare no conflicts of interest. Appendix A
References
Brindley, Gold, Shnider, Oviedo, Gorman et al., Appraisal of methods for the study of chemotherapy of cancer in man: Comparative therapeutic trial of nitrogen mustard and triethylene thiophosphoramide, J. Chronic Dis
Peng, Meng, Guan, Leng, Zhu et al., Clinical characteristics and outcomes of 112 cardiovascular disease patients infected by 2019-nCoV, Zhonghua Xin Xue Guan Bing Za Zhi
Richman, Whitley, Hayden, Clinical Virology
Wang, Hu, Hu, Zhu, Liu et al., Clinical characteristics of 138 hospitalized patients with 2019 novel coronavirus-infected pneumonia in Wuhan, China, JAMA
Zubrod, Schneiderman, Frei, Iii, None