Safety and efficacy of four drug regimens versus standard-of-care for the treatment of symptomatic outpatients with COVID-19: A randomised, open-label, multi-arm, phase 2 clinical trial
Very high COI low-risk patient RCT in South Africa, showing no significant differences with favipiravir plus nitazoxanide. There were no deaths and no COVID-19 hospitalizations for favipiravir plus nitazoxanide. More patients were seropositive at baseline in the treatment arm (28% vs 22%). Favipiravir 1600mg 12-hourly for 1 day, then 600mg 12-hourly for 6 days. Nitazoxanide 1000mg 12-hourly for 7 days.
risk of progression,

13.0% higher

, OR 1.13, p = 0.89
, treatment 37, control 39, adjusted per study, day 28, Table S9, RR approximated with OR.
time to WHO zero score,

23.5% higher

, HR 1.23, p = 0.42
, treatment 37, control 39, inverted to make HR<1 favor treatment, Cox proportional hazards, Table S10.
risk of no viral clearance,

66.7% higher

, RR 1.67, p = 0.13
, treatment 27 of 37 (73.0%), control 25 of 38 (65.8%), adjusted per study, inverted to make RR<1 favor treatment.
Effect extraction follows pre-specified rules prioritizing more serious outcomes. Submit updates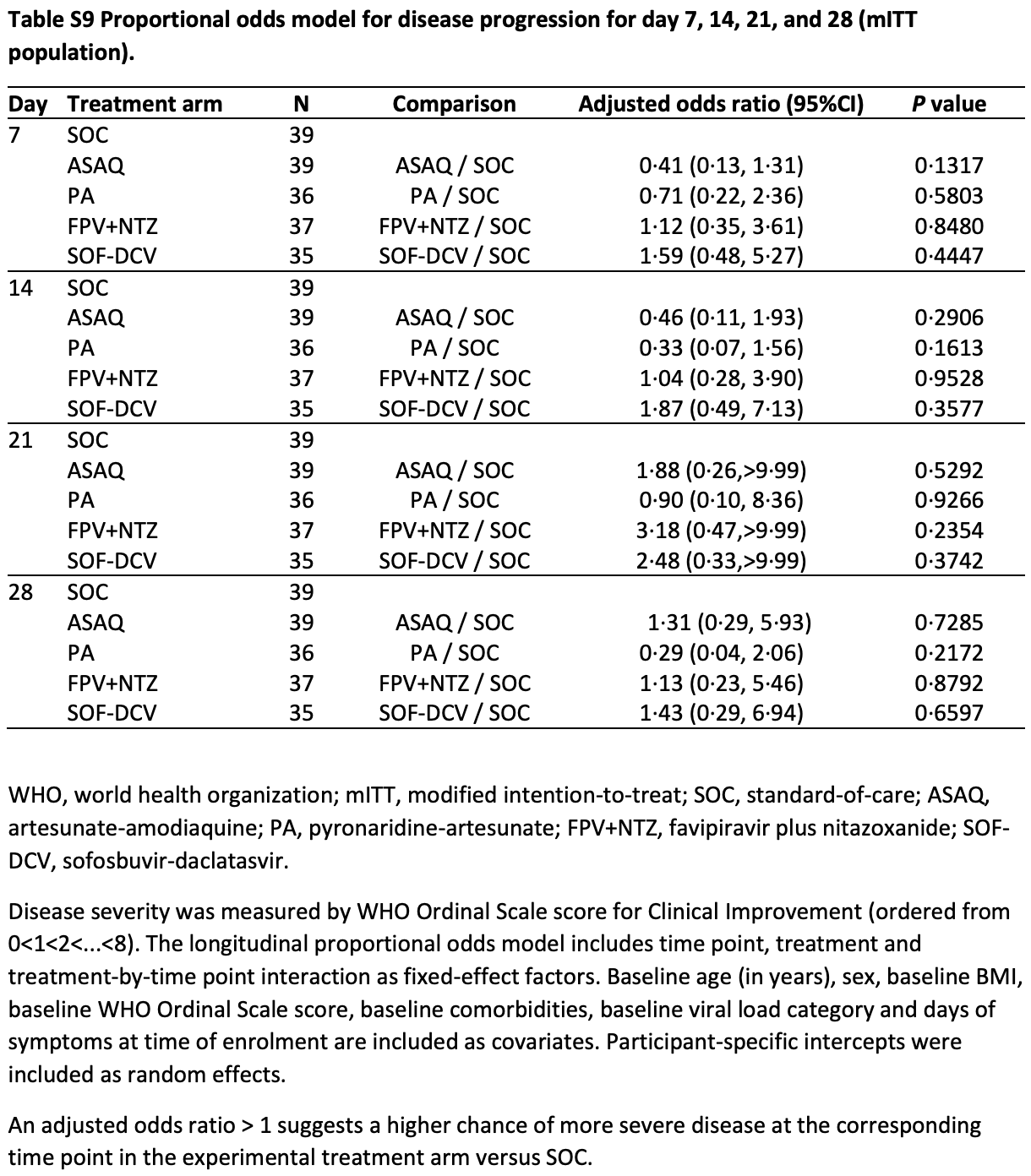 Chandiwana et al., 1 Nov 2022, Randomized Controlled Trial, South Africa, peer-reviewed, mean age 34.9, 16 authors, this trial uses multiple treatments in the treatment arm (combined with favipiravir) - results of individual treatments may vary, trial
NCT04532931
(history)
.
Contact: nchandiwana@ezintsha.org.